Previous

Next

property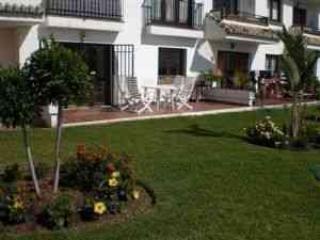 $47
2 BR / 2 BA / Sleeps 4
$47
Book
2 BR
/
2 BA
/
Sleeps 4
|

Quick view
Riviera Del Sol, Mijas Costa, is just 30 minutes drive from Malaga airport and 5 minutes walk to beach, shops & restaurants. The small complex comprising 43 apartments in a fenced gated community is surrounded by very pretty private gardens with a shared swimming pool. The area around the pool has sun shades and the …
Suitable for children

Suitable for the elderly
Previous

Next

property
$73
2 BR / 2 BA / Sleeps 5
$73
Book
2 BR
/
2 BA
/
Sleeps 5
|

Quick view
Welcome to this nice and cosy home in the wonderful city of Calahonda. Lovely single family, end unit, townhouse set in a floral garden with large outdoor swimming pool outside the terrace as well as an indoor heated pool for off season relaxation. - Large living room and dinning area - Fully equipped modern …
Ocean or water views

Internet Access

Washing Machine

Outdoor Dining Area

A/C or climate control
Pet friendly - ask

Smoking allowed - ask

Suitable for children

Suitable for the elderly

Wheelchair accessible
Previous

Next

property
$67
2 BR / 2 BA / Sleeps 4
$67
Book
2 BR
/
2 BA
/
Sleeps 4
|

Quick view
This delightful 2 bed 2 bath terraced townhouse is in the center of Calahonda close to all amenities. Downstairs is spacious, with an open fitted kitchen, shower bathroom, dining and lounge area and sliding doors to the sunny terrace is an excellent place to relax on some leather couches by the TV or fireplace. …
Pet friendly - ask

Suitable for children - ask

Suitable for the elderly
Previous

Next

property
$92
2 BR / 2 BA / Sleeps 6
$92
Book
2 BR
/
2 BA
/
Sleeps 6
|

Quick view
Modern two bed penthouse apartment with an enormous sun terrace ideally situated overlooking the Calanova golf course with views of the sea. Conveniently situated between Marbella and Fuengirola, there is garage parking, a lift, all mod cons and choice of 5 swimming pools in the complex. Five minutes drive to the …
Ocean or water views

Mountain Views

Shared outdoor pool (unheated)

Internet Access

Housekeeping Optional
Suitable for children

Suitable for the elderly

Wheelchair accessible - ask
Previous

Next

property
$145
2 BR / 2 BA / Sleeps 4
$145
Book
2 BR
/
2 BA
/
Sleeps 4
|

Quick view
Please note these Check-in Day Requirements for this property: Jun 27 - Jun 30 : Saturday, Sunday, Monday and Tuesday check-out required.; Sep 30 - Oct 03 : Wednesday, Thursday, Friday and Saturday check-out required.; Oct 17 - Oct 20 : Saturday, Sunday, Monday and Tuesday check-out required.; 3-room apartment on 1st…
Ocean or water views

Shared outdoor pool (unheated)

Washing Machine

Balcony or terrace

Parking
Smoking allowed

Suitable for children

Suitable for the elderly - ask

Wheelchair accessible - ask
Previous

Next

property
$54
2 BR / 2 BA / Sleeps 7
$54
Book
2 BR
/
2 BA
/
Sleeps 7
|

Quick view
air con, heating, private parking, lift, swimming pool, garden, big terrace. Sunny, direction south apartment ideal for families, golfers, groups of friends and couples. Relax on the big sunny terrace, explore the local area, eat in fantastic restaurants or enjoy time at the beautiful swimming pool or the beaches. …
Ocean or water views

Shared outdoor pool (unheated)

Internet Access

Washing Machine

Outdoor Dining Area
Pet friendly

Smoking allowed

Suitable for children

Suitable for the elderly

Wheelchair accessible - ask
Comfort with seaview
Left on Jul 25, 2012 for a stay in July 2012
You'll find the apartment as described and shown in the realistic pictures. A place to relax and to enjoy a barbecue on the large terrace with a great seaview. As the apartment house is situated nearly on top of the hill a car is absolutely necessary to get to the larger supermarkets and to the beach (about 3kms,parking there is really a problem on weekends!). We stayed there before the Spanish …
Previous

Next

property
$54
2 BR / 2 BA / Sleeps 7
$54
Book
2 BR
/
2 BA
/
Sleeps 7
|

Quick view
This beautiful apartment has 2 bedrooms with doors opening directly to the stunning terrace. The apartment also has 2 bathrooms, living room/dining room and fully fitted kitchen. From the living room there are large patio doors onto the very spacious terrace with amazing views of the sea, which has barbecue, table …
Ocean or water views

Shared outdoor pool (unheated)

Internet Access

Washing Machine

Outdoor Dining Area
Pet friendly

Smoking allowed

Suitable for children

Suitable for the elderly

Wheelchair accessible - ask
Previous

Next

property
$140
2 BR / 2 BA / Sleeps 6
$140
Book
2 BR
/
2 BA
/
Sleeps 6
|

Quick view
La Siesta 1 The apartment is a 2 bedroom and 2 bathroom penthouse with south facing balcony and a roof terrace for all day sunbathing.check out Gibralta from here, the apartment comes fully equiped for all your needs. Sky Tv installed Sit on the Balcony and gaze over the mediteranean sea. there is a barbeque on the …
Smoking allowed - ask

Suitable for children

Suitable for the elderly

Wheelchair accessible
Previous

Next

property
$84
2 BR / 2 BA / Sleeps 4
$84
Book
2 BR
/
2 BA
/
Sleeps 4
|

Quick view
Beautiful house in Calahonda only 5 minutes away from the beach. 2 bedrooms, 2 bathrooms, living room, kitchen, garden and 2 terraces (one outdoor and one indoor) There´s a big common area with grass and trees, 2 swimming pools (one outdoor open all year and a heated indoor pool open during the winter) the house is …
Ocean or water views

Shared outdoor pool (unheated)

Internet Access

Fireplace

Washing Machine
Pet friendly - ask

Smoking allowed - ask

Suitable for children - ask

Suitable for the elderly - ask

Wheelchair accessible - ask
Previous

Next

property
$88
2 BR / 1 BA / Sleeps 4
$88
Book
2 BR
/
1 BA
/
Sleeps 4
|

Quick view
Semi-detached villa situated between Fuengirola and Marbella, within easy reach of all amenities. The beach/shops/buses/restaurants all within FIVE minutes walk. The fabulous Cabopino beach and harbour are only a few miles. The ground floor of this bright and sunny villa has a fully equipped NEW kitchen, lounge/diner…
Shared outdoor pool (unheated)

Washing Machine

Clothes Dryer

Outdoor Dining Area

A/C or climate control
Suitable for children

Suitable for the elderly
Previous

Next

property
$67
2 BR / 2 BA / Sleeps 7
$67
Book
2 BR
/
2 BA
/
Sleeps 7
|

Quick view
This beautiful apartment has 2 bedrooms, both with en suite bathrooms and doors leading directly to the stunning terrace. The apartment also has living room/dining room and fully fitted kitchen. From the living room there are large patio doors onto the very spacious terrace with amazing views of the sea, which has BBQ…
Ocean or water views

Shared outdoor pool (unheated)

Hot Tub/Jacuzzi

Internet Access

Washing Machine
Pet friendly

Smoking allowed - ask

Suitable for children

Suitable for the elderly - elevator access

Wheelchair accessible
Great holiday accommodation
Left on Jun 22, 2012 for a stay in June 2012
We stayed in Nueva Calahonda 1 for a week from the 2nd of June until the 9th of June and had a great time. Beautiful location on one of the hills of the Costa del Sol with a fantastic view on the surroundings of Calahonda. With the right weather, you can spot if the waves are good for surfing from your balcony. (If you're here for surfing, check out the Cabopino beach, behind the pier).

The …
Previous

Next

property
$78
2 BR / 2 BA / Sleeps 6
$78
Book
2 BR
/
2 BA
/
Sleeps 6
|

Quick view
2 bedroom apartment with shared pools. Sleeps 4/6. Air-conditioned. Peaceful location at the top of Sitio de Calahonda. Very attractive town with many restaurants, pubs and magnificent views over the mountain and sea. Terrace with a small BBQ. 10 mins from the beach. as well as from Calahonda golf course.
Suitable for children - ask

Suitable for the elderly
Good times
Left on Feb 19, 2010 for a stay in May 2009
Very comfortable and cosy. Would definately rent it again. Home from home.
---
---
There are no more results in Sitio de Calahonda.
Top of page