Previous

Next

property
$89
2 BR / 2 BA / Sleeps 6
Inquire
2 BR
/
2 BA
/
Sleeps 6
|

Quick view
Almost Oceanfront is situated on the second row of an unbuildable oceanfront so the beach is your oyster! The beach, water and sand is not the only thing you will find enjoyment from. At Almost Oceanfront, you will be very comfortable in accommodations that you will find behind the sliding glass doors! Almost …
Internet Access

Washing Machine

Clothes Dryer

A/C or climate control

Deck
Suitable for children - ask

Suitable for the elderly - ask
A great bargain
Left on Jul 21, 2013 for a stay in July 2013
Arrived on the island by 3, check-in time, and was not at all surprised or upset that the house wasn't ready until 45 minutes later. Was handed a notebook full of extensive DO'S and DON'TS. The fines for this, that and the other were quite intimidating to me. Any deviance from their rules would result in a financial slap! I had scrimped and saved for this trip and was quite nervous that I might …
Previous

Next

property
$75
2 BR / 1 BA / Sleeps 8
Inquire
2 BR
/
1 BA
/
Sleeps 8
|

Quick view
7 Night Minimum June – August Turnday: Saturday 2 Bedrooms (one bedroom is actually a loft area), 1 Bath, Oceanview, Condo, Sleeps 8 Bedding: King, Queen, Bunk Bed, Queen Sleeper Sofa Amenities: 2 TV's, 2 DVD's, Internet, Balcony, Community Pool Additional amenities include: coffee maker, walking, shopping, …
Shared outdoor pool (unheated)

Internet Access

A/C or climate control

Deck

Parking
Smoking allowed

Suitable for children - ask

Suitable for the elderly - ask
Had a great weekend
Left on May 16, 2012 for a stay in May 2012
The customer service was great for the online reservation. My check in packet was not ready upon arival but was easily resolved. The condo was nicely decorated, had a great floor plan and was well appointed with all neccessities. The view was good from the balcony and I enjoyed the security of the guarded entrance. We had a great weekend stay. The weather was beautiful. I would have wanted a …
Previous

Next

property
$195
2 BR / 1 BA / Sleeps 4
Inquire
2 BR
/
1 BA
/
Sleeps 4
|

Quick view
This cute and cozy beach cottage is perfect for a couple's or small family's getaway. Its wonderful location just outside the busy commercial area of Surf City gives you the quiet you're looking for but the convenience of still be close to shops and restaurants. The Surf City Pier is also a short drive away, …
Internet Access

Washing Machine

Clothes Dryer

A/C or climate control

Deck
Suitable for children - ask

Suitable for the elderly - ask
Previous

Next

property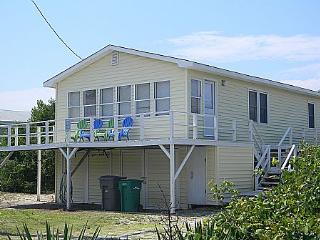 $105
2 BR / 1 BA / Sleeps 4
Inquire
2 BR
/
1 BA
/
Sleeps 4
|

Quick view
This cozy beach cottage is a GREAT DEAL for a beach retreat. Comfortable for a family on a budget, this second row property has a limited ocean view and has a beach access just across the street! Come experience true "Topsail Time" as you relax on the deck with the island breeze gently blowing from the ocean. The cute…
Internet Access

Washing Machine

Clothes Dryer

Deck

Dishwasher
Suitable for children - ask

Suitable for the elderly - ask
Previous

Next

property
$55
2 BR / 1 BA / Sleeps 6
$55
Book
2 BR
/
1 BA
/
Sleeps 6
|

Quick view
Tree Spirit, an "old island" style beach cottage on Topsail Island, has been treated energetically with Reiki, crystals and ineffable resources. No tv, no phone, no clock. Come to 'be there.' Tree Spirit Retreat is all about sharing healing energy. We welcome all who wish to bask in healing energy and nature…
A/C or climate control

Central heating

Deck

Parking

Grill
Pet friendly

Suitable for children

Suitable for the elderly
A peaceful place with character and a nice beach, too
Left on Sep 24, 2014 for a stay in September 2014
If you're looking for high-class digs, you'll be disappointed, but I had a sense of what to expect and was happy with what I found. The place was clean and comfortable, furnished inexpensively but with some nice artistic touches. We felt at ease there. The cottage isn't right on the beach, but you have some semi-private access to it a very short walk away. Its location on a quiet green side …
Previous

Next

property
$105
2 BR / 1 BA / Sleeps 6
Inquire
2 BR
/
1 BA
/
Sleeps 6
|

Quick view
This cozy, cute & comfortable beach bungalow is a wonderful place to experience Topsail Island. During the day relax on the sundeck or enjoy starlit filled nights. The screened porch on the backside of the house is a perfect place to have breakfast, lunch or dinner. Located on a quiet street with easy beach access. …
High Speed Internet

Porch

Microwave

DVD Player

Ceiling Fans
Suitable for children - ask

Suitable for the elderly - ask
Previous

Next

property
$99
2 BR / 1 BA / Sleeps 6
Inquire
2 BR
/
1 BA
/
Sleeps 6
|

Quick view
Your beach vacation is just steps away at Shipwatch 212! Located in the North Topsail Beach community of Shipwatch Villas, the Shipwatch 212 townhouse offers plenty of amenities for your whole party. The property overlooks the community pool and is right next door to the tennis courts. Private community beach …
Shared outdoor pool (unheated)

Internet Access

Washing Machine

Clothes Dryer

A/C or climate control
Suitable for children - ask

Suitable for the elderly - ask
Previous

Next

property
$79
2 BR / 1 BA / Sleeps 8
Inquire
2 BR
/
1 BA
/
Sleeps 8
|

Quick view
Save up to $100 on your 2014 vacation!! Applies to open weeks starting in May through the end of the year! Book Today! *Discount reflected in prices shown ~~~~~~~~~~~~~~~~~~~~~~ Surf Condo 536 - Serendipity provides easy access to all that Surf City has to offer within a community that boasts private beach access…
Shared outdoor pool (unheated)

A/C or climate control

Deck

Parking

Dishwasher
Suitable for children - ask

Suitable for the elderly - ask
Previous

Next

property
$99
2 BR / 1 BA / Sleeps 8
Inquire
2 BR
/
1 BA
/
Sleeps 8
|

Quick view
Surf 332 - Cozy Shell Come get Cozy with us. Cozy Shell - Surf Condos 332 is sure to be your new family favorite. Cozy Shell is a beautiful upgraded 2 bedroom, 1.5 bath Surf Unit complete with wood type floors, modified bath allowing a large tile shower and opened kitchen area. This condo offers sleeping arrangments …
Internet Access

A/C or climate control

Balcony or terrace

Parking

Dishwasher
Suitable for children - ask

Suitable for the elderly - ask
Previous

Next

property
$105
2 BR / 1 BA / Sleeps 8
Inquire
2 BR
/
1 BA
/
Sleeps 8
|

Quick view
Surf Condo 531 - Long Island Escape provides easy access to all that Surf City has to offer within a community that boasts private beach access, community pool, on-site laundry, gazebo and more. After taking advantage of the Surf Condo amenities, sit back on your ocean side deck and enjoy the view! Surf Condo 531 - …
Shared outdoor pool (unheated)

Internet Access

A/C or climate control

Deck

Dishwasher
Suitable for children - ask

Suitable for the elderly - ask
Previous

Next

property
$95
2 BR / 2 BA / Sleeps 6
Inquire
2 BR
/
2 BA
/
Sleeps 6
|

Quick view
The rate is all-inclusive - no hidden cleaning or booking fees or extra taxes :>) and Dogs are welcome with a small additional charge. Seagull's Landing is by far the best value on the island. We want everyone to be able to enjoy the sound of the ocean and sea birds from our large screened porch. Seagull's Landing is …
Ocean or water views

Internet Access

Washing Machine

Clothes Dryer

Outdoor Dining Area
Pet friendly

Suitable for children
Charming summer cottage!
Left on Jun 27, 2012 for a stay in June 2012
Our family has enjoyed "Seagulls Landing" for a number of years. It is a very clean and beautful summer cottage on the NC coast. The beach access is right across the road and the access is very well maintained. The location is excellent with everything you need in a short drive. The location is quiet with a nice screened in front porch. You will love it!
---
---