Previous

Next

property
$125
2 BR / 2 BA / Sleeps 6
Inquire
2 BR
/
2 BA
/
Sleeps 6
|

Quick view
You have to see the brand new upgrades to this unit! This condo is ideally located in the very desireable Aspens neighborhood which is less than 4 miles from the Jackson Hole Mountain Resort and the #1 skiing destination in America! A 5 min bus ride from the entrance of the Aspens drops you right at the Tram! Great …
Internet Access

Fireplace

Balcony or terrace

Fitness Room

Grill
Suitable for children - ask

Suitable for the elderly - ask

Wheelchair accessible - ask
great value at the aspens
Left on Jan 10, 2013 for a stay in January 2013
Stayed at this great condo for 6 days in Jan 2013. Condo is everyting it is advertised for and a great value in the aspens community. Within walkable distance (about 8 mins in full Ski Gear) to the start bus stop to Teton Village/Town of Jackson so you don't necessarily need a rental car. We did not have one and did just fine. The short walk in the morning gets you warmed up for the slopes.
Same …
Previous

Next

property
$175
2 BR / 2 BA / Sleeps 6
Inquire
2 BR
/
2 BA
/
Sleeps 6
|

Quick view
3124 Huckleberry is located in an area of Jackson Hole called The Aspens. It is situated in a beautiful area of the development that overlooks ranch land. Enjoy this great unit with your friends or family and take advantage of everything Jackson Hole has to offer. 3124 Huckleberry is located approximately 4 miles…
Internet Access

Fireplace

Balcony or terrace

Fitness Room

Linens Provided
Suitable for children - ask

Suitable for the elderly - ask

Wheelchair accessible - ask
Previous

Next

property
$404
2 BR / 1 BA / Sleeps 5
Inquire
2 BR
/
1 BA
/
Sleeps 5
|

Quick view
Please consider the NetherCabin for your Jackson Hole visit. Completely renovated in 2013, this 2-bedroom log cabin is the perfect lodging option for a small family or two couples. Located in Wilson and immediately at the base of the Tetons. Wilson offers a small grocery store, Norah's Fish Creek Inn restaurant, the …
Microwave

Refrigerator

Toaster
Suitable for children - ask

Suitable for the elderly - ask

Wheelchair accessible - ask
Beautiful!!!!
Left on Mar 01, 2015 for a stay in August 2014
We stayed at the Rustic Inn Creek last August for about three wonderful days. The weather was perfect for taking long walks around this really upscale village. There was a fast, clear running creek just out our cabin. You could hear the water rapidly flowing around large boulders as you relaxed on the front porch. Or in the evening when sleeping. The temp's were in the mid-70's during the day and…
Previous

Next

property
$180
2 BR / 2 BA / Sleeps 7
Inquire
2 BR
/
2 BA
/
Sleeps 7
|

Quick view
Surrounded to the West by undeveloped ranch land and twisting course of Lake Creek, The Cove units offers a quiet escape with spectacular views of the Jackson Hole Ski Area and Teton Range! And right outside the door the Creek makes a big swirling bend bringing Herons, Moose, Swans and more! This second floor unit …
Internet Access

Balcony or terrace

Fitness Room

Grill

Linens Provided
Suitable for children - ask

Suitable for the elderly - ask

Wheelchair accessible - ask
Perfect!
Left on Jun 28, 2014 for a stay in June 2014
The property was very clean and comfortable accommodations with two master bathrooms! Conveniently located to Yellowstone and The Grand Tetons. It is very quiet and peaceful. A lot of wild life observed while we were there. Highly recommended. We hope to return soon.
Previous

Next

property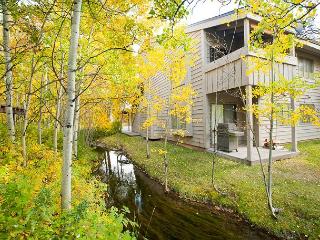 $185
2 BR / 2 BA / Sleeps 6
Inquire
2 BR
/
2 BA
/
Sleeps 6
|

Quick view
5123 Foxtail is a beautiful two bedroom, 2 bathroom unit located in The Aspens. With a convenient location to the town of Jackson, the Jackson Hole Mountain Resort, and the national parks, you won't be disappointed with the accessibility to all the activities Jackson Hole has to offer. This Foxtail unit offers a …
Internet Access

Fireplace

Balcony or terrace

Grill

Linens Provided
Suitable for children - ask

Suitable for the elderly - ask

Wheelchair accessible - ask
Previous

Next

property
$200
2 BR / 2 BA / Sleeps 6
Inquire
2 BR
/
2 BA
/
Sleeps 6
|

Quick view
Whether you're here to ski, explore the Teton Mountains or Yellowstone Park, or to enjoy the wide variety of outdoor activities and attractions that make our area so special. Easy access to the Jackson Hole Community Bike Path, Close to the START bus stop, Aspens Market & Deli restaurants, Teton Pines Country Club …
Internet Access

Fireplace

Balcony or terrace

Grill

Linens Provided
Suitable for children - ask

Suitable for the elderly - ask

Wheelchair accessible - ask
Previous

Next

property
$185
2 BR / 2 BA / Sleeps 4
Inquire
2 BR
/
2 BA
/
Sleeps 4
|

Quick view
Whether you're here to ski, explore the Teton Mountains or Yellowstone Park, or to enjoy the wide variety of outdoor activities and attractions that make our area so special. Easy access to the Jackson Hole Community Bike Path, Close to the START bus stop, Aspens Market & Deli restaurants, Teton Pines Country Club …
Fireplace

Balcony or terrace

Fitness Room

Grill

Linens Provided
Suitable for children - ask

Suitable for the elderly - ask

Wheelchair accessible - ask
Previous

Next

property
$180
2 BR / 2 BA / Sleeps 5
Inquire
2 BR
/
2 BA
/
Sleeps 5
|

Quick view
Thank you for you interest in this rental. The 1200 sq foot unit is located at 3721 Raspberry Building in the Aspens subdivision. The Berry patch portion of the Aspens boarders open space and has mountain views to the back of the building with off street parking in the front. This property is less than 5 from the …
Internet Access

Fireplace

Balcony or terrace

Fitness Room

Grill
Suitable for children - ask

Suitable for the elderly - ask

Wheelchair accessible - ask
Previous

Next

property
$175
2 BR / 2 BA / Sleeps 4
Inquire
2 BR
/
2 BA
/
Sleeps 4
|

Quick view
Enjoy this two bedroom unit in The Aspens with Mountain Views, Fireplace and firewood Fully-equipped kitchen, Microwave, Washer/Dryer, Cable television, VCR player, Linens, and a Deck. 4114 Cove is located 8 minutes northwest of the town of Jackson, and 4 miles to the Jackson Hole Mountain Resort. The perfect …
Internet Access

Fireplace

Linens Provided

Microwave

Refrigerator
Suitable for children - ask

Suitable for the elderly - ask

Wheelchair accessible - ask
Previous

Next

property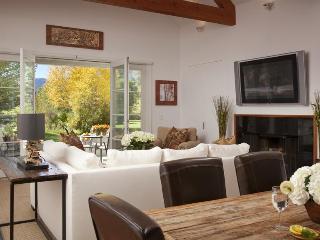 $589
2 BR / 3 BA / Sleeps 4
Inquire
2 BR
/
3 BA
/
Sleeps 4
|

Quick view
Pines Garden Home 4110 is a charming, sunny two-bedroom cottage with clean contemporary lines and a calm, luminous spirit, set near the entrance of the Teton Pines enclave. A two-storey ceiling vaults above the open, airy heart of the house, where the living room, dining room and kitchen flow one into the other. In …
Ocean or water views

Mountain Views

Internet Access

Fireplace

Housekeeping Optional
Suitable for children - ask

Suitable for the elderly - ask

Wheelchair accessible - ask
Previous

Next

property
$185
2 BR / 2 BA / Sleeps 6
$185
Book
2 BR
/
2 BA
/
Sleeps 6
|

Quick view
Our 2bed/2bath condo is located in a peaceful setting and is the perfect place to explore Jackson Hole, Grand Teton and Yellowstone NP. Downstairs there is a bedroom with Queen bed and full bathroom with washer and dryer. Upstairs bedroom has 2 twin beds, a loft with new twin pull out sleeper and a full bath. The …
Mountain Views

Internet Access

Fireplace

Washing Machine

Clothes Dryer
Suitable for children

Suitable for the elderly - ask
Previous

Next

property
$175
2 BR / 2 BA / Sleeps 6
Inquire
2 BR
/
2 BA
/
Sleeps 6
|

Quick view
Enjoy this two bedroom unit in The Aspens with Mountain Views, Fireplace and firewood Fully-equipped kitchen, Microwave, Washer/Dryer, Cable television, VCR player, Telephone, Linens, and a Balcony. 3622 Winterberry is located 8 minutes northwest of the town of Jackson, and 4 miles to the Jackson Hole Mountain …
Internet Access

Fireplace

Balcony or terrace

Linens Provided

Microwave
Suitable for children - ask

Suitable for the elderly - ask

Wheelchair accessible - ask
---
---