Previous

Next

property
$156
3 BR / 2 BA / Sleeps 6
Inquire
3 BR
/
2 BA
/
Sleeps 6
|

Quick view
When you enter our newly-renovated single-family house and see the century-old palm tree as the centerpiece of the private courtyard, you'll know you've truly entered an oasis of tranquility as the stress and worries of daily life slip away. Although peaceful, the house is located in the center of Biarritz in what …
Internet Access

Washing Machine

Clothes Dryer

Outdoor Dining Area

Central heating
Suitable for children

Suitable for the elderly
An oasis of tranquility in charming Biarritz!
Left on Apr 27, 2011 for a stay in April 2011
Our Easter week stay at Villa Clairette was perfect in every way! We were greeted upon arrival by the owner's friend and property manager Emily, a local (with perfect English), who was very friendly and had a wealth of knowledge about the area. The house is nestled in between a park and the town centre. With high walls, and a courtyard built around a huge palm tree, it was private and tranquil …
Previous

Next

property
$291
3 BR / 4 BA / Sleeps 6
Inquire
3 BR
/
4 BA
/
Sleeps 6
|

Quick view
The only beachfront property in our portfolio, Miramar features views of the Bay of Biscay from its living room and private terrace that are second to none. The apartment was fully renovated in 2011, yet its location in the heart of historic Biarritz lends a hint of old-world charm to an otherwise contemporary …
Ocean or water views

Sauna

Internet Access

Housekeeping Optional

Washing Machine
Pet friendly

Suitable for children

Suitable for the elderly

Wheelchair accessible
Fabulous Holiday Home
Left on May 22, 2012 for a stay in April 2012
We all had a fabulous time. Location was fantastic, close to everyhting. Thank you very much, see you soon.
Previous

Next

property
$291
3 BR / 2 BA / Sleeps 6
Inquire
3 BR
/
2 BA
/
Sleeps 6
|

Quick view
Grande Atalaye is more than a luxury apartment—it's a masterpiece of contemporary design. From its open-concept rooms to its carefully curated modern art pieces, this rental home sets the scene for a glamorous vacation. With the heart of Biarritz just two stories below, the location couldn't be better. Even the…
Ocean or water views

Hot Tub/Jacuzzi

Sauna

Internet Access

Housekeeping Optional
Pet friendly - ask

Suitable for children

Suitable for the elderly
Perfect home base for Biarritz family vacation with stunning sie
Left on Nov 22, 2012 for a stay in October 2012
We have been to Biarritz many times before but have only stayed at the typical hotels. Staying at this apartment, in this neighborhood, made us feel like we truly experienced Biarritz for the first time! We were right in the heart of it all with the amazing restaurants, the beach and of course the unbelievable views from the deck of hold harbor and Sainte Eugenie church. We will definitely be …
Previous

Next

property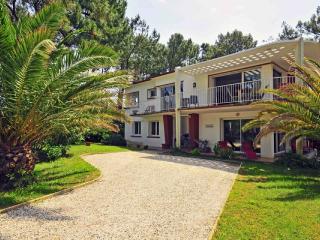 $657
3 BR / 2 BA / Sleeps 6
Biarritz villa near sandy beach and golf - just two minutes' walk from the beach and a short stroll from beachfront shops & cafes at Plage de la Madrague, this easy-living property right on the edge of the Chiberta Golf Course is the perfect place for a relaxing holiday. The first floor terrace overlooking …
Ocean or water views

Washing Machine

Dishwasher

Freezer

Microwave
Smoking allowed - ask

Suitable for children

Suitable for the elderly - ask

Wheelchair accessible - ask
Previous

Next

property
$291
3 BR / 2 BA / Sleeps 6
Inquire
3 BR
/
2 BA
/
Sleeps 6
|

Quick view
Enjoy sweeping views of the Grand Plage from this historic holiday home. With its local artwork and proximity to the Grand Plage, Showroom gives guests the full Biarritz experience. A tree-lined beach walk is literally steps away, and the lofty living room windows frame stunning ocean views. Constructed over 100 …
Waterfront

Ocean or water views

Shared outdoor pool (unheated)

Internet Access

Housekeeping Optional
Pet friendly

Suitable for children

Suitable for the elderly

Wheelchair accessible
A great location in a beautiful town
Left on Aug 06, 2012 for a stay in August 2012
We had a great week in Biarritz (our first visit) staying at this gorgeous apartment. Greg, the letting agent, was extremely helpful and gave us lots of helpful tips on restaurants, surfing tuition, places to visit etc. The apartment is well-equipped and brilliantly located, not to mention stylishly decorated. We are a family of 5, and it's so useful to have more than one (also very chic!) …
Previous

Next

property
$130
3 BR / 2 BA / Sleeps 6
$130
Book
3 BR
/
2 BA
/
Sleeps 6
|

Quick view
Please note these Check-in Day Requirements for this property: Jul 11 - Jul 18 : Saturday check-in required, Saturday check-out required.; Jul 19 - Jul 25 : Saturday check-out required.; Jul 26 - Aug 01 : Saturday check-out required.; Aug 02 - Aug 08 : Saturday check-out required.; Aug 09 - Aug 15 : Saturday check-out…
Washing Machine

Parking

Microwave

Stove or Oven

Television
Smoking allowed

Suitable for children

Suitable for the elderly - ask

Wheelchair accessible - ask
Previous

Next

property
$503
3 BR / 2 BA / Sleeps 6
Inquire
3 BR
/
2 BA
/
Sleeps 6
|

Quick view
Biarritz beach holiday: in a superb location right on the beachfront, with fantastic sea views, L'Esplanade is a comfortable holiday apartment within an easy stroll of cafes, restaurants and shops. Steps alongside the apartment building lead down to the beach and promenade just moments away: everything you need or …
Ocean or water views

Washing Machine

Dishwasher

Freezer

Microwave
Pet friendly

Smoking allowed - ask

Suitable for children

Suitable for the elderly - ask

Wheelchair accessible - ask
Previous

Next

property
$125
3 BR / 2 BA / Sleeps 6
$125
Book
3 BR
/
2 BA
/
Sleeps 6
|

Quick view
Please note these Check-in Day Requirements for this property: Jun 29 - Jul 01 : Monday, Tuesday and Wednesday check-out required.; Jul 18 - Jul 25 : Saturday check-in required, Saturday check-out required.; Jul 26 - Aug 01 : Saturday check-out required.; Sep 24 - Sep 26 : Thursday, Friday and Saturday check-out …
Internet Access

Washing Machine

Dishwasher

Microwave

Stove or Oven
Smoking allowed

Suitable for children

Suitable for the elderly - ask

Wheelchair accessible - ask
Previous

Next

property
$110
3 BR / 2 BA / Sleeps 6
$110
Book
3 BR
/
2 BA
/
Sleeps 6
|

Quick view
Please note these Check-in Day Requirements for this property: Aug 01 - Aug 08 : Saturday check-in required, Saturday check-out required.; Aug 25 - Aug 31 : Tuesday, Wednesday, Thursday, Friday, Saturday, Sunday and Monday check-out required.; 4-room apartment 81 m2: living/dining room with TV. Exit to the balcony. 2…
Washing Machine

Balcony or terrace

Dishwasher

Microwave

Television
Smoking allowed

Suitable for children

Suitable for the elderly - ask

Wheelchair accessible - ask
Previous

Next

property
$130
3 BR / 2 BA / Sleeps 6
$130
Book
3 BR
/
2 BA
/
Sleeps 6
|

Quick view
Please note these Check-in Day Requirements for this property: May 12 - May 14 : Tuesday, Wednesday and Thursday check-out required.; Jun 09 - Jun 11 : Tuesday, Wednesday and Thursday check-out required.; Jul 12 - Jul 18 : Saturday check-out required.; Aug 01 - Aug 08 : Saturday check-in required, Saturday check-out …
Balcony or terrace

Parking

Grill

Dishwasher

Microwave
Smoking allowed

Suitable for children

Suitable for the elderly - ask

Wheelchair accessible - ask
---
---