Previous

Next

property
$220
3 BR / 3 BA / Sleeps 10
$220
Book
3 BR
/
3 BA
/
Sleeps 10
|

Quick view
Owning the vacation home of your dreams in Ain el Sokhna can now become a reality with the Little Venice Golf Resort. Built on championship golf course and offering a full kilometer of pristine beaches and rolling green hills, the Little Venice Golf Resort creates a perfect escape from the city, ideal for a quiet …
Ocean or water views

Mountain Views

Shared outdoor pool (unheated)

Washing Machine

Outdoor Dining Area
Pet friendly

Smoking allowed

Suitable for children

Suitable for the elderly

Wheelchair accessible - ask
Previous

Next

property
$95
3 BR / 2 BA / Sleeps 10
Inquire
3 BR
/
2 BA
/
Sleeps 10
|

Quick view
An excellent 3 bedroom apartment at Ain Sokhna, Stella Di Mare resort, Egypt is available for rent for short term and long term. It is fully furnished and equiped with all appliances. It is also fully airconditioned. Its spacious third floor balcony overlooks the Red sea view. Its back view overlooks the swimming …
Ocean or water views

Washing Machine

Clothes Dryer

A/C or climate control

Central heating
Smoking allowed

Suitable for children - ask

Suitable for the elderly - ask
Previous

Next

property
$178
3 BR / 2 BA / Sleeps 6
$178
Book
3 BR
/
2 BA
/
Sleeps 6
|

Quick view
This stunning private chalet in the beautiful La Vista 5 resort overlooks the gorgeous Red Sea and elevated pools. It features 2 large private patios & 3 bedrooms to comfortably fit 6 people, making it a perfect destination for a relaxing couples retreat, or a fun time with your family & children. The chalet …
Waterfront

Ocean or water views

Washing Machine

Outdoor Dining Area

A/C or climate control
Previous

Next

property
$104
3 BR / 2 BA / Sleeps 6
Inquire
3 BR
/
2 BA
/
Sleeps 6
|

Quick view
Fantastic Villa in El-Gouna on the red sea, very comfortable with all the local amenities. we have a swimming pool and a small terrace on the property, and we are only 5 minutes from the coast! El-Gouna is the perfect place for Red Sea diving in the reefs, or if you fancy water sports there is kite surfing, or just …
Waterfront

Washing Machine

Clothes Dryer

A/C or climate control

Balcony or terrace
Suitable for children - ask

Suitable for the elderly - ask
Previous

Next

property
$37
3 BR / 2 BA / Sleeps 6
$37
Book
3 BR
/
2 BA
/
Sleeps 6
|

Quick view
A spacious 3 story villa located on the Red Sea coast of Egypt. Open air rooftop with 360° view of the Sea & Sinai mountains. 2 bedroom (1 A/C on site), 1.5 bath, furnished, modern design, gated, private garden. Dahab is a small but growing community of Egyptians, Bedouins and foreigners alike. International citizens…
Ocean or water views

Mountain Views

Housekeeping Optional

Washing Machine

A/C or climate control
Smoking allowed

Suitable for children
Previous

Next

property
$57
3 BR / 1 BA / Sleeps 6
$57
Book
3 BR
/
1 BA
/
Sleeps 6
|

Quick view
Great location for windsurfers and kitesurfers who want an easy walk to the watersports lagoon. Situated in the 'Medina' area, only a 10 minute walk to the main sandy beach. The Surf Apartment has three bedrooms sleeping up to six people. It is located in a residential area with a stunning view over the Sinai …
Mountain Views

Internet Access

Outdoor Dining Area

A/C or climate control

Balcony or terrace
Pet friendly - ask

Smoking allowed - ask

Suitable for children

Suitable for the elderly - ask
Previous

Next

property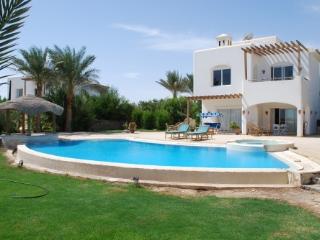 $186
3 BR / 3 BA / Sleeps 9
Inquire
3 BR
/
3 BA
/
Sleeps 9
|

Quick view
The villa is in El Gouna and has a great view... it also has a private pool and an extra room for the driver or the maids. The Villa sleeps up to 10 people and is fully equipped. Gouna 2013 PRICING: Per day with 170 EURO Per week with 1200 Euro Per month with 3400 Euro EID OR ANY SEASON LIKE NEW YEAR, SHAM EL …
Waterfront

Ocean or water views

Fireplace

Washing Machine

Clothes Dryer
Pet friendly

Smoking allowed

Suitable for children - ask

Suitable for the elderly - ask
Great value, needs some maintenance.
Left on Mar 15, 2015 for a stay in March 2015
The property was clean, fully equipped, great view, great value.

No pool table as advertised.

Needs some maintenance (mainly doors locks and dining table chairs).

The pool is private, but still can be seen by other properties, for veiled girls, some more trees can be planted on the sides.

It will also be great to invest in a heater for the pool.
Previous

Next

property
$104
3 BR / 2 BA / Sleeps 6
$104
Book
3 BR
/
2 BA
/
Sleeps 6
|

Quick view
Villa Kiona is situated between El Garden and Light House areas. This lovely spacious villa has become one of the most outstanding good-values in Dahab. European owned property, the villa has been thoughtfully fashioned with modern day comforts, including all necessary household appliances from Europe + own washing …
Mountain Views

Internet Access

Housekeeping Optional

Washing Machine

Outdoor Dining Area
Pet friendly - ask

Suitable for children

Suitable for the elderly

Wheelchair accessible - ask
5 Stars excellent could not ask for anymore
Left on Jan 06, 2012 for a stay in July 2011
The villa was very clean, spacious, well equipped and tastefully furnished. It was like a home from home with everything you could need. Great outdoor sitting area great pool for cooling down with out door shower, air conditioned this villa is fabulous with a 5 minute walk to the beach you will certainly not be disappointed I will certainly return.
---
---
There are no more results in Red Sea and Sinai.
Top of page