Previous

Next

property
$108
3 BR / 2 BA / Sleeps 7
$108
Book
3 BR
/
2 BA
/
Sleeps 7
|

Quick view
HUTG-000036 Fantastic apartment with terrace in the luxury building, just 1 minute from the beach. Its location is privileged, by the proximity to the beach, restaurants, shops, at the same time it located on a quiet street. ... all less than 1 minute.Tossa is a lovely and peaceful village, which will make your …
Waterfront

Ocean or water views

Mountain Views

Wireless Internet

Washing Machine
Suitable for children

Suitable for the elderly

Wheelchair accessible - ask
Previous

Next

property
$108
3 BR / 2 BA / Sleeps 6
$108
Book
3 BR
/
2 BA
/
Sleeps 6
|

Quick view
HUTG-011070 This apartment is privileged for its location, its wonderful, and spectacular views. The large and bright living room, your kitchen with sea views, breakfast and lunch have the bay and the town at yours feets, make your holiday in this beautiful apartment .... an ideal place to relax and disconnect, A …
Waterfront

Ocean or water views

Mountain Views

Internet Access

Fireplace
The views are spectacular!
Left on Feb 18, 2015 for a stay in February 2015
The photos shown in the listing are exactly what the apartment looks like. It was effortless working with Kristjan and Ana. They returned emails quickly and answered all our questions honestly. They met us at the apartment and gave us a map showing all the best restaurants/ shopping spots. They explained everything about the apartment. The apartment had everything you would need to cook and serve…
Previous

Next

property
$86
3 BR / 2 BA / Sleeps 6
$86
Book
3 BR
/
2 BA
/
Sleeps 6
|

Quick view
Beautiful apartment with pool and communal area in Tossa de Mar. One of the most beautiful towns on the Costa Brava. It has a 3 bedrooms, 2 bathrooms, kitchen, living room, terrace and swimming pool in the communal area. Personalized guidebook at the apartment, where you will find useful information, shopping …
Outdoor Dining Area

Balcony or terrace

Linens Provided

Towels Provided

Freezer
Suitable for children

Suitable for the elderly - ask

Wheelchair accessible - ask
Beautiful apartment with all the necessities!!
Left on Jul 26, 2013 for a stay in July 2013
The apartment has all the necessities you need for a comfortable stay. Beautiful view of the beach and only a few steps to the pristine waters of Cala Canyelles.

Thank you Ana & Kristian for a wonderful stay in Spain!! We all loved it!!!
Previous

Next

property
$108
3 BR / 1 BA / Sleeps 6
$108
Book
3 BR
/
1 BA
/
Sleeps 6
|

Quick view
HUTG-013385 Beautiful rustic house, builded in the 1700 and reformed 5 years ago, keeping and restoring its stone walls and wooden beams. Located in the old part of the city, 2 minutes walking from the beach The house, with wifi included in the price, has 3 bedrooms, 1 bathroom, living room, open kitchen and a …
Internet Access

Washing Machine

A/C or climate control

Central heating

Balcony or terrace
Previous

Next

property
$56
3 BR / 4 BA / Sleeps 5
Villa Els Pescadors is a 100m2 house placed by the sea, in a precious cove of Tossa de Mar (Cala Llevadó). Only 3Km from the village centre. The house divides into 3 floors; On the principal floor there is a dining room (TV, fireplace), a kitchen that is totally equipped (microwave, dishwasher, washing machine) and…
Ocean or water views

Washing Machine

Balcony or terrace

Parking

Dishwasher
Pet friendly - ask

Smoking allowed - ask

Suitable for children - ask

Suitable for the elderly - ask

Wheelchair accessible - ask
Previous

Next

property
$270
3 BR / 2 BA / Sleeps 8
$270
Book
3 BR
/
2 BA
/
Sleeps 8
|

Quick view
HUTG-013383 Cozy apartment, with excellent views of the sea and the bay of Tossa, located in the most emblematic and beautiful high standing building of the town, built by a renowned architect. Gradual building in the form ladder .... Its construction mixed rock materials with the magnificent vegetation, which makes…
Shared outdoor pool (unheated)

Wireless Internet

Washing Machine

Central heating

Balcony or terrace
Suitable for children

Suitable for the elderly - elevator access
Previous

Next

property
$108
3 BR / 1 BA / Sleeps 5
$108
Book
3 BR
/
1 BA
/
Sleeps 5
|

Quick view
Tossa de Mar is located on the Costa Brava, in the green and leafy district of La Selva. Its origin dates back to the Romans, who called it Turissa. From that time Ametllers Els has endured a century villa built around Iv where the municipal museum, which contains important archaeological remains. The quintessential …
Suitable for children

Suitable for the elderly

Wheelchair accessible
Previous

Next

property
$86
3 BR / 2 BA / Sleeps 8
$86
Book
3 BR
/
2 BA
/
Sleeps 8
|

Quick view
*** Apartment legalized with registration number HUTG-011071 *** Nice and central apartment with terrace, in the old town, located in the center of town 2 minutes from the beach, 5 minutes walk from Vila Vella, the old walled town and 2 minutes from restaurants, shops. It can accommodate 6 people. The apartment has …
Wireless Internet

Washing Machine

Clothes Dryer

Central heating

Balcony or terrace
Previous

Next

property
$108
3 BR / 1 BA / Sleeps 8
$108
Book
3 BR
/
1 BA
/
Sleeps 8
|

Quick view
HUTG-011074 Nice and cozy apartment with terrace and excellent location. Just 1 minute walking from the beach, supermarkets, restaurants and more. Privileged by being at a quiet street where nightlife noises won't be a problem Apartment with 3 bedrooms, 1 bathroom, American kitchen equipped with washing machine and…
Internet Access

Washing Machine

A/C or climate control

Central heating

Balcony or terrace
Suitable for children

Suitable for the elderly - elevator access
Previous

Next

property
$86
3 BR / 1 BA / Sleeps 8
$86
Book
3 BR
/
1 BA
/
Sleeps 8
|

Quick view
HUTG-013380 Attractive apartment, very centric en decorated in detail and a really cozy atmosphere. A big terrace, one of its best features. Really well located, with all services nearby and just 4 minutes away from the beach Apartment with wifi included in the price, 3 bedrooms, 1 bathroom, kitchen, living room …
Wireless Internet

Washing Machine

Clothes Dryer

A/C or climate control

Central heating
Suitable for children

Suitable for the elderly - elevator access
Previous

Next

property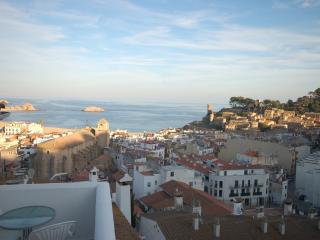 $108
3 BR / 2 BA / Sleeps 6
$108
Book
3 BR
/
2 BA
/
Sleeps 6
|

Quick view
HUTG-011069 Nice and attractive house with terrace and solarium, where you can enjoy incredible views of the bay. Located in a preveliged area for being so quiet but at the same time near of everything House with 3 floors, with room for 7 people with the following distribution: GROUND FLOOR: - Open living room with …
Wireless Internet

Fireplace

Washing Machine

Central heating

Balcony or terrace
---
---