Previous

Next

property
$150
6 BR / 4 BA / Sleeps 12
Inquire
6 BR
/
4 BA
/
Sleeps 12
|

Quick view
Black Point Vacation Cottage is located in Black Point Exuma Cays Bahamas one of the many chains of cays in the Exumas. The cottage is situated within walking distance of all the local activities but give visitors the perfect amount of seclusion and privacy that they need. The water is clear warm and turquoise blue-…
Internet Access

Balcony or terrace

Parking

Grill

Microwave
Suitable for children

Suitable for the elderly - ask

Wheelchair accessible - ask
Freaking Amazing
Left on Oct 08, 2014 for a stay in October 2014
our trip to exuma was, amazing, Relaxing, awesome, peaceful, great experince, i home away from home, and simply the best vacation we're ever had.
Previous

Next

property
$299
5 BR / 4 BA / Sleeps 12
Inquire
5 BR
/
4 BA
/
Sleeps 12
|

Quick view
Come, relax, recharge and enjoy your vacation at this beautiful 5 bedroom, 4 bathroom home equipped with everything you need. Lay by the private, oversized pool in the beautifully landscaped gardens. Offering all inclusive family, corporate and adult vacations in the beautiful Exumas Just finished in 2015, $105,000 …
Ocean or water views

Hot Tub/Jacuzzi

Internet Access

Housekeeping Optional

Washing Machine
Pet friendly - ask

Suitable for children

Suitable for the elderly
What an awesome stay & view!
Left on Dec 26, 2010 for a stay in March 2010
The house was huge, the decor very well done.
The view from the pool, let alone the house in general
was amazing.
Previous

Next

property
$799
4 BR / 4 BA / Sleeps 8
$799
Book
4 BR
/
4 BA
/
Sleeps 8
|

Quick view
Best Beach! - Best Location!! - Best Value!!! Hoopers Bay is regarded as the best beach on the island of Exuma on which to stay & enjoy calm, safe swimming, sunbathing or peaceful relaxing. It is protected from the easterly prevailing winds, which at times can make other beaches uncomfortable for sunbathing or …
Waterfront

Ocean or water views

Internet Access

Housekeeping Optional

Washing Machine
Suitable for children

Suitable for the elderly - ask

Wheelchair accessible - ask
WOW! - Best Beach and Great Location
Left on Oct 23, 2009 for a stay in August 2009
Hoopers Bay is just perfect - half a mile of beautiful sand and sea - you can even watch turtles from the beach!

The apartment was spacious and had a lovely patio where we took our breakfast every morning whilst being entranced by the unspeakable blue water just a few yards away through the garden.

Local shops for groceries were only 1/4 mile away whilst Peter & Betty who live on the island …
Previous

Next

property
$550
5 BR / 3 BA / Sleeps 10
Inquire
5 BR
/
3 BA
/
Sleeps 10
|

Quick view
Las Breezes Villa is a gorgeous 4,000 sq ft, 4 bedroom / 3 bathroom vacation rental home that sleeps 8 plus 2 people. Located on a 7-acre estate, Great Exuma, Bahamas, the villa offers spectacular views of Hoopers Bay and the Atlantic Ocean. Professionally Managed - Las Breezes Villa is a gorgeous 7,000 sq ft, 4 …
Waterfront

Ocean or water views

Internet Access

Washing Machine

A/C or climate control
Pet friendly - ask

Smoking allowed - ask

Suitable for children

Suitable for the elderly - ask

Wheelchair accessible - ask
Previous

Next

property
$850
4 BR / 3 BA / Sleeps 8
Inquire
4 BR
/
3 BA
/
Sleeps 8
|

Quick view
Four Bedroom Oceanfront
Pet friendly - ask

Smoking allowed - ask

Suitable for children - ask

Suitable for the elderly - ask

Wheelchair accessible - ask
Great views and location, but house needs some TLC
Left on Sep 04, 2012 for a stay in May 2012
We stayed here in May of 2012. Booking and communication with management was very good. The views from the Vista house are great. The location of February Point is very good.

The house just seems to not be getting the attention it needs. It was not as clean as it should have been. There were some sugar ants in the kitchen near the sink. Our upstairs bathroom plumbing leaked through the kitchen …
Previous

Next

property
$1,020
4 BR / 4 BA / Sleeps 8
Inquire
4 BR
/
4 BA
/
Sleeps 8
|

Quick view
Four Bedroom Oceanview with pool
Pet friendly - ask

Smoking allowed - ask

Suitable for children - ask

Suitable for the elderly - ask

Wheelchair accessible - ask
Previous

Next

property
$4,000
7 BR / 9 BA / Sleeps 18
Inquire
7 BR
/
9 BA
/
Sleeps 18
|

Quick view
Billionaires, and Hollywood celebrities like Penelope Cruz, Javier Bardem, Kyle Richards, Mauricio Umansky, Glenn Close, David James Elliot, Nanci Chambers, Maury Povich, Connie Chung; and others have chosen Bougainvillea House Villa for their relaxed ocean front vacations; because of the beautiful beaches, deluxe …
Waterfront

Ocean or water views

Hot Tub/Jacuzzi

Internet Access

Housekeeping Optional
Suitable for children

Suitable for the elderly

Wheelchair accessible
Paradise
Left on Nov 06, 2010 for a stay in October 2010
Just returned from a week in paradise at Bougainvillea House. We had the best vacation ever, loved the house, the island and the wonderful, kind people of Great Exuma.
It was very peaceful and quiet as it was off season. Bougainvillea house exceeded our expectations, total luxury. The king size beds, huge rooms with our own bathroom and incredible views of the tourquoise ocean from every room. …
Previous

Next

property
$900
4 BR / 4 BA / Sleeps 12
$900
Book
4 BR
/
4 BA
/
Sleeps 12
|

Quick view
This new home is located on the most beautiful beach on Great Exuma and only minutes from Georgetown and the International Airport. Great value for this luxury house at only $235.00 per night/per couple (based on 4 couples) The house has 4 master suites each with a king size bed, futon bed and an ensuite bath. …
Waterfront

Ocean or water views

Internet Access

Housekeeping Optional

Washing Machine
Suitable for children

Suitable for the elderly

Wheelchair accessible
Paradise in the Bahamas
Left on Feb 17, 2014 for a stay in February 2014
This was our second trip to Exuma & this trip was made extra special as a result of renting Nemo House.

The website and description of this five star rental property does not do it justice. The house was a short ten-minute drive from the airport and as we arrived at the house we didn't know what to look at first - the stunning view or the beautiful house.

The house is something you see in …
Previous

Next

property
$155
4 BR / 4 BA / Sleeps 8
Inquire
4 BR
/
4 BA
/
Sleeps 8
|

Quick view
'Breezy Hill' Main House and Guest House have a Spectacular, Panoramic Ocean View! Our homes offer 2 large bedrooms and 2 FULL baths with fully equipped kitchens. Each home comfortably accommodates 6 to 8 personsand are self catering. The homes have large living room /kitchen combinations and are extremely …
Ocean or water views

Wireless Internet

Washing Machine

Clothes Dryer

Outdoor Dining Area
Smoking allowed - ask

Suitable for children

Suitable for the elderly
5 Star accomodation - the perfect place for your holidays
Left on Aug 26, 2011 for a stay in August 2011
My name is Sara and I'm from Italy; with my family I stayed in Breezy Hill for 11 nights in august 2011. It's really a perfect and ideal place to stay in Great Exuma for many reasons: the house is fully equipped with everything you need for your stay, everything is clean and looks new, the house is big, spacious and very comfortable; it's located just 2 minutes walk from an amazing beach. The …
Previous

Next

property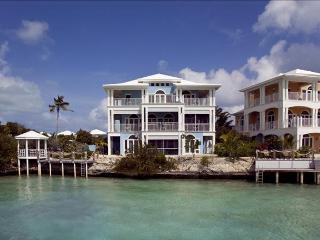 $1,540
4 BR / 5 BA / Sleeps 8
Inquire
4 BR
/
5 BA
/
Sleeps 8
|

Quick view
Four Bedroom Oceanfront with Boat Slip
Pet friendly

Smoking allowed - ask

Suitable for children - ask

Suitable for the elderly - ask

Wheelchair accessible - ask
Previous

Next

property
$1,540
4 BR / 4 BA / Sleeps 10
Inquire
4 BR
/
4 BA
/
Sleeps 10
|

Quick view
Four Bedroom Oceanfront with pool
Internet Access

Washing Machine

Clothes Dryer

A/C or climate control

Patio
Pet friendly

Suitable for children - ask

Suitable for the elderly - ask

Wheelchair accessible - ask
Previous

Next

property
$1,560
4 BR / 5 BA / Sleeps 8
Inquire
4 BR
/
5 BA
/
Sleeps 8
|

Quick view
Four Bedroom Marina Front with pool
Internet Access

Washing Machine

Clothes Dryer

A/C or climate control

Patio
Pet friendly

Suitable for children - ask

Suitable for the elderly - ask

Wheelchair accessible - ask
Previous

Next

property
$441
4 BR / 4 BA / Sleeps 8
$441
Book
4 BR
/
4 BA
/
Sleeps 8
|

Quick view
Peter & Betty Oxley look forward to welcoming you to their apartments which are situated DIRECTLY on the perfect sands of HOOPERS BAY BEACH which is regarded as the best to stay on in Exuma. The sandy beach is 1Km (half mile) long and is protected from the prevailing winds so the water is calm & safe for …
Ocean or water views

Internet Access

Housekeeping Optional

Washing Machine

Clothes Dryer
monolocale sandy palm - exuma
Left on Sep 07, 2012 for a stay in August 2012
Abbiamo trascorso 8 notti nello studio presso il Sandy Palm di Exuma. Posto incantevole per il fatto di essere sul mare, davvero molto bello e quindi sfruttuabile in ogni momento della giornata, in assoluta libertà e solitudine (nella enorme spiaggia si sono contate al massimo 6 persone ma normalmente nessuna).
Appartamento nuovo, piccolo ma molto ben accessoriato, con tavolo esterno da …
---
---