Previous

Next

property
$90
4 BR / 4 BA / Sleeps 10
Inquire
4 BR
/
4 BA
/
Sleeps 10
|

Quick view
Maya Azul is a very special home located in the jungle on the side of the Lake of Seven Colours "Laguna Bacalar". The house was built in a private gated development north of the town of Bacalar. It has everything you need to just sit back and relax for a few days or a few weeks. It is a special kind of paradise. …
Waterfront

Ocean or water views

Hot Tub/Jacuzzi

Internet Access

A/C or climate control
Suitable for children - ask

Suitable for the elderly - ask
Luxurious Jungle Retreat
Left on Jul 16, 2013 for a stay in February 2013
I enjoyed my vacation at Maya azul. It's a beautiful, modern home with high ceilings throughout. The bedrooms are airy and comfortable. There is a central room with a kitchen, dining, and entertainment areas. The house is situated in the jungle with waterfront on the incredible Laguna Bacalar...great for swimming and/or kayaking. The view of the lake and sunset from the rooftop decks is …
Previous

Next

property
$185
2 BR / 2 BA / Sleeps 4
$185
Book
2 BR
/
2 BA
/
Sleeps 4
|

Quick view
This luxury villa, Casa Estrella de Bacalar, is located on the shore of pristine, tropical Laguna Bacalar, "The Lake of Seven Colors." It is next door to the beautiful boutique, eco-resort, Rancho Encantado. Designed by noted architect, Ricardo Romay, its open, spacious floor plan provides a complete view of…
Waterfront

Ocean or water views

Housekeeping Optional

Outdoor Dining Area

A/C or climate control
Suitable for children - ask

Suitable for the elderly - ask
Previous

Next

property
$149
2 BR / 1 BA / Sleeps 4
$149
Book
2 BR
/
1 BA
/
Sleeps 4
|

Quick view
2 Bedroom Suite with Stunning Views The casita has a jungle theme, with views of the lake and jungle. It is a 2 bedroom suite decorated with colorful Mexican tiles. The casita is such a cute and private suite in it's own corner of the villa, given a choice the Casita is often it. With a fully equipped kitchen. The …
Waterfront

Ocean or water views

Wireless Internet

Outdoor Dining Area

A/C or climate control
Previous

Next

property
$117
4 BR / 4 BA / Sleeps 13
$117
Book
4 BR
/
4 BA
/
Sleeps 13
|

Quick view
CASA LAHAR, where its beautiful and peaceful gardens offer such a quite place for relax and enjoy nature! A place surreounded by palm trees that make the wind notes play a beautiful song, The 2 floor house built right on the shore of the magical lagoon of Bacalar on the state of Quintana Roo, Mexico, faces the Blue …
Internet Access

Balcony or terrace

Parking

Books

Garden
Pet friendly

Smoking allowed - ask

Suitable for children

Suitable for the elderly - ask
Previous

Next

property
$159
2 BR / 2 BA / Sleeps 5
$159
Book
2 BR
/
2 BA
/
Sleeps 5
|

Quick view
The color theme of this casa ties in with the beautiful mahogany wood used throughout. The kitchen and living space are an open concept. Feature's large sliding glass doors overlooking the lake that open onto the terrace. There is a living area you can relax with TV. Fully equipped kitchen and island, stools for …
Wireless Internet

A/C or climate control

Balcony or terrace

Parking

Grill
Previous

Next

property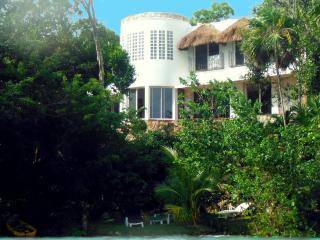 $120
4 BR / 4 BA / Sleeps 13
$120
Book
4 BR
/
4 BA
/
Sleeps 13
|

Quick view
Lake Front Villa > mayacala.com is privileged because of it's amazing setting, on a Bluff on its own private cove overlooking the fresh water lake ( Laguna Bacalar). Located in a gated community (only residents and/or their guests can gain vehicle access) A rare tropical paradise with warm crystal clear water …
Waterfront

Ocean or water views

Internet Access

Fireplace

Housekeeping Optional
Suitable for children

Suitable for the elderly
A beautiful remote lake that inspired me to paint.
Left on Oct 07, 2010 for a stay in May 2010
A work in progress. Sally always has a comfortable home style and beautiful gardens.The Casa is wonderful and comfy even in the heat of May.I was able to take afternoon naps, when the heat got to me.
The lake was so warm,I didn't have to test it with my toe and freak out because of the cold.I could stay in the water for half an hour or more . It was that comfortable.
The gardens were just being …
Previous

Next

property
$275
2 BR / 0 BA / Sleeps 6
Inquire
2 BR
/
Sleeps 6
|

Quick view
The Elements exudes pure luxury with its quality craftsmanship, magnificent ocean views and debonair design. Expansive terraces with gas grills and elegant seating areas provide an enrapturing vista of the turquoise waters speckled with jovial fishermen casting their nets, in search of their day's catch. A …
Smoking allowed - ask

Suitable for the elderly - ask
Lovely and relaxing
Left on Apr 20, 2011 for a stay in February 2011
We couldn't have been happier with our stay. The unit was lovely with a great view of the ocean and pool. The location is great as well. we walked to town at least once a day and much preferred being at the quieter end of the beach.
Previous

Next

property
$265
3 BR / 2 BA / Sleeps 10
$265
Book
3 BR
/
2 BA
/
Sleeps 10
|

Quick view
This spacious 3 bedroom home is located on a private property situated along the Lagoon of Bacalar (The lagoon of seven colors). This home has two large bedrooms upstairs and a complete suite downstairs including private entrance and kitchen. Perfect for two families who are on vacation and looking for a private yet…
Balcony or terrace

Garden

Linens Provided

Towels Provided

Refrigerator
Previous

Next

property
$235
2 BR / 3 BA / Sleeps 6
$235
Book
2 BR
/
3 BA
/
Sleeps 6
|

Quick view
This secluded getaway is right on the edge of Bacalar the lake of seven colors. This 2 bedroom house is located only 3 kms north and has an absolutely stunning view of the lake. With a large private dock and full time groundskeeper on site this is a great vacation home. The house is a newly built 2 bedroom 2 and …
A/C or climate control

Balcony or terrace

Garden

Grill

Linens Provided
Previous

Next

property
$99
3 BR / 1 BA / Sleeps 10
$99
Book
3 BR
/
1 BA
/
Sleeps 10
|

Quick view
The perfect tropical getaway. A beautiful home located along the Costera of Bacalar, Quintana Roo, Mexico. This spacious home is perfect for walking around and really soaking in the Mexican culture. Located in the town of Bacalar (Calle 34 y Avenida 1) this three bedroom house comes with two large air conditioned …
A/C or climate control

Balcony or terrace

Parking

Grill

Linens Provided
---
---