Previous

Next

property
$63
1 BR / 1 BA / Sleeps 2
Inquire
1 BR
/
1 BA
/
Sleeps 2
|

Quick view
This unique property, a 16' yurt, overlooks a fishing lake close to Beckford on the Gloucestershire/Worcestershire border, and sleeps two people. The Yurt is a very special holiday home, set in a peaceful location by the owner's fishing lake near the village of Beckford, in the Gloucestershire countryside. This …
Hot Tub/Jacuzzi

Linens Provided

Towels Provided

Dishwasher

Refrigerator
Pet friendly

Suitable for the elderly - ask

Wheelchair accessible - ask
Loved it. Excellent set up.
Left on May 31, 2011 for a stay in May 2011
This is the first review as we were apparently the first guests!

Everything is even nicer than it looks on the website. The yurt is very solid (we had very strong winds and rain but no creaking/flapping), extremely clean and well thought out. It's quickly heated by the gas fire when required and well-lit. Hot water is on-demand so filling the bath is no problem. The fridge is quiet and there'…
Previous

Next

property
$92
1 BR / 1 BA / Sleeps 2
Inquire
1 BR
/
1 BA
/
Sleeps 2
|

Quick view
This unique property, a 20' yurt, overlooks a fishing lake close to Beckford on the Gloucestershire/Worcestershire border, and sleeps two people. Island Yurt is a very special holiday home, set in a peaceful location by the owner's fishing lake near the village of Beckford, in the Gloucestershire countryside. This …
Hot Tub/Jacuzzi

Sauna

Linens Provided

Towels Provided

Dishwasher
Suitable for the elderly - ask

Wheelchair accessible - ask
Heaven
Left on Aug 09, 2014 for a stay in August 2014
Beautiful location, amazing yurt with the added luxuries of hot tub and sauna, which we used daily. Home cinema screen was amazing, watching a DVD in bed under the stars! Set on a quiet fishing lake the perfect escape from the everyday hustle and bustle. And if you want to venture out plenty of beautiful Cotswolds villages around to explore.
Previous

Next

property
$76
1 BR / 1 BA / Sleeps 2
Inquire
1 BR
/
1 BA
/
Sleeps 2
|

Quick view
This unique property, a 20' yurt, overlooks a fishing lake close to Beckford on the Gloucestershire/Worcestershire border, and sleeps two people. Lakeview Yurt is a very special holiday home, set in a peaceful location by the owner's fishing lake near the village of Beckford, in the Gloucestershire countryside. This …
Hot Tub/Jacuzzi

Sauna

Linens Provided

Towels Provided

Dishwasher
Suitable for the elderly - ask

Wheelchair accessible - ask
Amazing, relaxing break
Left on Jun 12, 2012 for a stay in May 2012
We stayed here for 3 nights, just to have a short break and chill out. And it did not dissapoint.

The yurt was perfect, as was the location. The facilities were fabulous especially the hot tub and the sauna.

As hard as it was to wake up from the most comfortable bed we have ever slept in, the views we did wake up to were spectacular.

We had an amazing time. We will be back and will be …
Previous

Next

property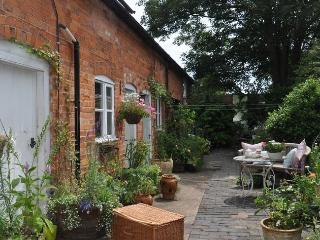 $66
1 BR / 1 BA / Sleeps 2
About the property 1 OF 2 PROPERTIES, A CHARMING VERY SECLUDED RETREAT AT THE FOOT OF BREDON HILL CHELTENHAM GOLD CUP - WEEKS COMMENCING 7 AND 14 MARCH 2015 FROM £355 Situated in the heart of the village and a stone's throw away from the Vale of Evesham, home to some of the country's most beautiful …
Pet friendly - ask

Smoking allowed - ask

Suitable for children - ask

Suitable for the elderly - ask

Wheelchair accessible - ask
Previous

Next

property
$66
1 BR / 1 BA / Sleeps 2
About the property 1 OF 2 PROPERTIES, A CHARMING VERY SECLUDED RETREAT AT THE FOOT OF BREDON HILL CHELTENHAM GOLD CUP - WEEKS COMMENCING 6 AND 13 MARCH 2015 FROM £355 Situated in the heart of the village and a stone's throw away from the Vale of Evesham, home to some of the country's most beautiful …
Pet friendly - ask

Smoking allowed - ask

Suitable for children - ask

Suitable for the elderly - ask

Wheelchair accessible - ask
---
---