Previous

Next

property
$70
5 BR / 5 BA / Sleeps 13
$70
Book
5 BR
/
5 BA
/
Sleeps 13
|

Quick view
Penzion Svět Český Krumlov We invite you for a romantic holiday in the historical town of Cesky Krumlov. All guests we offer accommodation in stylishly furnished boarding house with beautiful views of the picturesque historic centre of Český Krumlov. Main square is located only 600 metres from us…
Ocean or water views

Mountain Views

Shared outdoor pool (unheated)

Internet Access

Housekeeping Optional
Pet friendly - ask

Suitable for children
Previous

Next

property
$78
4 BR / 6 BA / Sleeps 8
$78
Book
4 BR
/
6 BA
/
Sleeps 8
|

Quick view
The villa in Lipno nad Vltavou has 4 bedrooms and has capacity for 8 people. The villa is nicely furnished, is modern, and has 200 m². It is located directly at the skiing-slopes. It has views to the lake and to the slopes. The house is situated in a family-friendly neighborhood surrounded by the forest. The …
Balcony or terrace

Garden

Dishwasher

Microwave

Refrigerator
Pet friendly

Smoking allowed - ask

Suitable for the elderly - ask

Wheelchair accessible - ask
Previous

Next

property
$86
4 BR / 4 BA / Sleeps 10
$86
Book
4 BR
/
4 BA
/
Sleeps 10
|

Quick view
The villa in Frymburk has 4 bedrooms and has capacity for 10 people. The villa is comfortable, is modern, and has 220 m². It is located right next to the beach and golf-course, directly at the skiing-slopes. It has views to the mountain and to the garden. The house is situated in a children-friendly neighborhood …
Fireplace

Washing Machine

Clothes Dryer

Balcony or terrace

Garden
Pet friendly

Smoking allowed - ask

Suitable for the elderly - ask

Wheelchair accessible - ask
Previous

Next

property
$90
5 BR / 6 BA / Sleeps 10
$90
Book
5 BR
/
6 BA
/
Sleeps 10
|

Quick view
The villa in Lipno nad Vltavou has 5 bedrooms and has capacity for 10 people. The villa is nicely furnished, is modern, and has 240 m². It is located directly at the skiing-slopes. It has views to the lake and to the slopes. The house is situated in a family-friendly neighborhood surrounded by the forest. The …
Fireplace

Balcony or terrace

Garden

Dishwasher

Microwave
Pet friendly

Smoking allowed - ask

Suitable for the elderly - ask

Wheelchair accessible - ask
Previous

Next

property
$66
3 BR / 4 BA / Sleeps 6
$66
Book
3 BR
/
4 BA
/
Sleeps 6
|

Quick view
The villa in Lipno nad Vltavou has 3 bedrooms and has capacity for 6 people. The villa is nicely furnished, is modern, and has 120 m². It is located directly at the skiing-slopes. It has views to the lake and to the slopes. The house is situated in a family-friendly neighborhood surrounded by the forest. The …
Balcony or terrace

Garden

Dishwasher

Microwave

Refrigerator
Pet friendly

Smoking allowed - ask

Suitable for the elderly - ask

Wheelchair accessible - ask
Previous

Next

property
$81
4 BR / 4 BA / Sleeps 8
$81
Book
4 BR
/
4 BA
/
Sleeps 8
|

Quick view
The villa in Frymburk has 4 bedrooms and has capacity for 8 people. The villa is comfortable, is modern, and has 220 m². It is located right next to the beach and golf-course, directly at the skiing-slopes. It has views to the mountain and to the garden. The house is situated in a children-friendly neighborhood …
Fireplace

Washing Machine

Clothes Dryer

Balcony or terrace

Garden
Pet friendly

Smoking allowed - ask

Suitable for the elderly - ask

Wheelchair accessible - ask
Previous

Next

property
$86
4 BR / 4 BA / Sleeps 8
$86
Book
4 BR
/
4 BA
/
Sleeps 8
|

Quick view
The villa in Lipno nad Vltavou has 4 bedrooms and has capacity for 8 people. The villa is nicely furnished, is modern, and has 200 m². It is located right next to the beach, directly at the skiing-slopes. It has views to the mountain and to the lake. The house is situated in a family-friendly neighborhood next to…
Washing Machine

Clothes Dryer

Balcony or terrace

Garden

Dishwasher
Smoking allowed - ask

Suitable for the elderly - ask

Wheelchair accessible - ask
Previous

Next

property
$81
4 BR / 4 BA / Sleeps 8
$81
Book
4 BR
/
4 BA
/
Sleeps 8
|

Quick view
The villa in Frymburk has 4 bedrooms and has capacity for 8 people. The villa is comfortable, is modern, and has 220 m². It is located right next to the beach and golf-course, directly at the skiing-slopes. It has views to the mountain and to the garden. The house is situated in a children-friendly neighborhood …
Fireplace

Washing Machine

Clothes Dryer

Balcony or terrace

Garden
Pet friendly

Smoking allowed - ask

Suitable for the elderly - ask

Wheelchair accessible - ask
Previous

Next

property
$86
4 BR / 4 BA / Sleeps 10
$86
Book
4 BR
/
4 BA
/
Sleeps 10
|

Quick view
The villa in Frymburk has 4 bedrooms and has capacity for 10 people. The villa is comfortable, is modern, and has 220 m². It is located right next to the beach and golf-course, directly at the skiing-slopes. It has views to the mountain and to the garden. The house is situated in a children-friendly neighborhood …
Fireplace

Washing Machine

Clothes Dryer

Garden

Grill
Pet friendly

Smoking allowed - ask

Suitable for the elderly - ask

Wheelchair accessible - ask
Previous

Next

property
$69
3 BR / 2 BA / Sleeps 8
$69
Book
3 BR
/
2 BA
/
Sleeps 8
|

Quick view
Landal Marina Apart 549, Penthouse 2 level, 110 mtsq. Downstairs::Great room,dining area, kitchen,bedroom,bathroom and wc Upstair: "Loft",children s bedroom with sink, Master Suite with jaquzzi bathtub,fireplace The Space Lipno lake is about 25 km form Cesky Krumlov Unesco Historical site and Hluboka Palace. in …
Waterfront

Ocean or water views

Mountain Views

Hot Tub/Jacuzzi

Sauna
Pet friendly - ask

Suitable for children

Suitable for the elderly - ask
Excellent
Left on Sep 18, 2014 for a stay in September 2014
Appartement correspond exactement à la description, très spacieux. Vue sur la Marina du Lac très agréable.

Très bon accueil de la réception de la résidence (surveillée), les hôtesses parlent Anglais ce qui est un plus quand on ne parle pas l'Allemand. Nous avons une panne de chauffe eau qui a été résolue dans l'heure qui a suivi (un samedi soir à 19h, je pense qu'en France il …
Previous

Next

property
$43
1 BR / 2 BA / Sleeps 4
$43
Book
1 BR
/
2 BA
/
Sleeps 4
|

Quick view
A comfortable, 2 story cottage with all the creature comforts of home, yet next to a pristine forrest in a small village in southern Bohemia, close to the Austrian border in the Czech Republic. Full kitchen, fireplace, heated floors, 1.5 bathrooms, fully furnished with TV with cable, internet, (wifi and a computer …
Mountain Views

Internet Access

Fireplace

Housekeeping Optional

Outdoor Dining Area
Pet friendly

Suitable for children

Suitable for the elderly
Previous

Next

property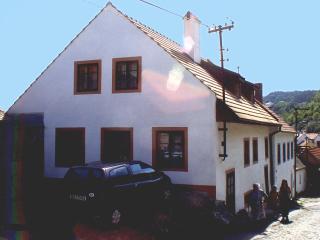 $75
1 BR / 1 BA / Sleeps 2
$75
Book
1 BR
/
1 BA
/
Sleeps 2
|

Quick view
Stay at an artist residency program when artists are not booked. Upper and lower studio apartments with kitchens and private bathrooms within the historic section of Cesky Krumlov, a UNESCO cited town of 18,000 friendly people. Overlooks the famous Vltava River. Great base for day trips to Sumava mountains, Linz and …
Ocean or water views

Patio

Books

Linens Provided

Towels Provided
Suitable for children - ask

Suitable for the elderly - ask
Previous

Next

property
$65
2 BR / 5 BA / Sleeps 8
$65
Book
2 BR
/
5 BA
/
Sleeps 8
|

Quick view
- Wi-Fi - TV / SAT -fully equipped kitchen (microwave oven, coffee maker, electric kettle, electric oven, fridge, freezer, dishwasher) - 2 ložnoce - Extra beds - 2x bathroom (1x shower, 1x bath tub) - Winter garden - bikes - Storage - Private parking for 2 cars - Washing machine + dryer within easy…
Wireless Internet

Washing Machine

Parking

Linens Provided

Towels Provided
Pet friendly

Suitable for children

Suitable for the elderly
Previous

Next

property
$248
8 BR / 4 BA / Sleeps 18
$248
Book
8 BR
/
4 BA
/
Sleeps 18
|

Quick view
Villa Victoria is located in the holiday resort of Lipno nad Vltavou, Czech Republic. This exceptional 7-bedrooms, 4-bathrooms, spacious detached house with self contained apartment it's a modern, private property that offers the elegance of the 'very special' combined with all the comforts of home. Built in 2008 …
Ocean or water views

Mountain Views

Sauna

Internet Access

Fireplace
Pet friendly

Suitable for children

Suitable for the elderly - ask
I can highly recommend .........
Left on Apr 23, 2010 for a stay in January 2010
Helca London
Review Submitted: April 7, 2008 Date of Stay: December 2007
I can highly recommend this beautiful villa with amazing views and a warm, friendly feel. I decided to do something different for the New Year celebrations and this proved to be a perfect choice. By day we chose to take to the slopes where we could not have asked for a better service. Equipment and lessons were provided if …
---
---
There are no more results in Benesov nad Cernou.
Top of page