Previous

Next

property
$44
1 BR / 1 BA / Sleeps 4
$44
Book
1 BR
/
1 BA
/
Sleeps 4
|

Quick view
1 bedroom, 1 bathroom, suitable for max 4 people This is a fully furnished, equipped and air-conditioned apartment situated in La Cala Finestrat/ an area of Hotel Bali 4*. - it is on the 4th floor of private closed urbanization and in just 4 minutes away from Playa La Cala (about 300m), - summer outdoor swimming …
Mountain Views

Shared outdoor pool (unheated)

Washing Machine

A/C or climate control

Balcony or terrace
Pet friendly - ask

Suitable for children - over five
Previous

Next

property
$153
2 BR / 2 BA / Sleeps 7
$153
Book
2 BR
/
2 BA
/
Sleeps 7
|

Quick view
2 bedrooms apartment, one has two beds of 1.05 and one with a trundle twin bed and one more departure from the bottom, 2 bathrooms, one en-suite into to the master bedroom and also one more additional, living room with double sofa bed, for two people. Fitted kitchen with utility. The kitchen has all you'll need …
Shared outdoor pool (unheated)

Hot Tub/Jacuzzi

Sauna

Wireless Internet

Washing Machine
Pet friendly

Smoking allowed

Suitable for children

Suitable for the elderly

Wheelchair accessible
Previous

Next

property
$25
1 BR / 1 BA / Sleeps 3
$25
Book
1 BR
/
1 BA
/
Sleeps 3
|

Quick view
ACTION! FREE tickets for the famous Terra Mitica amusement park when booking apartments 20/08/2014 of not less than 2 weeks. Starts from 05/07/2014 Spacious and bright apartment of 67 sq.m. comfortable and nicely furnished, 1 bedroom, living room, bathroom, kitchen, spacious terraces, 2-4 person occupancy. The …
Waterfront

Ocean or water views

Mountain Views

Shared outdoor pool (unheated)

Hot Tub/Jacuzzi
Suitable for children

Suitable for the elderly - elevator access
Previous

Next

property
$98
3 BR / 2 BA / Sleeps 8
$98
Book
3 BR
/
2 BA
/
Sleeps 8
|

Quick view
High standing apartment, large and sunny, with 126 m2, 3 bedrooms, 2 bathrooms and situated on the Playa de Levante (Rincon de Loix). It has 2 terraces and lounge with breathtaking views of the sea and the bay of Benidorm. Ideally located close to all amenities, restaurants, nightclubs, bars 24-hour public transport, …
Waterfront

Ocean or water views

Mountain Views

Shared outdoor pool (unheated)

Internet Access
Suitable for children

Suitable for the elderly

Wheelchair accessible
Exceptional apartment excellent views.
Left on Oct 29, 2014 for a stay in October 2014
From the moment I booked this apartment David the owner is very helpful and sorted out any queries requests that we had We where a group of women that booked it for a long weekend break and wasn't disappointed at all it's a lovely apartment very spacious airy bright and tastefully decorated. It is very well equipped and very clean.The views are amazing both in the day and night, a short walk down…
Previous

Next

property
$49
1 BR / 1 BA / Sleeps 4
$49
Book
1 BR
/
1 BA
/
Sleeps 4
|

Quick view
Brand-new 1 bedroom fully equipped apartment in the new private complex with free access to the SPA and Gym. The bedroom has two single beds, the living room has a sofa-bed for 2 people. 2 Bedrooms, 1 Bathroom, Sleeps 4 The apartment is situated on the 2rd floor of brand new private residence in just 10-15 minutes …
Ocean or water views

Mountain Views

Shared outdoor pool (unheated)

Internet Access

Washing Machine
Suitable for children

Suitable for the elderly - elevator access

Wheelchair accessible - ask
Previous

Next

property
$109
2 BR / 1 BA / Sleeps 4
$109
Book
2 BR
/
1 BA
/
Sleeps 4
|

Quick view
The apartment is incredibly locates just few meters from the Poniente beach (part La Cala). Apartment and building are completely new. Built in the 2010. The apartment has everything you might need for comfortable stay and more. There is garage for your car and beautiful swimming pool.
Waterfront

Ocean or water views

Internet Access

Washing Machine

A/C or climate control
Suitable for children

Suitable for the elderly - elevator access
Previous

Next

property
$38
3 BR / 2 BA / Sleeps 6
$38
Book
3 BR
/
2 BA
/
Sleeps 6
|

Quick view
The apartment is in 8ª plants of a building of 9, within a closed urbanization, with 2 communitarian private swimming pools, one of which is for children and the other for adults. The apartment makes corner and all the rooms are outer. Given its direction, they are possible to be enjoyed beautiful views to the sea as…
Waterfront

Ocean or water views

Mountain Views

Shared outdoor pool (unheated)

Washing Machine
Suitable for children

Suitable for the elderly

Wheelchair accessible
Previous

Next

property
$33
2 BR / 1 BA / Sleeps 6
$33
Book
2 BR
/
1 BA
/
Sleeps 6
|

Quick view
Accommodation Central apartment with pool and parking and spectacular ocean views. It is a small private apartment equipped with all the basics for a good newly renovated and furnished room. It has a large swimming pool surrounded by garden and communal parking outside . It consists of a fully equipped kitchen, …
Waterfront

Ocean or water views

Mountain Views

Shared outdoor pool (unheated)

Washing Machine
Pet friendly

Smoking allowed

Suitable for children

Suitable for the elderly - elevator access

Wheelchair accessible
Ok, Good apartment
Left on Dec 07, 2013 for a stay in May 2013
Good apartment.
The apartment is small as can be seen, but has everything you need for a good stay.
The treatment of owner and lord over the keys is very correct, let us in our early arrival pder leave our bags and said good about the area and the operation of the rental.
The apartment is clean and welcoming.
It has a great pool, the best we have seen.
It is conveniently located near the beaches …
Previous

Next

property
$50
2 BR / 1 BA / Sleeps 6
$50
Book
2 BR
/
1 BA
/
Sleeps 6
|

Quick view
These recently refurbished apartments are situated in Calle Esperanto, less than 15 mins. walk from the old town and about the same distance from the central entertainment area and The Square. They have a nice swimming pool (open summer only) with grass and trees around and sunbeds, and locked parking (3 euros per …
Shared outdoor pool (unheated)

Washing Machine

A/C or climate control

Central heating

Balcony or terrace
Smoking allowed

Suitable for children

Suitable for the elderly

Wheelchair accessible
Previous

Next

property
$88
3 BR / 1 BA / Sleeps 8
$88
Book
3 BR
/
1 BA
/
Sleeps 8
|

Quick view
Apartment is brand new, fully equipped, has three bedrooms, living room with kitchen - dining room and a bathroom. Playa is just 100 meters from the building, near this bus stop and supermarket. Building has a community pool Optional parking Apartment is brand new, fully equipped, has three bedrooms, living room …
Mountain Views

Shared outdoor pool (unheated)

Internet Access

Washing Machine

Clothes Dryer
Pet friendly - ask

Suitable for children

Suitable for the elderly - ask

Wheelchair accessible - ask
Previous

Next

property
$66
3 BR / 1 BA / Sleeps 6
$66
Book
3 BR
/
1 BA
/
Sleeps 6
|

Quick view
environment The building is located in the Levante beach second line to the beach 2 min walk, two entrances to the building, intercom. Domestic road access Alicante-Valencia and AP7 with access to the beach from the east along the Avenue of Europe. It is surrounded by many shops, pharmacy, bars, banks. Activities and …
Ocean or water views

Shared outdoor pool (unheated)

A/C or climate control

Patio

Garage
Suitable for children

Suitable for the elderly

Wheelchair accessible
Previous

Next

property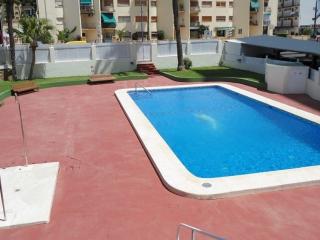 $88
1 BR / 1 BA / Sleeps 4
Inquire
1 BR
/
1 BA
/
Sleeps 4
|

Quick view
This is a cosy and modern apartment located 350 meters from the beach of Benidorm. It has 35 m2 and capacity for 4 people. The apartment has one bedroom with two single beds and a double sofa bed in the living room. There is a bathroom. There is one radiator and two fans available. The living, dining room and kitchen …
Shared outdoor pool (unheated)

Washing Machine

Garden

Freezer

Microwave
Smoking allowed - ask

Suitable for the elderly - ask

Wheelchair accessible - ask
Previous

Next

property
$55
1 BR / 1 BA / Sleeps 4
$55
Book
1 BR
/
1 BA
/
Sleeps 4
|

Quick view
If you are looking towards a fun-filled family holiday to enjoy the numerous attractions, this vacation apartment in Benidorm, Spain is perfect for you. Surrounded with the beautiful attractions, this well furnished and professionally decorated retreat promises a mind blowing stay along with your dear ones. It …
Waterfront

Ocean or water views

Shared outdoor pool (unheated)

Washing Machine

A/C or climate control
Pet friendly - ask

Smoking allowed

Suitable for children

Suitable for the elderly
Previous

Next

property
$48
2 BR / 1 BA / Sleeps 6
$48
Book
2 BR
/
1 BA
/
Sleeps 6
|

Quick view
This popular apartment is in an excellent location near the Rincon de Loix end of the beach. From here you have a very good view of the whole beach and promenade. There is a swimming pool (which is only guaranteed to be open from mid June to mid September) and sunbathing area behind the building. The building also …
Waterfront

Ocean or water views

Shared outdoor pool (unheated)

Balcony or terrace

Parking
Smoking allowed

Suitable for children

Suitable for the elderly

Wheelchair accessible
---
---