3 Results
Relevance
Price: low to high
Price: high to low
Number of reviews
San Nicolas villa
3 bedrooms / 3 bathrooms / sleeps 8
"Phenomenal house!!!" The house is amazing and up to date!!! The outdoor patio was perfect! We listened to music while grilling fish and watching the sun set! We had such a great time and will definitely stay here when we visit aruba again!! The private beach was perfect and we loved visiting Baby Beach. We loved everything!! Amazing house, host, and hostess!! Thank you!!!
Responds fast! avg. 35 minutes
1 of 2 match: Trampoline, Private fishing lake or river
1 of 2 filters match
Price per night from
$578
Noord villa
3 bedrooms / 3 bathrooms / sleeps 7
"Wonderfull villa" Helpfull owners, good furnished Villa in great garden with Nice pool and Big BBQ and big dining area under cabana /palapa which is verry necessary becauce of the sun! The service from the cleaning lady is verry good , bath and beach towels enough, we rent the range rover wich is necessary! There are good grocery stores in the area. We had an unforgettable vacation in villa Montanja, thanks To Linda and Will and their staff.
1 of 2 match: Private fishing lake or river, Trampoline
1 of 2 filters match
Price per night from
$284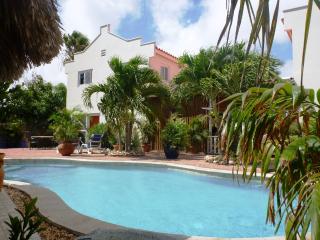 Noord apartment
1 bedroom / 1 bathroom / sleeps 4
1 of 2 match: Private fishing lake or river, Trampoline
1 of 2 filters match
Price per night from
$228