7 Results
Relevance
Price: low to high
Price: high to low
Number of reviews
Noord villa
3 bedrooms / 3 bathrooms / sleeps 7
"Wonderfull villa" Helpfull owners, good furnished Villa in great garden with Nice pool and Big BBQ and big dining area under cabana /palapa which is verry necessary becauce of the sun! The service from the cleaning lady is verry good , bath and beach towels enough, we rent the range rover wich is necessary! There are good grocery stores in the area. We had an unforgettable vacation in villa Montanja, thanks To Linda and Will and their staff.
Match: Trampoline
All filters match
Price per night from
$269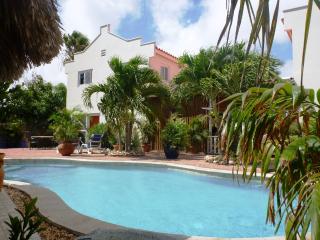 Noord apartment
1 bedroom / 1 bathroom / sleeps 4
"Fun and Relaxing Stay" This location is close to beaches, grocery stores, the lighthouse, restaurants etc. Plenty of storage for your clothes and the outdoor kitchen has everything you need to make a great meal. If you have children this place is great with shallow pool, playset, trampoline and hammocks.
Responds fast! avg. 43 minutes
Match: Trampoline
All filters match
Noord apartment
1 bedroom / 1 bathroom / sleeps 3
Responds fast! avg. 43 minutes
Match: Trampoline
All filters match
Price per night from
$110
Noord apartment
1 bedroom / 1 bathroom / sleeps 4
Responds fast! avg. 43 minutes
Match: Trampoline
All filters match
Price per night from
$133
Noord apartment
1 bedroom / 1 bathroom / sleeps 2
Responds fast! avg. 43 minutes
Match: Trampoline
All filters match
Price per night from
$105
Noord apartment
1 bedroom / 1 bathroom / sleeps 2
Responds fast! avg. 46 minutes
Match: Trampoline
All filters match
Noord apartment
1 bedroom / 1 bathroom / sleeps 4
Match: Trampoline
All filters match
Price per night from
$216