6 Results
Relevance
Price: low to high
Price: high to low
Number of reviews
6 cabin rentals in Bryson City with pools
Bryson City cottage
2 bedrooms / 1 bathroom / sleeps 5
"Family Vacation" The Cottage is a very nice home to stay in, everything provided. The owners were the nicest people you would ever want to meet. Cottage was very clean and well kept, hope to stay again.
Responds fast! avg. 1 hour 39 minutes
Match: Swimming pool
All filters match
Price per night from
$194
Bryson City log cabin
3 bedrooms / 2 bathrooms / sleeps 8
"W O N D E R F U L!!!" What a cabin! Amazing in every way,easy to get to,amazing views comfortable, clean and very relaxing! Great Smoky Cabin Rentals, you have a winner in this cabin,pet friendly,King (comfy) Bed, Leather Furniture, Easy to get in and out of, close to our beloved Bryson City. Love it!
Match: Swimming pool
All filters match
Price per night from
$218
Great rentals within 20 miles that match your search
Cullowhee house
2 bedrooms / 2 bathrooms / sleeps 6
Match: Swimming pool
All filters match
Price per night from
$179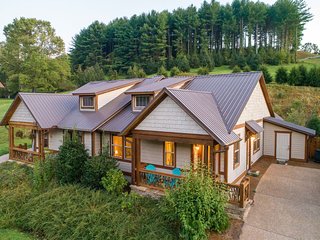 Cullowhee house
2 bedrooms / 2 bathrooms / sleeps 6
Match: Swimming pool
All filters match
Price per night from
$192
Almond cottage
3 bedrooms / 1 bathroom / sleeps 5
Responds fast! avg. 1 hour 42 minutes
Match: Swimming pool
All filters match
Price per night from
$148
Franklin cottage
2 bedrooms / 1 bathroom / sleeps 4
Responds fast! avg. 1 hour 42 minutes
Match: Swimming pool
All filters match