8 Results
Relevance
Price: low to high
Price: high to low
Number of reviews
Charleston apartment
1 bedroom / 1 bathroom / sleeps 2
Match: Shared outdoor pool (heated)
All filters match
Price per night from
$205
Charleston apartment
1 bedroom / 1 bathroom / sleeps 2
Match: Shared outdoor pool (heated)
All filters match
Price per night from
$205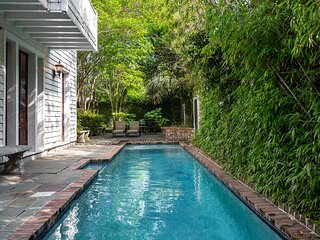 Charleston villa
1 bedroom / 2 bathrooms / sleeps 4
Match: Shared outdoor pool (heated)
All filters match
Price per night from
$302
Charleston apartment
1 bedroom / 1 bathroom / sleeps 2
Match: Shared outdoor pool (heated)
All filters match
Price per night from
$205
Charleston apartment
1 bedroom / 1 bathroom / sleeps 2
Match: Shared outdoor pool (heated)
All filters match
Price per night from
$171
Great rentals within 20 miles that match your search
Isle of Palms apartment
2 bedrooms / 2 bathrooms / sleeps 6
"Definitely "YES"" We stayed in this beautiful condo for 4 nights at the end of September. It is located in very nice and secured place. The view from screened porch was great. We spend a lot of time there. The condo was great prepared for guests. I was very happy to find this condo, because I had my mom visiting us from Europe.
Responds fast! avg. 1 hour 17 minutes
Match: Shared outdoor pool (heated)
All filters match
Price per night from
$153
Kiawah Island cottage
3 bedrooms / 2 bathrooms / sleeps 6
"A great family getaway in a perfect location!" We had a wonderful stay in October at this updated, clean, spacious cottage. Our two children loved the layout with the bathroom connecting their bedrooms, and my husband and I appreciated the child-friendly, safe setting. It is rare to find such comfortable beds in a rental! The kitchen was well-equipped and modern. The hospitable nature of the owners was felt from the first phone contact to the small, but important details of providing extra linens, detergent and brochures of the area attractions for their guests. We loved the fact that we were only a 3 minute walk from the pool and playground and just a bit further to the beach. Renting bikes, along with the swimming in the pool and at the beach, kept us pleasantly busy, but did not prevent us from having the calm, family-oriented week which allowed us to re-connect. This is a cottage we definitely hope to visit again!
Match: Shared outdoor pool (heated)
All filters match
Price per night from
$250
Isle of Palms villa
3 bedrooms / 3 bathrooms / sleeps 8
Match: Shared outdoor pool (heated)
All filters match
Price per night from
$658