Enter dates for more accurate prices
Payment Protection
Your payment for this rental is protected when you pay through FlipKey.
Learn more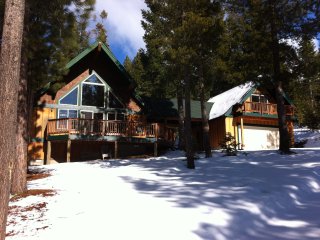 Oregon / Crescent Lake
Crescent Lake house
4 11 min stay varies
4 bedrooms
sleeps 11

min stay varies
Nearest beach 8 mi
Ski
Child Friendly
Price per night from
$287
Price per night from
$287
Oregon / Crescent Lake
Crescent Lake log cabin
2 8 2 nights min
2 bedrooms
sleeps 8

2 nights min
Beach / lakeside relaxation
Child Friendly
Pet Friendly
"An Idyllic, beautiful,wonderfully relaxing place to be." I loved this cabin. It stayed nice and cool inside so was a welcome retreat from the heat. A pretty private spot with lovely surroundings. Loved the creek and the deck! Enjoyed roasting marshmel
…see more
Price per night from
$240
Price per night from
$240
Oregon / Crescent Lake
Crescent Lake house
2 6 4 nights min
2 bedrooms
sleeps 6

4 nights min
Price per night from
$217
Price per night from
$217
About Crescent Lake
Crescent Lake, Oregon, is an exquisite natural lake that boasts beauty, charm and tranquility. Select your Crescent Lake vacation rental on FlipKey and make this location your chosen destination. Make sure you bring your camera as you'll want to remember the picturesque views for as long as possible. You'll definitely want to capture the sunrise as it's one of the best sights there is.
About Crescent Lake
Crescent Lake is named after its shape. Boasting several species of fish, including mountain whitefish, rainbow trout and lake trout, the lake is an area where you'll discover peaceful surroundings fused with outdoor pursuits.
If you're planning on visiting the area, the best time to go is during summer months when the weather is pleasant and it's perfect to spend time outdoors experiencing the magical aura of the lake.
Crescent Lake boasts warm and humid summers with cold winters. July and August are the hottest months while December to February are the coldest months. There is a significant amount of rainfall and snow in the area, especially during winter.
What to do
There are plenty of things to do in Crescent Lake, including several aquatic pursuits. There are plenty of trails around the lake for both hiking and mountain biking. Either get your walking boots on or grab a bike and explore the local scenery. There's also opportunity for fishing, canoeing, boating and kayaking.
If you don't want to get active, why not spend time by the lake relaxing with a good book. You can also take time out with a picnic or two. For kids, bring their outdoor toys and let them unwind in the fresh air. If you're in the area during winter, there are plenty of winter sports, including hiring a snowmobile or bringing your skis.
The local cuisine offers mouthwatering dishes. Manley's Tavern is an American pub serving hearty food like roast chicken, potatoes and tasty steak. You can also grab a cold beer if you fancy quenching your thirst. Alternatively, The Pines Bar and Grill serves a range of food, including fresh seafood. This cozy eatery is ideal for taking some time away from the outdoors.
Top travel tips
If you fly into Crescent Lake, you may arrive at Crescent Lake State Airport which is only, 2 miles away. You can then grab a cab to your rental. You may also land at Eugene Airport and take an airport shuttle.
Take a FlipKey vacation to Crescent Lake, Oregon, and experience everything the great outdoors has to offer. From outdoor sports to delicious food, this amazing destination boasts a lot for those who love being close to nature.
What is Certificate of Excellence?
TripAdvisor gives a Certificate of Excellence to accommodations, attractions and restaurants that consistently earn great reviews from travelers.