14 Results
Relevance
Price: low to high
Price: high to low
Number of reviews
Hahei house
2 bedrooms / 1 bathroom / sleeps 4
"Location Location Location." This property is superb. Nestled in the sandhills, absolute beachfront on arguably the best beach in New Zealand. Hahei is a great little beach community...with a general store, several shops and restaurants.The local Golf club is a 10min drive away and the larger town of Whitianga is another a short drive, and ferry ride away. The house, which we understand was refurbished several years ago, was spotlessly clean and contains every amenity. The large front deck overlooking the white sand beach, and the crystal clears water, is the perfect place to pass the day or evening. We have no complaints or negatives...thoroughly recommended.
Price per night from
$566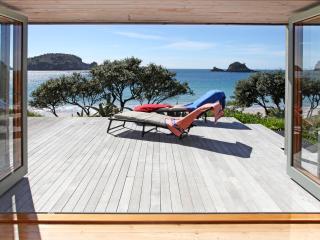 Great rentals within 20 miles that match your search
Coromandel bungalow
2 bedrooms / 1 bathroom / sleeps 4
Price per night from
Inquire for Rates
Whitianga apartment
2 bedrooms / 1 bathroom / sleeps 4
"Heaven on earth!" This place is spectacular! The feel is luxurious and clean, but the two best things about it are the view and Jill! We highly recommend it!
Price per night from
$208
Coromandel house
2 bedrooms / 2 bathrooms / sleeps 4
Price per night from
$160
Pauanui hotel apartment
1 bedroom / 1 bathroom / sleeps 2
Price per night from
$121
Whitianga b&b
1 bedroom / 1 bathroom / sleeps 2
Price per night from
$241
Ferry Landing house
2 bedrooms / 1 bathroom / sleeps 5
Price per night from
$214
Ferry Landing cottage
2 bedrooms / 1 bathroom / sleeps 4
Price per night from
$225
Ferry Landing cottage
2 bedrooms / 1 bathroom / sleeps 4
Price per night from
$225
Whitianga cottage
2 bedrooms / 2 bathrooms / sleeps 4
"Just perfect!" Our stay was amazing! We arrived to spend a weekend out of the city, and this place was perfect - private & peaceful. We were so impressed with the service - just the right amount, they were there to help, but did not intrude. The unit it's self was well fitted and was much more than I had expected. Will defiantly stay again! - hopefully very soon. thank you :)
Price per night from
$154
Coromandel cottage
1 bedroom / 1 bathroom / sleeps 4
Price per night from
$129
Coromandel house
1 bedroom / 1 bathroom / sleeps 4
Price per night from
$236
Whitianga cottage
2 bedrooms / 1 bathroom / sleeps 4
Price per night from
$319
Whitianga cottage
1 bedroom / 1 bathroom / sleeps 2
Price per night from
$234