Enter dates for more accurate prices
Westhampton Beach house
3 bedrooms / 2 bathrooms / sleeps 6
Match: Private fishing lake or river
All filters match
Price per night from
$205
Water Mill house
3 bedrooms / 3 bathrooms / sleeps 6
"Beautiful Watermill" This lovely home has all amenities including granite kitchen and a dining area that over looks the water. The rear deck and grill area affords privacy on an unparalleled wildlife refuge view, complimented by the sound of running water. The location of this vacation home is right on Mill Pond and across the road from Mecox Bay. It is gorgeously nestled 1.5 miles from the ocean and a white sand beach. The local attractions include several four star restaurants, Duck Walk winery and Parrish Museum. The local activities include golf, tennis, hiking and of course the world class ocean beach. Your never far from many recreational activities. We look forward to returning int he future.
Match: Private fishing lake or river
All filters match
Price per night from
$779
Hampton Bays house
6 bedrooms / 3 bathrooms / sleeps 12
Match: Private fishing lake or river
All filters match
Price per night from
$1,145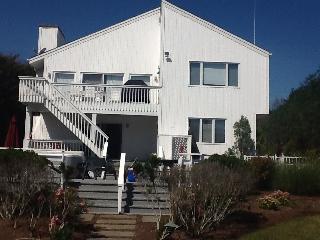 Southampton villa
7 bedrooms / 5 bathrooms / sleeps 18
"OUR DREAM VACATION HOME" This is a great location for families. Kayaks are available to rent nearby so you can explore the bay shore. You can fish from nearby docks or directly from the backyard and swim in the ocean just minutes away. The owner gave us lots of information so that we could arrange a fishing trip, diving charter and local places to eat great fish. We went to the wildlife refuge just a 10 minute drive away and the grandkids had the best time. My son who is an avid exercise person found a huge gym just minutes from the house as well. This home offered everything you could possibly want and the owner was a dream to work with. I recommend the house and the owner very highly.
Responds fast! avg. 3 hours 10 minutes
Match: Private fishing lake or river
All filters match
Price per night from
$1,376
Hampton Bays house
7 bedrooms / 5 bathrooms / sleeps 16
"Extraordinary Vacation and Home" My family rented this home for our annual summer vacation. Our family consists of 12 adults and 8 children. It was perfect for all of us. The home was clean, spacious and well maintained. The beds were comfortable with lots of pillows and dreamy soft comforters. The kitchen was so well equipped, I don't think there was a cooking tool that is made that the homeowner didn't have. Although the home had enough plates, silverware and stemware to feed an army, we found using paper plates and plastic easiest. The pictures on the website did not do the house justice. When we arrived we were awestruck at the spaciousness and great condition of the house. The beds were all made with luxurious linens and we had tons of bath towels. The owner even provided a closetful of pool towels. The volleyball area and the basketball area was a big hit with my grandchildren. Even the big boys loved it. My husband had to drag me out of the delicious heated pool each day. My husband loved the hot tub as it was wonderful for his bad back. I am very happy to recommend this home to all my friends and family. Everything here was absolutely perfect. This was an extraordinary home.
Responds fast! avg. 3 hours 10 minutes
Match: Private fishing lake or river
All filters match
Price per night from
$1,050
Great rentals within 20 miles that match your search
Cutchogue cottage
2 bedrooms / 1 bathroom / sleeps 6
Match: Private fishing lake or river
All filters match
Price per night from
$172
Greenport apartment
2 bedrooms / 2 bathrooms / sleeps 6
"Perfect Location" The apartment is in a perfect location - it has a great view of the water and easy access to the beach. It was clean, a TV in every room and in a very convenient location. Green Point is just minutes away, Southold is minutes away and there are lots of places to eat and buy whatever you may need. Me and my wife, mother and kids had had a great time and the kids loved exploring the beach and we loved watching the sunset on the big lawn overlooking the water. We are already planning and looking forward to spending next years vacation here again
Responds fast! avg. 2 hours 43 minutes
Match: Private fishing lake or river
All filters match
Price per night from
$373