Enter dates for more accurate prices
Lake George house
4 bedrooms / 4 bathrooms / sleeps 11
Match: Hair dryer
All filters match
Price per night from
$440
Diamond Point house
4 bedrooms / 4 bathrooms / sleeps 10
Match: Hair dryer
All filters match
Price per night from
$189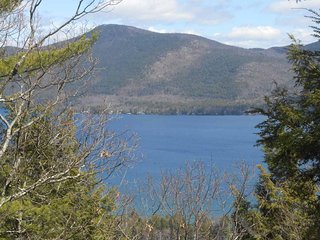 Diamond Point house
5 bedrooms / 4 bathrooms / sleeps 10
Match: Hair dryer
All filters match
Price per night from
$245
Great rentals within 20 miles that match your search
Chestertown cottage
4 bedrooms / 3 bathrooms / sleeps 10
"Friends Lake at Atateka Point Lodge is a great place for family vacation." Atateka Point Lodge was everything we hoped for in a vacation rental. The covered gazebo dock right on the lake with bench swing, table and chairs were beyond expectations. The main cottage has a full size kitchen with modern appliances. The table was large enough to seat everyone in our family and guests. There is a wood burning fireplace in the living room. The main cottage has three separate sleeping areas, a set of twin bunk beds on the porch, a double bed in the main bedroom and a set of twin beds facing the lake.There is a shower stall and toilet off the living room. The smaller updated cottage was cozy and beautifully decorated. It has a remote control gas fireplace in the living room, the kitchen in the smaller cottage is a galley style yet met our needs perfectly with half bath and washer and dryer off the living room. Upstairs there is a single bedroom with a double bed, the toilet is separate from the jetted/massage shower. The small deck off the cottage is ideal for morning coffee, reading or just enjoying the sounds of the lake. There is wifi, cable television, local telephone and we even had Verizon wireless cell phone service, however it is such a beautiful place the electronics were rarely used. Instead our days and evening were spent lakeside, fireside, grilling, playing games or in the hot tub enjoying each others company. The kayaks and canoes were used often exploring the lake. Friends Lake is so serene, and the cottage location on the lake affords you the tranquility of the lake even while other owners further up the lake used motor boats for tubing and water skiing. We live in Massachusetts but our families live about 50 minutes away, part of the reason we decided on these cottages were so they could join us. We had some family come up for the day and others after work, my brother and his wife enjoyed it so much they came two days in a row after working all day. The two cottages gave us plenty of room to enjoy not only our children but to offer siblings the opportunity to stay. Everyone was amazed at the beauty and tranquility of the lake. We were a family of four but enjoyed having both cabins so we could offer the invitation to our extended family. Between both the cottages, the covered gazebo dock and small deck there are plenty of places for everyone to have time to themselves or all together as a family. I would highly recommend Atateka Point Lodge.
Match: Hair dryer
All filters match
Price per night from
$342
Warrensburg log cabin
4 bedrooms / 3 bathrooms / sleeps 8
Match: Hair dryer
All filters match
Price per night from
$337
Hadley house
5 bedrooms / 3 bathrooms / sleeps 14
Match: Hair dryer
All filters match
Price per night from
$516
Chestertown log cabin
2 bedrooms / 2 bathrooms / sleeps 4
"Cozy cabin surrounded by nature" We spent a wonderful weekend at Black Bear Cabin. It was much more than what we hoped for. Wonderful getaway without neighbors. Everything was clean and nice, cabin life at it's best. Fireplace made our relaxing weekend perfect. Kitchen had all possible utilities that one could ever hope for. Beautiful plates and mugs, everything in the cabin decorated according Black Bear theme. There were six adults and two kids in our party and we fitted in nicely, even over dining table. We took a trip to Lake Placid on one day and to Hadley Mountain Hike on the other day to see amazing mountain views. There would have been many other interesting places to see nearby, but unfortunately we didn't have enough time. We can warmly recommend Black Bear Cabin!
Match: Hair dryer
All filters match
Price per night from
$172
Chestertown b&b
2 bedrooms / 2 bathrooms / sleeps 4
"Tree house" The most relaxed we have been in along time. The scenery & location were both beautiful. The was a lot of attention to detail & the house was very comfortable.
Match: Hair dryer
All filters match
Price per night from
$287
Chestertown house
3 bedrooms / 2 bathrooms / sleeps 8
"Lovely place to stay at Loon Lake" We (my family, 5 adults) stayed here for 2 nights and we all agreed that it was a lovely place. The house is in top condition with an extremely well equipped kitchen (everything you could need was there). The house is very tastefully decorated and has a nice cosy feel to it. We used the outdoor grill and it worked perfectly. I liked that very thorough instructions and guidance was given on an information sheet in the kitchen as well. The wifi worked well too. Loon Lake itself is across the road and down a little path. We really enjoyed out stay here.
Responds fast! avg. 1 hour 23 minutes
Match: Hair dryer
All filters match
Price per night from
$229
Athol log cabin
4 bedrooms / 2 bathrooms / sleeps 12
Responds fast! avg. 3 hours 8 minutes
Match: Hair dryer
All filters match
Price per night from
$573
Bolton Landing house
5 bedrooms / 3 bathrooms / sleeps 8
Responds fast! avg. 3 hours 18 minutes
Match: Hair dryer
All filters match
Price per night from
$1,941