11 Results
Relevance
Price: low to high
Price: high to low
Number of reviews
Lake Lure cottage
3 bedrooms / 2 bathrooms / sleeps 6
"Huge house, excellent location" The house is very well maintained and beautiful inside out. I stayed with my girlfriend for the weekend in June. It is close to Asheville and just few minutes from Lake Lure & Chimney rock. The house has 3 BR and 2bath which can easily accomodate 3 couples(6 people). It has good size Samsung TV that one can watch movies on with a glass wine in the living room. I recommend to take your tablet and chromecast so you can stream movies on the TV. I 100% recommend this place to anybody who is looking for a getaway in the mountains or the Lake. I will definitely stay here agan and will recommend all my friends.. Melanie(the owner) is easy/fast to get in touch with via text/phone, although we didn't had any issue to contact her but as soon as I entered the house, I was so impressed that I texted to thank her and she replied back immediately:-).
Match: Video player
All filters match
Price per night from
$126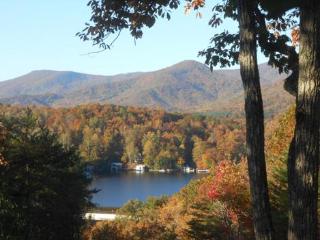 Lake Lure house
3 bedrooms / 3 bathrooms / sleeps 11
"So many awesome things to do and relaxation time all rolled up i" Such a wonderful cabin away from it all, yet things close enough for adventure. Cabin was clean, with great space. Kitchen was well stocked with utensils to be able to cook meals. Hot tub was perfect for chilly nights. Shirley was a great host, always keeping communication open before and during our stay. She was getting ready to leave the cabin right as we were arriving, yet she took the time to meet us, give us a tour of the cabin, give us details of dining and things to do in the area, and answer any questions we had. For us Floridians it was an adventure just driving on the winding roads and one night in snow for the first time! Exploring around the cabin was great. So peaceful and wonderful nature on the trail and the creek was great. We did zip lining at Canopy Ridge Farms which the speed and views were breathtaking. New Years Eve was spent roasting hot dogs and marshmallows by the outdoor fire pit. My son, 16, and I went rock climbing for over four hours on Rumbling Bald, doing four different routes with Fox Mountain guided tours, while my husband and daughter, 11, did a guided hike through part of Rumbling Bald. Went to the Biltmore Estates Candlelight tour. Was really beautiful and would recommend getting the audio guide if doing a self-guided tour. The North Carolina arboretum had an awesome Lego display with life size creations of animals, people and flowers. There was also fresh snow in the parking lot so my daughter was able to make her first little snowman! My son did one of the biking trails their and really enjoyed it. He also enjoyed riding his bike down the driveway of the cabin! Also enjoyed doing some shopping in Chimney Rock. Dining was great at Phil's BBQ in Black Mountain, La Strada, fancy Itailian in Lake Lure, and Ole's Guacamole in Black Mountain. All the adventure and food were within 20-50 minutes of the cabin which was perfect. Wishing we could of stayed for another week to relax more and do so many of the other adventures provided!!!
Responds fast! avg. 2 hours 54 minutes
Match: Video player
All filters match
Price per night from
$288
Lake Lure log cabin
5 bedrooms / 4 bathrooms / sleeps 12
"The JoBeth house is wonderful." Our stay was just what we had hoped it would be. JoBeth house is beautiful, and has everything you would need to enjoy your stay. The resort has lots of amenities to keep you entertained, and their restaurants are convenient and exceptionally good.-(especially Luna del Sol)
Responds fast! avg. 3 hours 12 minutes
Match: Video player
All filters match
Price per night from
$261
Lake Lure house
4 bedrooms / 4 bathrooms / sleeps 12
Responds fast! avg. 1 hour 52 minutes
Match: Video player
All filters match
Price per night from
$318
Great rentals within 20 miles that match your search
Asheville house
3 bedrooms / 3 bathrooms / sleeps 6
"This was glorious!" My family convened from all over the U.S., to gather in Asheville for a reunion. Many of the cousins rented homes, but none were as perfect as Cloud 9 Relaxation. Everything about the house was comfortable and beautiful. We spent time on the large deck looking at the mountains in the distance and watching the humming birds close at hand. We used the hot tub, and Janet arranged for us to build a fire outside on our last night there. My adult children ere very engaged in learning about her bee keeping, fresh eggs for breakfast and the blueberry fields. Their interest in our hostess' knowledge of farm to table dining and conserving the land gave them a learning experience.. Our memories will last a lifetime. And, we will return!
Responds fast! avg. 1 hour 5 minutes
Match: Video player
All filters match
Price per night from
$272
Black Mountain house
1 bedroom / 1 bathroom / sleeps 4
"Awesome view, great value" We spent 3 nights at the cabin and loved it. We had a bit of trouble figuring out that the street that has a sign calling it E. State Street is Old US 70, but once we figured that out, we got the hang of finding our way to the cabin. I wouldn't suggest making the drive for the 1st time in the dark. We particularly enjoyed sitting on the back porch every day for the amazing sunset. Despite having only 1 bedroom, the cabin feels bigger due to the open kitchen/dining/living space. We didn't cook but the appliances and kitchen seemed well equipped. I did have to contact the owner because I couldn't get the tv to display any channels. Unfortunately he didn't return my call (I left a voicemail) and I called again the next day. When I reached Larry the next day, he put me in touch with a local caretaker and I was able to resolve the issue over the phone. It might be helpful for the owner to leave a back up local number if for some reason you can't reach him. In this case, it was a minor issue so no problem. Overall, I would highly recommend this cabin as it is exactly as described.
Responds fast! avg. 3 hours 40 minutes
Travelers' Choice award
Match: Video player
All filters match
Price per night from
$104
Bat Cave cottage
1 bedroom / 1 bathroom / sleeps 2
"More than we expected, we will be back!" This is the perfect place to get away! We came in at night and I was nervous because I know how picky my boyfriend is about staying away from home. It was very clean the pictures don't do it justice. The hot tub was great. The inside was spacious. Chimney Rock was just down the road. We did a day of shopping and climbed all the way to the top of Chimney Rock and all the trails and came back and spent some much needed time in the hot tub and massage chair. The owners were right upstairs and we talked with them they were so nice however we couldn't tell there was anyone upstairs unless we went to them. I can't wait to go back!!! I need the sound of the river to put me to sleep again!
Responds fast! avg. 2 hours 11 minutes
Match: Video player
All filters match
Price per night from
$207
Rutherfordton log cabin
2 bedrooms / 2 bathrooms / sleeps 6
Match: Video player
All filters match
Price per night from
$173
Bat Cave cottage
3 bedrooms / 2 bathrooms / sleeps 8
"Nice and Cozy" We had a great time during Spring Break 2014. We wanted to do something a little different with grandkids this year, and this Cottage was perfect. (We normally go to Gatlinburg) Cottage sits right on the river with the deck actually out over the river. Hot tub was well taken care of and located where we had a nice view of the river. We didn't realize we had scheduled opening day of trout fishing season, but we took advantage, and my son caught several nice fish right on the property. I enjoyed the fact that the cottage is a part of history, (Former Bat Cave Post Office), yet everything was updated with new fixtures and electronics. The beds slept great, and the grand kids loved the game room. Chimney Rock State Park and little downtown area are just a few minutes from the cottage on the same road. We were a little concerned about available dining close by, but were pleasantly surprised with the variety of options. Also used the available stainless Weber grill on the deck. I am certain we will return later in the summer. The owners were very nice, and made us feel like we were appreciated. Overall a very nice and relaxing vacation. (The massage chair was a bonus when I could get the kids out of it)
Responds fast! avg. 2 hours 11 minutes
Match: Video player
All filters match
Price per night from
$253
Asheville cottage
1 bedroom / 2 bathrooms / sleeps 4
"Just a Great Place" We got to the cabin and were tired, we got ready to make coffee and realized we would have to go to the store to get some cream. Opened the fridge an Muffi had stocked some cream (Moo Moo Minis). I tell this story because it is the way things seemed to go for the next few days. So many of our needs were met and anticipated. The "eye candy" of the cabin was just grand, the craftsmanship superb, windows in unusual places, high quality windows, and very clean, very quiet neighborhood, easy parking, close to the Blue Ridge Parkway and the Biltmore. Very nicely done, As Arnold S. says "I'll be back"
Responds fast! avg. 25 minutes
Travelers' Choice award
Match: Video player
All filters match
Price per night from
$104
Fairview log cabin
/ 1 bathroom / sleeps 2
"Relaxing and rejuvinating" My husband, six month old daughter and I spent the weekend here in May. It was outstanding. Kendall, the owner, was warm and welcoming from the minute we stepped out of the car. She provided us with maps of her property, which you can hike and explore. We especially enjoyed the koi pond and just sitting on the porch swing. The views are amazing from the porch and deck. The cabin is in Fairview, NC which is about 20 minutes away from Asheville. It is the perfect location, far enough away to feel as if you are the only ones around, but close enough to downtown to run in for dinner. You don't have to, however, because there is a restaurant, The Local Joint, about 5 minutes away. They have a variety of local food and organic entrees. Excellent. Kendall is a licensed massage therapist and yoga instructor. We were able to get massages for both my husband and myself, which were fantastic. I also opted to take a private yoga lesson, which was awesome. I am a super-beginner, and she was able to make the class both on my level and enjoyable. We got the "relaxation weekend" which I highly recommend. The massage and yoga class (or sauna treatment) come with the cabin price. There is a hot tub which we were unable to use (because we needed to watch the baby), but looked very inviting. Overall, I would give this vacation spot 5 stars, more if I could!
Match: Video player
All filters match
Price per night from
$190