Enter dates for more accurate prices
Lora del Rio Rentals
Filter
Bedrooms
Any

1+ Bedrooms

2+ Bedrooms

3+ Bedrooms

4+ Bedrooms

5+ Bedrooms

6+ Bedrooms

7+ Bedrooms

8+ Bedrooms

9+ Bedrooms

10+ Bedrooms

11+ Bedrooms

12+ Bedrooms

13+ Bedrooms

14+ Bedrooms

15+ Bedrooms
Rental types
Suitability
Popular filters
Lora del Rio Rentals
Lora del Rio manor house
11 bedrooms / 9 bathrooms / sleeps 25
"Wow, home from home except with the sun to enjoy a great holiday" Just a note to say, we had a fantastic holiday.The villa is beautiful and when you say a home from home, that's exactly what it was. So other people are aware you do not need to bring towels, shampoo's, hair dryer etc everything you could possibly need was available there. Table tennis, pool table, Dvd's & computer access was great for the kids. They spent hours on it during the hot sun playing games and checking up on sports results from home. We had two families staying and we never got under each others feet. Plenty of space to hide away. The beautiful photo on the website does not do justice to the shear size of the villas inside. The pool area is very well decked out. Plenty of beds and chairs. Barbeque area very big and outside fridge was fantastic. Lots of kitchen space and cooking areas inside and out. It is very well maintained and obvious that the owners take great pride in the property. Highly recommend this villa to anyone. Thank you again for a great stay. You should be very proud of yourselves. We look forward to getting out again in the future with some friends for a break away and will recommend your villa to friends and family.
Responds fast! avg. 1 hour 50 minutes
Price per night from
$476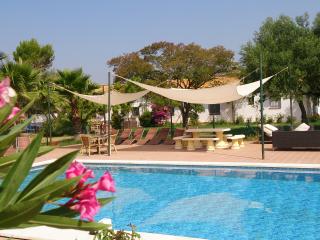 Lora del Rio apartment
4 bedrooms / 2 bathrooms / sleeps 8
Price per night from
$143
Lora del Rio apartment
2 bedrooms / 1 bathroom / sleeps 6
Price per night from
$105
Lora del Rio apartment
5 bedrooms / 2 bathrooms / sleeps 12
Price per night from
$232
Payment Protection
Your payment for this rental is protected when you pay through FlipKey.
Learn more