8 Results
Relevance
Price: low to high
Price: high to low
Number of reviews
Kapolei apartment
2 bedrooms / 2 bathrooms / sleeps 6
"This place offers the best of all worlds" My boyfriend and I spent a week at this spectacular villa and can't wait to come back next year. We were greeted by Louie upon arrival and he escorted us to our underground parking space and walked us up to the villa. The first thing we noticed when we walked into the villa was the breathaking views; you have the ocean to the left and the mountains to the right. It was the perfect combination of water and nature. Louie explained the resort's amenities, including a fully equiped fitness facilty and lagoon. The villa is tastefully furnished and equipped with all the amenities you would expect from a high end home. We visit Hawaii once a year and have stayed at several high end hotels, including the Royal Hawaiian in Waikiki, Fairmont in Wailea, etc., and this villa is up there with the best accommodations the islands have to offer. The best part of the stay was that we always looked forward to coming back to the relaxing atmosphere of the villa. We often drove to Waikiki for shopping or to visit friends during the day, and enjoyed coming back to the Ko Olina area at night as it was peaceful and quiet compared to the hustle and bustle of Waikiki. The drive is only about 35 minutes so we truly had the best of both worlds in staying at this resort. We also enjoyed walking from the villa to Roy's for their happy hour specials as well as the shopping center nearby. There is a small market and a good variety of food and restaurants at the shopping center. We feel like we've uncovered a hidden treasure by finding this place. We are excited to return soon!
Responds fast! avg. 3 hours 52 minutes
Match: Fax machine
All filters match
Price per night from
$519
Ko Olina villa
3 bedrooms / 3 bathrooms / sleeps 6
"Five-Star Condo and Facility!" My family & I stayed at Ko Olina Villa's March 10-23. Our flight arrived 6 hours late, at 3:15 am. As Enterprise Rent-a-Car was closed, we had to take a (US$90) taxi ride to the condo; by this time, we were exhausted & fed up with travelling. We were welcomed by the front desk staff, given keys & directions to our condo. When we opened the door to #304, our frustrations left as we took in the beauty of the condo which was everything the photos showed & more! From the designer kitchen to the spacious master suite & second bedroom & bath, #304 is tastefully decorated with quality furnishings, comfortable beds & high-end linens. We traveled with our 17 year old daughter & friend who loved having their own space with two very comfortable beds, lots of drawer space, a TV & their own bathroom with a great shower. We appreciated the sliding doors opening on to the large lanai, overlooking he 'quiet' pool. Being on the third floor was particularly nice, as we had a great view of the grounds. The kitchen is designer, with Wolf stove & oven & a spacious Sub-Zero fridge/freezer. There is a two-drawer dishwasher & although we appreciated it, found it lacking space & it didn't clean the dishes too well even after the filter was rinsed out & vinegar run through a load. We then rinsed the dishes before putting them in & this helped. The communal BBQs (4) were in need of repair/maintenance with some not working. We have rented other vrbo's & found the kitchens usually had more supplies of spices, oils and basic condiments. There were some of these but we would have liked to have seen more, as we did 99% of our own cooking at the condo (one of the reasons we like to do vrbo) & had to buy things like mustard, mayo, ketchup & bbq sauce that were left behind nearly full. None the less, the condo itself was fantastic, everyone of the staff was friendly & always acknowledged us with a smile & Aloha! in passing. The grounds of the Villas are incredible, with huge Koi in the ponds. We really liked the 'quiet' pool & the Hawaiian music that played poolside. Our daughter & friend found the Fitness Facility to be very nice, with no waits for machines. The proximity to the beach & lagoon is great! There is a nice walkway that links the four lagoons & hotels nearby. We are avid snorkelers & really enjoyed the Honu lagoon in front of the Villas where we saw a great variety of fish & even turtles. Murial was wonderful to deal with from start to finish! Mahalo!
Responds fast! avg. 2 hours 45 minutes
Match: Fax machine
All filters match
Price per night from
$563
Honolulu cottage
2 bedrooms / 1 bathroom / sleeps 4
"Location, location, location!!" Loved the place, loved the location! Parking and finding the cottage for the first time were tricky- more specific information prior to arrival would have been helpful, but once we arrived, any questions we had were answered immediately and so friendly!!! The owners are gracious and Mahalo for your ohanna-we'd stay again!!!
Match: Fax machine
All filters match
Price per night from
$224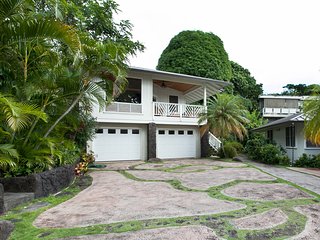 Kapolei condo
3 bedrooms / 3 bathrooms / sleeps 8
Responds fast! avg. 3 hours 52 minutes
Match: Fax machine
All filters match
Price per night from
$629
Kapolei villa
3 bedrooms / 3 bathrooms / sleeps 8
"The perfect spot for families!" We love the Beach Villas at Koolina for many reasons! Owner -Dameen: Well I can't say enough positive remarks about Dameen, first - he is a real person;), I called to confirm. He returns all e-mails and phone calls promptly. He is very thorough in his responses, and very pleasant & professional to deal with. He also has many ideas for activities, with websites & phone numbers. Hawaii Team: The team who greets you in Hawaii is very professional and friendly. They show you to your parking stall, help you with your luggage, and give you a tour of the condo (and how to use appliances/television) and resort. And best of all, if you have questions about the condo during your stay, someone will return your call immediately and if action is required it is done right away. Amazing customer service! Condo: It is beautiful! I have to say I was a little hesitant at first to book this condo as it is facing a field (and not the pool). For our family, it is the perfect location for the condo. Depending when you are visiting, you have a beautiful view of the sunset and sunrise from the lanai. It is quiet, peaceful and private on the lanai. (If you are on the pool side - you do not get this). A few other perks of this condo - everything you need for cooking (from utensils to pots and pans to crock pots to wine glasses), everything and anything you can think of -is in the cupboards. Closet full of beach goodies - stock with beach chairs, boogie boards, sand toys, snorkel gear...it's all there! For the little ones- pack and play, booster seat, potty, little stools! It's wonderful! And lastly, the pictures you see of the condo and the resort are accurate - our last visit was January 2014. Resort: Immaculate! It is exactly what you see on the photos, the resort is beautiful, clean and well maintained. The staff is very friendly and helpful. Beach: love this beach! The lagoons are perfect for little ones! No big waves! It's quiet and it is not crowded.
Match: Fax machine
All filters match
Price per night from
$373
Honolulu villa
5 bedrooms / 6 bathrooms / sleeps 25
Match: Fax machine
All filters match
Price per night from
$448
Kapolei townhouse
3 bedrooms / 3 bathrooms / sleeps 8
Responds fast! avg. 2 hours 45 minutes
Match: Fax machine
All filters match
Price per night from
$562
Kailua house
4 bedrooms / 4 bathrooms / sleeps 8
"Best Beach Front Home Yet" We've stayed at several beach front homes in Hawaii and California and this one was our favorite. The layout is perfect for families, the view was awesome, and Kailua Beach is one of our favorite beaches. We also loved the extras including boogie and surf boards, beach toys, and beach chairs all included.
Match: Fax machine
All filters match
Price per night from
$1,472