10 Results
Relevance
Price: low to high
Price: high to low
Number of reviews
Kailua cottage
1 bedroom / 1 bathroom / sleeps 2
Responds fast! avg. 2 hours 59 minutes
Match: Rental types
All filters match
Waialua cottage
1 bedroom / 1 bathroom / sleeps 4
"Hawai'i Doesn't Get any Better" We've been staying at Mokuleia Beach Colony for over 30 years and this is one of the best units there. It's quaint, very clean and wonderfully decorated. The lanai (front porch for you main landers) is maybe the best location in all of Hawai'i to watch a sun set. We can walk on the beach to the east for almost a mile before we get to the first houses in town (Waialua) and all there is are horse pastures and forest on our right and ocean on our left and some amazing snorkeling and swimming holes. I've been finding my favorite Green Sea Turtle, most mornings for several years, about 100 yards off shore, sleeping under a large coral head. The swimming pool is great and there is a super tennis court. This is old "Country" Hawai'i. It doesn't get any better.
Match: Rental types
All filters match
Price per night from
$341
Honolulu cottage
2 bedrooms / 1 bathroom / sleeps 4
"Location, location, location!!" Loved the place, loved the location! Parking and finding the cottage for the first time were tricky- more specific information prior to arrival would have been helpful, but once we arrived, any questions we had were answered immediately and so friendly!!! The owners are gracious and Mahalo for your ohanna-we'd stay again!!!
Match: Rental types
All filters match
Price per night from
$245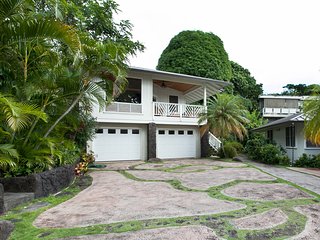 Pupukea cottage
1 bedroom / 1 bathroom / sleeps 2
Responds fast! avg. 37 minutes
Match: Rental types
All filters match
Price per night from
$317
Kailua cottage
/ 1 bathroom / sleeps 4
"Nancy's is the perfect place to get away from the hustle of Honolulu!" My wife and I recently stayed at Nancy's while on Oahu. It's a short hop across the island in Kailua, about a 20-30 minute drive from Honolulu. The cottage has everything you need, great bed, nicely appointed full kitchen, available barbeque and bicycles, some picnic supplies, you name it! There is a nice lanai out from which to relax, read, or just stare off to the distant mountains. Rick, one of the owners, is very friendly and extremely knowledgeable about Oahu and the other islands. He directed us to a tide pool area (Better be in some kind of shape!), a local hiking trail (ditto), and had all sorts of information available. The cottage is a short walk from a beautiful beach (almost a cliché in Hawaii), and a very short drive to the town's commercial area, which has several grocery stores and a selection of reasonably priced restaurants if you're tired of cooking. All in all, a great place to stay and relax!
Responds fast! avg. 2 hours 59 minutes
Match: Rental types
All filters match
Kailua cottage
1 bedroom / 1 bathroom / sleeps 2
Responds fast! avg. 2 hours 9 minutes
Match: Rental types
All filters match
Price per night from
$105
Kailua cottage
1 bedroom / 1 bathroom / sleeps 2
Responds fast! avg. 2 hours 9 minutes
Match: Rental types
All filters match
Price per night from
$111
Makaha cottage
1 bedroom / 1 bathroom / sleeps 3
Match: Rental types
All filters match
Price per night from
$256
Laie cottage
1 bedroom / 1 bathroom / sleeps 4
Responds fast! avg. 1 hour 30 minutes
Match: Rental types
All filters match
Price per night from
$470
Laie cottage
2 bedrooms / 2 bathrooms / sleeps 6
Responds fast! avg. 1 hour 30 minutes
Match: Rental types
All filters match
Price per night from
$495