12 Results
Relevance
Price: low to high
Price: high to low
Number of reviews
Ojochal villa
2 bedrooms / 1 bathroom / sleeps 3
Match: Boat available
All filters match
Price per night from
$109
Ojochal b&b
1 bedroom / 1 bathroom / sleeps 4
Match: Boat available
All filters match
Price per night from
$109
Ojochal house
1 bedroom / 1 bathroom / sleeps 5
Match: Boat available
All filters match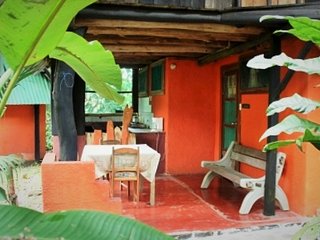 Ojochal apartment
1 bedroom / 1 bathroom / sleeps 2
Match: Boat available
All filters match
Price per night from
$144
Great rentals within 20 miles that match your search
Uvita house
3 bedrooms / 2 bathrooms / sleeps 6
Responds fast! avg. 2 hours 32 minutes
Match: Boat available
All filters match
Price per night from
$172
Ciudad Cortes villa
2 bedrooms / 2 bathrooms / sleeps 4
Match: Boat available
All filters match
Price per night from
$113
Dominical house
4 bedrooms / 6 bathrooms / sleeps 8
"Love this place!!!!" Once again our trip to this gorgeous place was amazing!! Zip lining, horseback riding, rafting, and spa treatments were among some of the things this place has to offer!! Food is great, atmosphere's relaxing, bar well stocked, and just a fun place to be. Went with old friends and they all want to come back. Get ready Edwin we're coming back!!!
Responds fast! avg. 2 hours 35 minutes
Match: Boat available
All filters match
Price per night from
$1,392
Drake Bay lodge
5 bedrooms / 7 bathrooms / sleeps 15
Match: Boat available
All filters match
Price per night from
$149
Uvita house
2 bedrooms / 1 bathroom / sleeps 4
Match: Boat available
All filters match
Uvita cottage
2 bedrooms / 1 bathroom / sleeps 3
Match: Boat available
All filters match
Dominical house
4 bedrooms / 4 bathrooms / sleeps 12
"Paradise and more..." This was our second trip to Costa Rica and our first to the Dominical area. After staying at Sfts hopefully it will not be the last. For 2 couples traveling together, we rented Villa Las Rocas ( 2 separate units in the same building) and could not have been happier. Each unit allowed for separate entrances, sleeping and patio, but the upper unit with full kitchen allowed us to cook and eat together and share the magnificent views. There are stairs leading to these villas;inquire about the other rentals if this is a problem. I cannot add to what has already been written ; this is a place you must go to comprehend the beauty and magic of the area. I truly fell in love with my surroundings. We were there 4 nights, I would not do any less. There is ample to see and visit; beaches, horseback ride to the falls, restaurants, watch surfers, or best of all, just "be" at Sfts. Donna and Daryl are the ultimate hosts and upon arrival we were treated like family. Donna stocked our fridge with breakfast staples, pineapple, cookies, delicious bread, jam, juice and milk. We savored it all the first morning we awoke to the sun rising and pouring in through our bedroom window. Interestingly, you will also see the sun set when you walk up to the clearing each evening! Daryl welcomed us with margaritas and popcorn after helping us unload luggage and giving us a quick overview of the villas. The rancho with honor bar and the pool area are so welcoming and the view from the pool patio so beautiful. These hosts will make tour arrangements ,offer suggestions on stores, restaurants etc. They are a wealth of info. on the area and most accommodating. So clean, so beautifully landscaped, well furnished, comfortable, safe... did I mention monkeys, sloths, hummingbirds, and toucans in full view ! You need a 4 wheel drive to get to Sfts but I suggest a 4 wheel if you plan to do any exploring in Costa Rica. I dream of a return visit and another round of popcorn and margaritas!
Responds fast! avg. 1 hour 16 minutes
Match: Boat available
All filters match
Price per night from
$802
Drake Bay lodge
5 bedrooms / 7 bathrooms / sleeps 14
Match: Boat available
All filters match