Enter dates for more accurate prices
Parque Botanico Rentals
Filter
Bedrooms
Any

1+ Bedrooms

2+ Bedrooms

3+ Bedrooms

4+ Bedrooms

5+ Bedrooms

6+ Bedrooms

7+ Bedrooms

8+ Bedrooms

9+ Bedrooms

10+ Bedrooms

11+ Bedrooms

12+ Bedrooms

13+ Bedrooms

14+ Bedrooms

15+ Bedrooms
Rental types
Suitability
Popular filters
Parque Botanico Rentals
Parque Botanico apartment
2 bedrooms / 2 bathrooms / sleeps 4
Responds fast! avg. 2 hours 0 minutes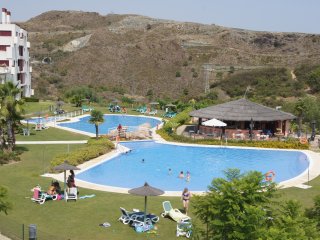 Parque Botanico apartment
2 bedrooms / 2 bathrooms / sleeps 4
"Lovely place" We stayed at Parco Botanico accommodation in the period between Christmas and New Years Eve 2012. It was a gamble as we did not find any prior references... but it turned out to be better than we could have ever hoped for! The apartment offers all the facilities to make you feel right at home from day one. In regards to the quality furniture, it seemed all brand new... the couch in the living room is amazing, fully automatic, and sooo comfortable that I often fell asleep on it while my husband was watching Movie channel! We loved the Italian coffee machine as well as the kitchen that was clearly fitted by someone that must really love cooking. The surroundings are beautiful, nice hiking areas, peaceful, and at the same time close to the lively beach-side with good restaurants. The best of all however...was sitting on our launch set at the balcony in the early morning and watch an amazing sunrise with a steaming hot cappuccino. Having spent 6 days at the resort we felt fully recharged. You will see us back soon!
Responds fast! avg. 2 hours 0 minutes
Payment Protection
Your payment for this rental is protected when you pay through FlipKey.
Learn more