Enter dates for more accurate prices
Salinas town Rentals
Filter
Bedrooms
Any

1+ Bedrooms

2+ Bedrooms

3+ Bedrooms

4+ Bedrooms

5+ Bedrooms

6+ Bedrooms

7+ Bedrooms

8+ Bedrooms

9+ Bedrooms

10+ Bedrooms

11+ Bedrooms

12+ Bedrooms

13+ Bedrooms

14+ Bedrooms

15+ Bedrooms
Rental types
Suitability
Popular filters
Salinas town Rentals
Salinas town apartment
4 bedrooms / 2 bathrooms / sleeps 8
Price per night from
$130
Salinas town apartment
1 bedroom / 1 bathroom / sleeps 2
Responds fast! avg. 3 hours 47 minutes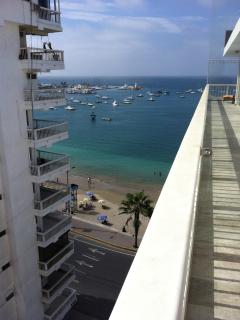 Salinas town apartment
1 bedroom / 1 bathroom / sleeps 4
Salinas town apartment
3 bedrooms / 3 bathrooms / sleeps 12
Responds fast! avg. 3 hours 8 minutes
Salinas town apartment
3 bedrooms / 4 bathrooms / sleeps 6
Responds fast! avg. 2 hours 22 minutes
Salinas town apartment
2 bedrooms / 2 bathrooms / sleeps 4
"Fabulous" Loved this apartment and the staff. Enjoyed our stay in Ecuador.
Responds fast! avg. 2 hours 56 minutes
Salinas town apartment
3 bedrooms / 3 bathrooms / sleeps 5
Price per night from
$110
Salinas town apartment
3 bedrooms / 2 bathrooms / sleeps 8
"Your own private hideaway on the beach!" Nice condo in a great building right on the beach! The majority of condo owners in the building are there on the weekends only, so had the place virtually all to ourselves during the week! The ones we met were very friendly. Lovely terrace with pool and hot tub, with the beach just steps away. The staff is very friendly and helpful, but you should know some Spanish! We didn't, but muddled our way thru with a phrase book. Had some trouble with the hot water and tv, but the condo owner, Leonardo, does speak English, and with a call to him,the administrator was there to fix the problem promptly! Located 8 blocks from the El Paseo Shopping mall with a Hipper Mart (like a Wallmart), many shops, food court, and even a movie theater with both in English and Spanish. Spend the $1 for the taxi as it not safe to walk there after dark. Also close to the Libertad Malecon with restaurants and shops. Only a short distance from the huge outdoor market in Libertad. It is a sight to see with seafood, vegetables, and fruit stands for blocks! Only a $5 taxi ride away from the bus terminal where you can catch a bus to Montinita, and only a $3 taxi ride to the Salinas Malecon where you will find many restaurants, the beach, or catch your charter fishing boat. Very secure gated property with the staff always there 24/7 to help get a taxi or help carrying groceries to the condo. The double bed in the master bedroom was very comfortable, and the kitchen had a large fridge and was equipt with everything to cook our own meals. Quite a few of the television channels had language options available so could switch them to English. The two air conditioner both worked, one in living room and one in master bedroom, but did not need them on all the time. Most of the time it was nice to have the sliding glass patio doors open and enjoy the breeze.
Payment Protection
Your payment for this rental is protected when you pay through FlipKey.
Learn more