10 Results
Relevance
Price: low to high
Price: high to low
Number of reviews
Sterling b&b
5 bedrooms / 4 bathrooms / sleeps 16
Price per night from
$685
Sterling apartment
2 bedrooms / 1 bathroom / sleeps 10
Price per night from
$160
Sterling cottage
6 bedrooms / 5 bathrooms / sleeps 17
Price per night from
$538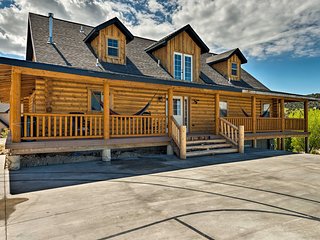 Sterling house
1 bedroom / 1 bathroom / sleeps 4
Sterling house
1 bedroom / 1 bathroom / sleeps 4
Great rentals within 20 miles that match your search
Manti guest house
1 bedroom / 1 bathroom / sleeps 6
Salina apartment
2 bedrooms / 1 bathroom / sleeps 4
Manti guest house
2 bedrooms / 1 bathroom / sleeps 4
Park City house
6 bedrooms / 5 bathrooms / sleeps 14
"Worth Every Penny!" I took the whole family up to Utah for the week to get away from the hot sun in arizona and we don't regret it at all! The house was big and comfortable and clean! I don't even think we used all the rooms. All the Tv's and couches and just the furniture was beautiful. We loved the weather to; it was never too hot or too cold. It was perfect. We really enjoyed the pool, but what we instantly fell in love was the indoor hot tub. It was so relaxing to soak after a long day of hiking and walking through the town. It was worth every single penny.
Price per night from
$387
Park City house
1 bedroom / 1 bathroom / sleeps 2
"Little Cozy House!" This house was perfect for my girlfriend and I. It was a small little cozy house and it was just big enough for the both of us. It was very well furnished and clean, we really enjoyed the features it had to give too, like the internet and the fire place. It was a very beautiful home.