Enter dates for more accurate prices
Bedrooms
Any

1+ Bedrooms

2+ Bedrooms

3+ Bedrooms

4+ Bedrooms

5+ Bedrooms

6+ Bedrooms

7+ Bedrooms

8+ Bedrooms

9+ Bedrooms

10+ Bedrooms

11+ Bedrooms

12+ Bedrooms

13+ Bedrooms

14+ Bedrooms

15+ Bedrooms
Rental types
Suitability
Popular filters
Swannanoa Rentals
Swannanoa house
4 bedrooms / 3 bathrooms / Sleeps 16
Swannanoa house
2 bedrooms / 2 bathrooms / Sleeps 4
"This is a very charming and well-maintained cottage in a great l" I highly recommend this property. Both the grounds and the home were very attractive and well-maintained. The cottage had both the charm of an older home (hard wood floors and wood pa
Swannanoa cottage
1 bedroom / 2 bathrooms / Sleeps 2
Responds fast! avg. 12 minutes
Swannanoa cottage
2 bedrooms / 2 bathrooms / Sleeps 6
Responds fast! avg. 12 minutes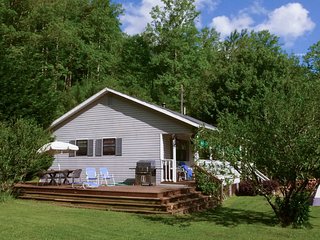 Swannanoa house
3 bedrooms / 2 bathrooms / Sleeps 6
"Breathtaking" This place is a little slice of heaven. The most beautiful place i've ever stayed. The service was great, the cabin was incredible and the view will leave you speechless. Will be goin back next year and staying longer.
Swannanoa house
3 bedrooms / 2 bathrooms / Sleeps 8
Responds fast! avg. 12 minutes
Swannanoa house
2 bedrooms / 1 bathroom / Sleeps 5
Swannanoa house
2 bedrooms / 3 bathrooms / Sleeps 4
Payment Protection
Your payment for this rental is protected when you pay through FlipKey.
Learn more