Previous

Next

property
$175
4 BR / 3 BA / Sleeps 8
1 / 14
(2)
" Excellent "
$175
Book
Pamplin cabin – 19.7 mi away
4 BR
/
3 BA
/
Sleeps 8
|

Quick view
The somewhat rocky 1/2 mi. drive is often a wildlife viewing experience. At the end you will find a 3500 Sq. ft. newly completed rustic log home with all modern fixtures.including HOT tub, pool table, foosball table. flat screen TV with 75+ channels, 2 jetted tubs and a firepit with wood provided. The 4 bedrooms plus …
Hot Tub/Jacuzzi

Internet Access

Fireplace

Housekeeping Optional

Washing Machine
Suitable for the elderly - ask
Beautiful, secluded, well furnished, private, Internet, TV, very relaxing
Left on Sep 22, 2013 for a stay in September 2013
The beautiful log cabin is up a 1/4 mike gravel drive, well off the road in a little clearing near the woods. The hot tub on the deck holds four easily and the star gazing is beautiful! There are three bedrooms with either a queen or king bed, plus another bedroom with a day bed, plus another bed in the loft, and another bed down in the basement game room. Three full baths, two have showers one …
Previous

Next

property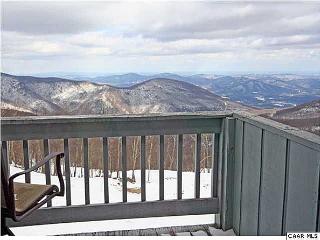 $100
2 BR / 2 BA / Sleeps 6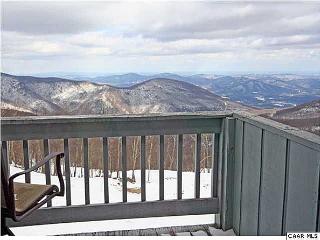 1 / 13
(5)
" Excellent "
$100
Book
Wintergreen condo – 0.6 mi away
2 BR
/
2 BA
/
Sleeps 6
|

Quick view
Top Floor with views, Fireplace, 2 bedroom (queen, double and single), 2 sofa beds, 2 baths, 3 Flat Screen TVs, cable, DVD player, XBOX, Movies, Keurig, WiFi, VOIP, near top of advanced slope, top floor end unit, view, non-smoking Near pool and spa, short walk behind building to access slopes Membership provides …
Mountain Views

Shared outdoor pool (unheated)

Internet Access

Fireplace

Washing Machine
Pet friendly - ask

Suitable for children - over five
wintergreen is a perfect spot to share views, hikes, and family memories
Left on Jun 08, 2014 for a stay in May 2014
we have been visiting wintergreen for 20 years and now have the perfect condo for our family of 6 to continue building memories. it's perfect for ski-in, ski-out vacations for the winter guests. It's also very close to the pool and hiking for summer guests. You catch the sunrise over the mountains and all the music festivals from the resort below from your balcony. there are two restaurants …
Previous

Next

property
$155
3 BR / 2 BA / Sleeps 6
$155
Book
Appomattox house – 15.0 mi away
3 BR
/
2 BA
/
Sleeps 6
|

Quick view
This house is 5 minutes from down town appomattox va.,and just 20 minutes from lynchburg airport ,liberty college.Set back on 1 acre wooded lot. Master bedroom has kingsize bed ,tv,master bath.2nd bedroom has a queen bed. 3erd bedroom also has queen bed.With 2nd bathroom in hallway. If you looking for a quite get …
Fireplace

Washing Machine

Clothes Dryer

A/C or climate control

Central heating
Suitable for children

Suitable for the elderly
Previous

Next

property
$200
2 BR / 1 BA / Sleeps 4
Inquire
Scottsville cottage – 18.7 mi away
2 BR
/
1 BA
/
Sleeps 4
|

Quick view
Donegal Farm cottage is across the driveway from the owner's home and sits on 200 acres which include a spot on on the James River. This is one of the oldest river farms in Southern Albemarle County and the brick cottage is one of several original buildings on the farm with a section that dates to the 1700's. Visit …
Suitable for children

Suitable for the elderly
Previous

Next

property
$350
4 BR / 4 BA / Sleeps 24
1 / 13
(17)
" Excellent "
$350
Book
Appomattox house – 15.0 mi away
4 BR
/
4 BA
/
Sleeps 24
|

Quick view
Visit our website: www.rockcliffefarm.com for a mini-vacation! Our Lodge is a luxury accommodation at real people pricing. Our excellent weekly rate may also be your group's rate if you come for a shorter visit. Call to ask. With our weekly rental there is no extra "per person per night" charge. Come relax …
Waterfront

Mountain Views

Hot Tub/Jacuzzi

Internet Access

Fireplace
Pet friendly

Suitable for children

Suitable for the elderly

Wheelchair accessible
A fantastic secluded lodge that is perfect for a couple days off
Left on Mar 22, 2012 for a stay in June 2011
Have stayed here several times with friends and family and it is a great place to go to wind down and relax. The property is private and gorgeous and the lodge itself is awesome. Wireless internet (but no cell service thank goodness) allowed me to work and stay in touch. Plenty of space and the owners were more than accommodating.
Previous

Next

property
$100
3 BR / 3 BA / Sleeps 6
1 / 20
(2)
" Excellent "
$100
Book
Buckingham house
3 BR
/
3 BA
/
Sleeps 6
|

Quick view
4 bedroom 3 bath comfortable home, for rent by Day, Week, or Month, Completely furnished with large rooms, ample closets. Downstairs there is a king bedroom with a large closet, ensuite bath with large shower, garden tub and 2 sinks. A smaller room has single daybed, desk and bookcase with ajoining full bath. …
Mountain Views

Internet Access

Washing Machine

Clothes Dryer

Outdoor Dining Area
what a wonderful house!
Left on Oct 21, 2013 for a stay in October 2013
Our time here was wonderful! Beautiful clean house and everything we could possibly need. Owner was extremely accommodating to all of our needs! Wonderful property to have our horses with us too!
Previous

Next

property
$170
1 BR / 1 BA / Sleeps 4
1 / 7
(2)
" Very Good "
$170
Book
Scottsville cottage – 20.0 mi away
1 BR
/
1 BA
/
Sleeps 4
|

Quick view
Snowdonia on the James is a short-term or extended-stay rental that offers a secluded and peaceful environment perfect for vacations and getaways, intimate weddings and anniversaries, business trips, medical and hospital stays, University of Virginia parents or college weekend lodging. Set on a bluff in the Horseshoe…
Waterfront

Ocean or water views

Internet Access

Washing Machine

Clothes Dryer
Suitable for children - ask

Suitable for the elderly

Wheelchair accessible
Beautiful cabin but a bit pricy
Left on Sep 20, 2009 for a stay in September 2005
It was a beautiful cabin, very well furnished and decorated. It had a view of the river, which was nice, but when we went down to the river, it was very disappointing because the river was dirty with lots of bugs on the surface of the water. The owner was very kind and helpful, but we think the extra $75 for clean fee was too high as we kept the cabin clean and only stayed for 2 nights.
---
---