Previous

Next

property
$169
3 BR / 3 BA / Sleeps 6
$169
Book
3 BR
/
3 BA
/
Sleeps 6
|

Quick view
Sunny three bedroom, two and a half bathroom townhouse located in the village of the Parque da Floresta Golf and Leisure Resort ( now Santo Antonio Villas Golf and Spa) just a few minutes from the beautiful fishing village of Salema. Visitors to the house will enjoy free access to the large leisure pool with separate …
Ocean or water views

Shared outdoor pool (unheated)

Internet Access

Fireplace

Housekeeping Optional
Suitable for children

Suitable for the elderly - ask
Previous

Next

property
$429
4 BR / 3 BA / Sleeps 10
$429
Book
4 BR
/
3 BA
/
Sleeps 10
|

Quick view
Sleeps 10+baby. Beautiful 4 bedroom villa with air con, heated pool, and a 5-6 person jacuzzi/hot tub! Summer 2014 has been sold out, but 2015 dates are now available! Parque da Floresta offers not only golf, but also tennis, football academy, spa, pools, restaurants and driving range. Within easy reach of beaches …
Hot Tub/Jacuzzi

Internet Access

Fireplace

Washing Machine

Clothes Dryer
Suitable for children

Suitable for the elderly
Absolutely fabulous!!
Left on Sep 08, 2011 for a stay in March 2010
Our family stayed here for our spring break and had a wonderful time. The house is fantastic, plenty of room for the 6 of us...clean, great pool, spent a lot of time relaxing on the deck, beautiful landscaping. We also visited lots of beaches while we were there...all of them were incredibly unique and gorgeous. We had great weather...high 60s-low 70s and sunshine. It was a magical trip!
Previous

Next

property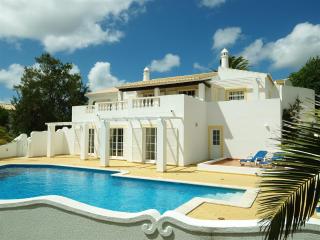 $383
5 BR / 4 BA / Sleeps 10
$383
Book
5 BR
/
4 BA
/
Sleeps 10
|

Quick view
Sleeps 10. Large private pool. Fantastic 4/5 double bed villa (1 King, 1 King/Twin, 1 Twin, 1 triple, 1 Double Sofabed room) offering you: One of the best secluded and wind sheltered positions on Parque da Floresta. Enjoying beautiful views of the 12th hole, lake and the sea, Huge Open Plan Luxury lounge with …
Ocean or water views

Internet Access

Fireplace

Washing Machine

Clothes Dryer
Suitable for children

Suitable for the elderly
Worth every penny ! Beautiful villa in fantastic location.
Left on May 15, 2014 for a stay in August 2013
We have been coming to villa 44 for the past 3 years. It's fantastic for all the family and sercure for my two children so I can sit back and relax without having to worry what mischief they are up to. It's a short drive to the beach and town which is full of traditional Portuguese restaurants. We love nothing more than to sit on the villas balcony in the evening enjoying a glass of wine. This …
Previous

Next

property
$195
3 BR / 2 BA / Sleeps 6
Inquire
3 BR
/
2 BA
/
Sleeps 6
|

Quick view
A rebuilt traditional Portuguese village bold">between the Natural Park of Southwest Alentejo and dozens of beaches, with 7 typical and comfortable village cottages equipped with a little kitchenette and nicely decorated with reconstructed furniture. With a very complete hotel service, like Daily Housekeeping, …
Internet Access

A/C or climate control

Patio

Microwave

Refrigerator
Suitable for children - ask

Suitable for the elderly - ask

Wheelchair accessible - ask
Previous

Next

property
$141
2 BR / 1 BA / Sleeps 4
Inquire
2 BR
/
1 BA
/
Sleeps 4
|

Quick view
A rebuilt traditional Portuguese village bold">between the Natural Park of Southwest Alentejo and dozens of beaches, with 7 typical and comfortable village cottages equipped with a little kitchenette and nicely decorated with reconstructed furniture. With a very complete hotel service, like Daily Housekeeping, …
Internet Access

A/C or climate control

Patio

Grill

Microwave
Suitable for children - ask

Suitable for the elderly - ask

Wheelchair accessible - ask
Previous

Next

property
$128
1 BR / 1 BA / Sleeps 4
Inquire
1 BR
/
1 BA
/
Sleeps 4
|

Quick view
A rebuilt traditional Portuguese village bold">between the Natural Park of Southwest Alentejo and dozens of beaches, with 7 typical and comfortable village cottages equipped with a little kitchenette and nicely decorated with reconstructed furniture. With a very complete hotel service, like Daily Housekeeping, …
Internet Access

A/C or climate control

Patio

Microwave

Refrigerator
Suitable for children - ask

Suitable for the elderly - ask

Wheelchair accessible - ask
Previous

Next

property
$77
1 BR / 1 BA / Sleeps 2
Inquire
1 BR
/
1 BA
/
Sleeps 2
|

Quick view
A rebuilt traditional Portuguese village bold">between the Natural Park of Southwest Alentejo and dozens of beaches, with 7 typical and comfortable village cottages equipped with a little kitchenette and nicely decorated with reconstructed furniture. With a very complete hotel service, like Daily Housekeeping, …
Internet Access

A/C or climate control

Grill

Microwave

Refrigerator
Smoking allowed - ask

Suitable for children - ask

Suitable for the elderly - ask

Wheelchair accessible - ask
---
---