Previous

Next

property
$375
5 BR / 2 BA / Sleeps 24
$375
Book
5 BR
/
2 BA
/
Sleeps 24
|

Quick view
Need a big place to stay? Then you've found the right place. Pinedale Lodge is perfect for any kind of group - families, sports teams, wedding parties, friends and with a tiered room rate, you choose whether to save money by filling the bedrooms to capacity or spreading out and paying more per person. Either way, you…
Mountain Views

Internet Access

Fireplace

Washing Machine

Porch
Smoking allowed - ask

Suitable for children - ask

Suitable for the elderly - ask

Wheelchair accessible - ask
Previous

Next

property
$288
4 BR / 4 BA / Sleeps 12
$288
Book
4 BR
/
4 BA
/
Sleeps 12
|

Quick view
Peel Forest Lodge is a handcrafted log lodge set in a beautiful Podacarp forest, 25 minutes from Geraldine and 90 minutes from Christchurch. Peel Forest is becoming a destination with some awesome activities, whitewater rafting, fishing, hunting, horseback riding, scenic flights, skydiving, canyoning and walking …
Pet friendly - ask

Suitable for children

Suitable for the elderly
Stylish and relaxed New Zealand hospitality at its best
Left on Nov 19, 2014 for a stay in November 2014
We stayed at Peel Forest Lodge for only two nights - we wish it could have been longer. We opted for dinner on first night and breakfast cooked by lodge owner Penny How - a great choice, as Penny is a terrific chef and a most engaging yet unobtrusive hostess. For self caterers the lodge is exceptionally well equipped, particularly the kitchen, complete with store cupboard herbs and spices…
Previous

Next

property
$164
3 BR / 1 BA / Sleeps 5
$164
Book
3 BR
/
1 BA
/
Sleeps 5
|

Quick view
Pleasant 3 bedroom house, Ideal for Family looking for a self catering option. Fully furnished including linen. Just bring your clothes and food. Has heatpump and nightstore heater so cosy all year round. Double garage and fully fenced garden. Nice tree lined street. Close to Malls restaurants, bars , parks and …
Pet friendly - ask

Suitable for children

Suitable for the elderly
Previous

Next

property
$125
1 BR / 2 BA / Sleeps 4
$125
Book
1 BR
/
2 BA
/
Sleeps 4
|

Quick view
Majestic ocean and mountain views,Very spacious open plan design, quite and private balcony with outdoor bath(enjoy the night sky)Fully equipt kitchen with breakfast supplied . Located beside native bush reserve with abundant birdlife and at the start of some of Kaikoura's most popular walking tracks.
Ocean or water views

Mountain Views

Wireless Internet

Outdoor Dining Area

Patio
Pet friendly - ask

Smoking allowed

Suitable for children - ask
Bath with a view
Left on Apr 01, 2015 for a stay in March 2015
We drove past this property and then asked tourist info to contact them for us. Niel showed us around. Comfortable for two and clean with a stunning view we took it for one night ( flying to Aus tomorrow or could have stayed longer).

Niel and Carol are lovely people and could not have been more welcoming or generous while fully respecting our privacy. Also, good recommendations for evening meal.
Previous

Next

property
$350
3 BR / 3 BA / Sleeps 6
$350
Book
3 BR
/
3 BA
/
Sleeps 6
|

Quick view
Our home, which also is a bed and breakfast has magnificent views over Christchurch city to the sea and the mountains. It is quiet and private and only 20 minutes from the city centre. After Christchurch's devastating earthquakes, it suffered no damage. We are happy to provide dinners if required and we are renown …
Ocean or water views

Mountain Views

Internet Access

Washing Machine

Clothes Dryer
Pet friendly

Smoking allowed

Suitable for children

Suitable for the elderly
Previous

Next

property
$148
3 BR / 2 BA / Sleeps 7
$148
Book
3 BR
/
2 BA
/
Sleeps 7
|

Quick view
Enjoy a well located 3 bedroom, 2 bathroom apartment. Modern interior with ensuite bathroom in the master bedroom. A short walk from Westfield Mall with shops, cafes, movies and restaurants. Also close to Tower Junction shopping centre and Horncastle arena. Hagley Park is close by and it is an easy walk into the city…
Wireless Internet

A/C or climate control

Balcony or terrace

Parking

Linens Provided
Previous

Next

property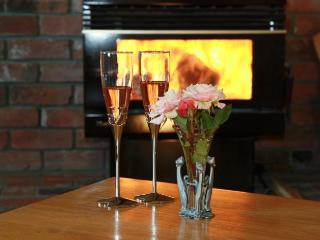 $284
3 BR / 2 BA / Sleeps 8
$284
Book
3 BR
/
2 BA
/
Sleeps 8
|

Quick view
Our apartment is comfortably designed with upstairs with three large comfortable bedrooms each with various bedding configurations available, sleeping up to 8 people - please advise of your bedding request prior to arrival:- - Bedroom 1: King OR 2 single beds. - Bedroom 2: King & single OR 3 single beds. - …
Mountain Views

Internet Access

Fireplace

Linens Provided

Towels Provided
Previous

Next

property
$109
2 BR / 1 BA / Sleeps 4
$109
Book
2 BR
/
1 BA
/
Sleeps 4
|

Quick view
The Meadows villa is a unique self-contained accommodation experience for up to four people. Either on vacation or business, great for that special occasion- the milestone birthday or anniversary. You will enjoy a very comfortable and well-appointed accommodation unit. Our rooms are decorated to a high standard and …
Waterfront

Mountain Views

Internet Access

Housekeeping Optional

Washing Machine
Pet friendly - ask

Suitable for children - ask

Suitable for the elderly - ask
Just like home
Left on Nov 06, 2013 for a stay in October 2013
We have recently moved from Scotland to christchurch. We booked the meadowns and were 100% satisfied. Moving away from everyrhing you know and everyone isnt easy but Bruce and Judy made us feel very welcome and athome, the settings are beautiful and relaxing. Our only issue was distance for my partner as she didnt drive but the hosts were vert accomidating, but we didnt want to be a burden on …
Previous

Next

property
$164
1 BR / 2 BA / Sleeps 2
$164
Book
1 BR
/
2 BA
/
Sleeps 2
|

Quick view
Should clients wish to stay in a typical New Zealand house with a Scottish born kiwi and his Japanese family with an organic vegetable and herb garden as well as a glasshouse.? I have a touring vehicle and able to provide tours and picnic lunches from Kaikoura in the North to Aoraki Mount Cook in the South and …
Internet Access

Fireplace

Housekeeping Optional

Clothes Dryer

Outdoor Dining Area
Pet friendly

Suitable for children

Suitable for the elderly
A Solid anchor Place-to-Stay for Seeing the South Island
Left on Oct 10, 2011 for a stay in August 2010
The owner/operator Craig worked with us to arrange sightseeing activities, doing the calling to get tickets, preparing breakfast and driving us around. His place is a real house, not a luxury hotel so you feel like you're staying with a good friend. He is also very knowledgeable about history, geography and the many activities possible around Christchurch. We learned a lot about New Zealand …
Previous

Next

property
$123
2 BR / 2 BA / Sleeps 6
$123
Book
2 BR
/
2 BA
/
Sleeps 6
|

Quick view
Two bedroom, fully restored farm cottage, set in its own grounds, with private entrance and parking for 5+ cars - only 4km from Kaikoura town centre. Fully equiped self-contained (self-catering) kitchen, shower room and separate toilet. Lounge has leather sofas, 42" wide-screen plasma satellite TV, Blu-Ray player and …
Mountain Views

Internet Access

Fireplace

Outdoor Dining Area

Patio
Pet friendly - ask

Smoking allowed - ask

Suitable for children

Suitable for the elderly - ask

Wheelchair accessible - ask
Previous

Next

property
$173
2 BR / 1 BA / Sleeps 6
$173
Book
2 BR
/
1 BA
/
Sleeps 6
|

Quick view
Kaikoura Beachfront Villa offers you a very special experience, located in the township overlooking the Pacific Ocean towards the towering Seaward Kaikoura Mountain Range. You'll enjoy the private setting, just 50 metres from the ocean, and a short walk to local attractions. Dine outdoors on the sun deck complete with…
Waterfront

Ocean or water views

Mountain Views

Washing Machine

Clothes Dryer
Suitable for children

Suitable for the elderly
Picture Perfect
Left on Jul 28, 2011 for a stay in February 2011
What a beautiful cottage, my husband made up a beautiful story about the gorgeous red and blue timber chairs on the front deck for our children. "People come and people go but the red chair and the blue chair always stay and get to meet all of the people who come and stay at this little white cottage".

It was such a find. They have a real espresso coffee machine!! To go with that a house that…
---
---