Previous

Next

property
$771
7 BR / 5 BA / Sleeps 14
Inquire
7 BR
/
5 BA
/
Sleeps 14
|

Quick view
Chalet Sapiniere is a large stylish chalet with a mixture of traditional and modern décor. Rough plaster walls done in the local Champagny style are complemented by beams, archways and decorative carpentry. It has a traditional yellow and blue tiled farmhouse kitchen with a brand new eye level oven, dishwasher and …
Mountain Views

Hot Tub/Jacuzzi

Sauna

Internet Access

Fireplace
Pet friendly

Suitable for children

Suitable for the elderly - ask
Great holiday and couldn't have been looked after better
Left on Mar 06, 2013 for a stay in January 2013
Nice to stay in a ski resort that is an actual village and not purpose built blocks of flats. Accommodation is under 5 mins from ski lifts and skis & boots stored by the lifts which made getting to and from the slopes easy.

Whilst the accommodation is functional as you'd expect from a ski chalet, it benefits from great facilities (swimming pool , play room etc shared with only a couple of other…
Previous

Next

property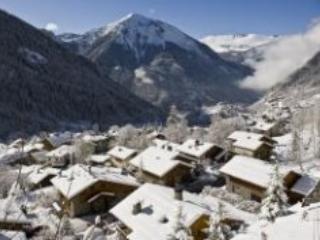 $183
2 BR / 1 BA / Sleeps 6
Inquire
2 BR
/
1 BA
/
Sleeps 6
|

Quick view
An authentic Savoyard village on the edge of the Vanoise National Park, Champagny is a charming resort nestling in a forest of fir trees, ideally located for quick and easy access into the main La Plagne ski domain (8mins by cable car). Accommodation and facilities SKI RESORTS Opening dates Extra night and early …
Pet friendly

Smoking allowed - ask

Suitable for children

Suitable for the elderly - ask

Wheelchair accessible - ask
Previous

Next

property
$62
2 BR / 1 BA / Sleeps 4
Inquire
2 BR
/
1 BA
/
Sleeps 4
|

Quick view
Apartment in residence situated in Champagny en Vanoise, La Plagne Paradiski ski area Accommodation and facilities SKI RESORTS opening dates Lovely south facing apartment for 4 people, situated in Champagny en Vanoise, La Plagne Paradiski ski area ChampVal has been nicely decorated and is a split level apartment of …
Smoking allowed - ask

Suitable for children

Suitable for the elderly - ask

Wheelchair accessible - ask
Previous

Next

property
$275
3 BR / 2 BA / Sleeps 8
Inquire
3 BR
/
2 BA
/
Sleeps 8
|

Quick view
An authentic Savoyard village on the edge of the Vanoise National Park, Champagny is a charming resort nestling in a forest of fir trees, ideally located for quick and easy access into the main La Plagne ski domain (8mins by cable car). Accommodation and facilities SKI RESORTS Opening dates Extra night and early …
Pet friendly

Smoking allowed - ask

Suitable for children

Suitable for the elderly - ask

Wheelchair accessible - ask
IDEAL
Left on Jul 20, 2013 for a stay in July 2013
La force de cette résidence est sa situation géographique, dans un village encore préservé et typique, la qualité de construction des bâtiments, et surtout son équipe d'accueil toujours prête à renseigner les occupants avec beaucoup de gentillesse. Dès l'arrivée nous avons été surclassés gratuitement dans un appartement de gamme supérieure de plus de 80 m2, avec 3 chambres et 2 …
Previous

Next

property
$146
1 BR / 1 BA / Sleeps 4
Inquire
1 BR
/
1 BA
/
Sleeps 4
|

Quick view
An authentic Savoyard village on the edge of the Vanoise National Park, Champagny is a charming resort nestling in a forest of fir trees, ideally located for quick and easy access into the main La Plagne ski domain (8mins by cable car). Accommodation and facilities SKI RESORTS Opening dates Extra night and early …
Pet friendly

Smoking allowed - ask

Suitable for children

Suitable for the elderly - ask

Wheelchair accessible - ask
magifique séjour
Left on Jul 20, 2014 for a stay in June 2014
Nous avons passés mon épouse et moi un magnifique séjour dans cette résidence de vacance du 28juin au 03 juillet, un appart. c01, super bien , belle sdb beau séjour belle chambre avec très bonne literie belle vue sur la montagne ainsi qu'une piscine et salle de remise en forme un directeur m.Alexantre super sympa et très disponible ainsi que son personnels en somme un établissement que …
Previous

Next

property
$84
2 BR / 2 BA / Sleeps 6
$84
Book
2 BR
/
2 BA
/
Sleeps 6
|

Quick view
Welcome to our six bed, self catering Chalet for rent in the Winter and Summer seasons, nestled between Europe's two largest ski areas - The Three Valleys & Paradiski The view from our garden faces 20km south and is unspoilt. It is breathtaking. The village is a typical Savoie mountain village with a sympathetic nod …
Mountain Views

Internet Access

Fireplace

Housekeeping Optional

Washing Machine
Pet friendly - ask

Suitable for children
great family accommodation at a reasonable price
Left on Nov 20, 2013 for a stay in January 2013
Lovely view from the sofa, We enjoyed a pleasant holiday. skiing every day and walking our pets. The chalet was comfortable and warm. the area was quite. the locals friendly. We enjoyed the quite. the view and the skiing.
Previous

Next

property
$77
3 BR / 1 BA / Sleeps 6
$77
Book
3 BR
/
1 BA
/
Sleeps 6
|

Quick view
Ski in La Plagne and Paradiski in Winter. Visit the Vanoise National Park in Summer Apartment les Bleuets is a 3 bedroom apartment to sleep 6 people, one of 8 apartments in the les bleuets building. Based in the Planchamp area of Champagny, a quiet area of tourist residences, hotels and private residences. It is an …
Mountain Views

Shared outdoor pool (unheated)

Internet Access

Housekeeping Optional

Clothes Dryer
Suitable for children

Suitable for the elderly - ask

Wheelchair accessible - ask
Great Location, Clean & Well Equipped Apartment, Lovely Owners
Left on Feb 24, 2014 for a stay in February 2014
My husband and I went away with his brother, wife and two small children (3 & 7 years old). We were with a larger group of friends however staying in a different chalet. My brother-in-law and family had an awful car journey and ended up turning up at the apartment much earlier than expected by the owners. However the owners (Dave & Jill) were very understanding and this made the beginning of our …
---
---
There are no more results in Champagny-en-Vanoise.
Top of page