Previous

Next

property
$54
1 BR / 1 BA / Sleeps 3
$54
Book
1 BR
/
1 BA
/
Sleeps 3
|

Quick view
Lovely one bedroom apt with pool. Fully furnished and recently decorated . Elevated between bustling centre of Mahon waterfront and picturesque calas of old Es Castell. Beautiful bay views from private balcony, and short stroll to historic centre of Mahon or old town charm of Es Castell's harbourside and coves. …
Ocean or water views

Shared outdoor pool (unheated)

Internet Access

Housekeeping Optional

Washing Machine
Pet friendly

Smoking allowed

Suitable for children
Very nice apartment
Left on Jun 27, 2014 for a stay in June 2014
We spent a wonderful time in this Island. The apartment is well located and well equipped. The view is very beautiful. His owner, Juan, is very nice and gave us good advice. We come back for sure!
Previous

Next

property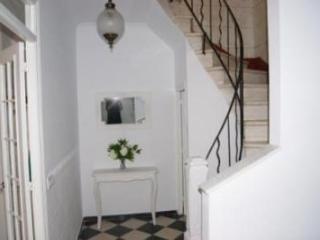 $75
4 BR / 3 BA / Sleeps 8
$75
Book
4 BR
/
3 BA
/
Sleeps 8
|

Quick view
Townhouse with three floors, completely renovated, all exterior rooms with plenty of light.     Ground floor: kitchen with attached dining room, one bathroom and a very spacious double bedroom.     First floor: TV room with 3 seater sofa and armchair, a reading chair distributor, a double bedroom with two single…
Waterfront

Washing Machine

Balcony or terrace

Books

Linens Provided
Suitable for children

Suitable for the elderly

Wheelchair accessible - ask
Previous

Next

property
$81
2 BR / 1 BA / Sleeps 4
$81
Book
2 BR
/
1 BA
/
Sleeps 4
|

Quick view
Vous pourrez partir à la découverte d'une ile pleine de distractions. Vous pouvez faire de la marche à pied, du vélo, du cheval, tous les sports nautiques possibles ou bien tout simplement vous prélasser autour de la piscine ou boire une sangria sur la place del born avant de faire un peu de shopping.
Shared outdoor pool (unheated)

Washing Machine

A/C or climate control

Central heating

Balcony or terrace
Previous

Next

property
$67
2 BR / 2 BA / Sleeps 6
$67
Book
2 BR
/
2 BA
/
Sleeps 6
|

Quick view
This immaculate and luxury 2-bedroom bungalow with full a/c and wifi is in a prime location, large corner plot overlooking the well kept communal pool and has everything you will need for a home from home holiday in the sun. The bungalow is in a quiet residential area close to all amenities. Accommodating a maximum of…
Suitable for children

Suitable for the elderly - ask

Wheelchair accessible - ask
Previous

Next

property
$54
1 BR / 1 BA / Sleeps 3
$54
Book
1 BR
/
1 BA
/
Sleeps 3
|

Quick view
Lovely one bedroom apt with pool. Fully furnished and recently decorated . Elevated between bustling centre of Mahon waterfront and picturesque calas of old Es Castell. Beautiful bay views from private balcony, and short stroll to historic centre of Mahon or old town charm of Es Castell's harbourside and coves. …
Shared outdoor pool (unheated)

Wireless Internet

Balcony or terrace

Garden

Linens Provided
Smoking allowed

Suitable for children
Previous

Next

property
$64
2 BR / 1 BA / Sleeps 5
$64
Book
2 BR
/
1 BA
/
Sleeps 5
|

Quick view
2 Bedroom first floor apartment First floor apartment set in lovely gardens with palm trees. A choice of three pools and restaurants on the complex Apartment consists of two bedrooms, one with double bed and one with two singles, both have ceiling fans...Well equipped kitchen and lounge has a double sofa bed. Two …
Previous

Next

property
$90
2 BR / 1 BA / Sleeps 4
$90
Book
2 BR
/
1 BA
/
Sleeps 4
|

Quick view
Please note these Check-in Day Requirements for this property: May 04 - May 08 : Monday, Tuesday, Wednesday, Thursday and Friday check-out required.; May 31 - Jun 05 : Sunday check-in required, Monday, Tuesday, Wednesday, Thursday and Friday check-out required.; Jun 16 - Jun 20 : Tuesday, Wednesday, Thursday, Friday …
Ocean or water views

Shared outdoor pool (unheated)

Washing Machine

Balcony or terrace

Parking
Smoking allowed

Suitable for children

Suitable for the elderly - ask

Wheelchair accessible - ask
Previous

Next

property
$59
2 BR / 1 BA / Sleeps 5
$59
Book
2 BR
/
1 BA
/
Sleeps 5
|

Quick view
Charming villa for rent in Mallorca - Cala Murada! The villa is just a 15min stroll or 3min drive from the beautiful golden beach at Cala Murada which shelves gently into the crystal clear waters of the Mediterranean. The beach, which has again been awarded the prestigious Blue Flag, is safe for children, has a …
Internet Access

Fireplace

Washing Machine

Porch

Parking
Pet friendly - ask

Suitable for children
Charming holiday villa
Left on Apr 10, 2015 for a stay in January 2015
We were very pleased with the friendly nature of the owner, Bernard who went out of his way to provide us with a lot of helpful information prior to our stay at his villa, this made our planning arrangements so much easier and we had so much to look forward to.

The villa was exactly what it states in the description, Charming! It had the comfort of a home feeling and we loved the fact that we…
Previous

Next

property
$80
2 BR / 1 BA / Sleeps 4
$80
Book
2 BR
/
1 BA
/
Sleeps 4
|

Quick view
Please note these Check-in Day Requirements for this property: Apr 24 - Apr 27 : Friday check-in required, Saturday, Sunday and Monday check-out required.; May 29 - May 31 : Friday, Saturday and Sunday check-out required.; Jun 09 - Jun 11 : Tuesday, Wednesday and Thursday check-out required.; Jul 02 - Jul 04 : …
Shared outdoor pool (unheated)

Washing Machine

Balcony or terrace

Garden

Microwave
Smoking allowed

Suitable for children

Suitable for the elderly - ask

Wheelchair accessible - ask
Previous

Next

property
$80
2 BR / 1 BA / Sleeps 4
$80
Book
2 BR
/
1 BA
/
Sleeps 4
|

Quick view
Please note these Check-in Day Requirements for this property: May 13 - May 17 : Wednesday, Thursday, Friday, Saturday and Sunday check-out required.; Jun 02 - Jun 06 : Tuesday, Wednesday, Thursday, Friday and Saturday check-out required.; Jun 28 - Jul 02 : Sunday, Monday, Tuesday, Wednesday and Thursday check-out …
Shared outdoor pool (unheated)

Washing Machine

Balcony or terrace

Garden

Grill
Smoking allowed

Suitable for children

Suitable for the elderly - ask

Wheelchair accessible - ask
Previous

Next

property
$80
2 BR / 1 BA / Sleeps 4
$80
Book
2 BR
/
1 BA
/
Sleeps 4
|

Quick view
Please note these Check-in Day Requirements for this property: May 15 - May 19 : Friday, Saturday, Sunday, Monday and Tuesday check-out required.; Jun 02 - Jun 06 : Tuesday, Wednesday, Thursday, Friday and Saturday check-out required.; Jul 11 - Jul 17 : Saturday, Sunday, Monday, Tuesday, Wednesday, Thursday and Friday…
Shared outdoor pool (unheated)

Washing Machine

Balcony or terrace

Garden

Grill
Smoking allowed

Suitable for children

Suitable for the elderly - ask

Wheelchair accessible - ask
Previous

Next

property
$90
2 BR / 1 BA / Sleeps 4
$90
Book
2 BR
/
1 BA
/
Sleeps 4
|

Quick view
Please note these Check-in Day Requirements for this property: May 23 - May 27 : Saturday, Sunday, Monday, Tuesday and Wednesday check-out required.; Jun 07 - Jun 11 : Sunday, Monday, Tuesday, Wednesday and Thursday check-out required.; Jun 16 - Jun 20 : Tuesday, Wednesday, Thursday, Friday and Saturday check-out …
Ocean or water views

Shared outdoor pool (unheated)

Washing Machine

Balcony or terrace

Parking
Smoking allowed

Suitable for children

Suitable for the elderly - ask

Wheelchair accessible - ask
---
---