Previous

Next

property
$41
1 BR / 1 BA / Sleeps 3
$41
Book
1 BR
/
1 BA
/
Sleeps 3
|

Quick view
Apartment studio is located in Volosko, unique part of of the city Opatija, it used to be old fisherman's place. Our studio is placed only 50 m far from the sea (beach). In its surrounding there are shops and some very good restaurants, we could say they are the best in Opatija and it's area. Apartment studio 1 …
Waterfront

Ocean or water views

Internet Access

Housekeeping Optional

Outdoor Dining Area
Smoking allowed

Suitable for children
You will love it!
Left on Apr 05, 2014 for a stay in August 2013
I came with my family to apartment Studio Skoric in Volosko last year and fell in love with this place right away. The apartments are full of unexpected details, very quiet and in a pitoresque old part of the town. The view was gorgeous and Volosko is a wonderful little place if you don´t like mass tourism. There is a long coastal path to Lovran where I jogged (10 km) and then did Yoga in Lovran…
Previous

Next

property
$46
2 BR / 1 BA / Sleeps 4
$46
Book
2 BR
/
1 BA
/
Sleeps 4
|

Quick view
Apartment near the Opatija, 200meters from the sea. Beautiful views, two terraces for relaxation. Nice garden with Mediterranean plants is the right choice for your vacation. The smells of plants, birdsong, view of the sea and the mountain. Welcome!!
Pet friendly

Smoking allowed

Suitable for children
Previous

Next

property
$36
1 BR / 1 BA / Sleeps 3
$36
Book
1 BR
/
1 BA
/
Sleeps 3
|

Quick view
Apartment studio is located in Volosko, unique part of of the city Opatija, it used to be old fisherman's place. Our studio is placed only 50 m far from the sea (beach). In its surrounding there are shops and some very good restaurants, we could say they are the best in Opatija and it's area. Apartment studio …
Waterfront

Ocean or water views

Wireless Internet

Housekeeping Optional

Outdoor Dining Area
Smoking allowed

Suitable for children
Previous

Next

property
$42
1 BR / 1 BA / Sleeps 4
$42
Book
1 BR
/
1 BA
/
Sleeps 4
|

Quick view
"Apartments Chestnut Castle"or in Croatian "Apartmani Kestenovi dvori" is a private accommodation located in a very calm and green part of Lovran, 2 km from to the coastline and 6km to Opatija. Our vacation home is a member of Kvarner Family Quality brand - which means verified holiday accommodation with …
Ocean or water views

Mountain Views

Internet Access

Outdoor Dining Area

A/C or climate control
Pet friendly

Smoking allowed

Suitable for children

Suitable for the elderly

Wheelchair accessible
Previous

Next

property
$44
1 BR / 1 BA / Sleeps 4
$44
Book
1 BR
/
1 BA
/
Sleeps 4
|

Quick view
Apartments Bistrovic are situated in beautifull familly villa, 200 m far from the beach in center of place Icici. We have three modern and clean studio apartments, 30-35 m2 each, with own bathroom, kitchen, and place for resting. There is a big garden arround house, with flowers and palm threes, gazebo and grill for …
Ocean or water views

Mountain Views

Internet Access

Housekeeping Optional

Washing Machine
Pet friendly

Smoking allowed - ask

Suitable for children

Suitable for the elderly

Wheelchair accessible - ask
Previous

Next

property
$48
0 BR / 1 BA / Sleeps 2
$48
Book
0 BR
/
1 BA
/
Sleeps 2
|

Quick view
This studio apartment is equipped to accommodate 2 persons, there are two single beds. The unit is equipped with a kitchenette with 2 circuits, sink and refrigerator, table and two chairs, satellite TV, wi-fi, external bbq. The bathroom has a shower and toilet. The unit has no external space. Villa Dimora is a cozy …
Internet Access

Parking

Towels Provided

Refrigerator

Stove or Oven
Pet friendly

Smoking allowed

Suitable for children - ask

Suitable for the elderly - ask

Wheelchair accessible - ask
Previous

Next

property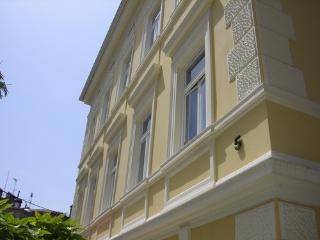 $43
1 BR / 1 BA / Sleeps 4
$43
Book
1 BR
/
1 BA
/
Sleeps 4
|

Quick view
The apartment is situated in the centre of Opatija, in a small and quiet street. Just a 100 m from the sea and the beach, shops, restaurants, coffee-shops, tennis courts, children play-ground...300 m to the bus station (to Italy, Zagreb, Istria, Island Cres and Krk...) Direct train from Vienna to Opatija (train …
Ocean or water views

Internet Access

A/C or climate control

Linens Provided

Towels Provided
Pet friendly

Smoking allowed

Suitable for children
Previous

Next

property
$48
0 BR / 1 BA / Sleeps 2
$48
Book
0 BR
/
1 BA
/
Sleeps 2
|

Quick view
In the studio there is one double bed. The unit is equipped with a kitchenette with sink and refrigerator, table and two chairs, satellite TV. The bathroom was small and equipped with a shower and toilet. The unit has a terrace which is located on the side of the house and is characterized by a partial sea view. Villa…
Internet Access

Parking

Towels Provided

Refrigerator

Stove or Oven
Pet friendly

Smoking allowed

Suitable for children - ask

Suitable for the elderly - ask

Wheelchair accessible - ask
Previous

Next

property
$48
0 BR / 1 BA / Sleeps 2
$48
Book
0 BR
/
1 BA
/
Sleeps 2
|

Quick view
This studio apartment is equipped to accommodate 2 persons, there is a double bed . The unit is equipped with a kitchenette with 2 circuits, sink and refrigerator, table and two chairs, satellite TV, wi-fi, external BBQ. The furniture is white. The bathroom has a shower and toilet. The unit has no external space. …
Internet Access

Parking

Towels Provided

Refrigerator

Stove or Oven
Pet friendly

Smoking allowed

Suitable for children - ask

Suitable for the elderly - ask

Wheelchair accessible - ask
Previous

Next

property
$18
1 BR / 1 BA / Sleeps 1
$18
Book
1 BR
/
1 BA
/
Sleeps 1
|

Quick view
This lovely room in Opatija consists of 1 single bed. Room has one bathroom equipped with shower and toilette. This lovely room in Opatija consists of 1 single bed. Room has one bathroom equipped with shower and toilette. Room is also equipped with TV and fridge. Situated on the ground floor this room has a terrace…
Internet Access

A/C or climate control

Central heating

Balcony or terrace

Garden
Pet friendly - ask

Smoking allowed - ask

Suitable for children - ask

Suitable for the elderly - ask

Wheelchair accessible - ask
Previous

Next

property
$42
1 BR / 1 BA / Sleeps 4
$42
Book
1 BR
/
1 BA
/
Sleeps 4
|

Quick view
The apartment Andrea is in the very center of Opatija. Only 15 meters from the sea, this spacious apartment with sea view is perfect for 4 persons accommodated in one bedrooms and with a beautiful living room and entrance hall. Apartment ANDREA is located in the center of Opatija only 15 meters from the sea and the …
A/C or climate control

Towels Provided

Microwave

Refrigerator

Stove or Oven
Pet friendly - ask

Smoking allowed - ask

Suitable for children - ask

Suitable for the elderly - ask

Wheelchair accessible - ask
Previous

Next

property
$46
1 BR / 1 BA / Sleeps 2
$46
Book
1 BR
/
1 BA
/
Sleeps 2
|

Quick view
This cozy room Sai can accommodate up to 2 persons. The room has one double bed and air conditioning. The room is equipped with a bathroom that has a toilet, bathtub and a washing machine. The room, also, offers a nice city view. This cozy room Sai can accommodate up to 2 persons. The room has one double bed and air …
A/C or climate control

Parking

Towels Provided
Pet friendly - ask

Smoking allowed - ask

Suitable for children - ask

Suitable for the elderly - ask

Wheelchair accessible - ask
Previous

Next

property
$44
1 BR / 1 BA / Sleeps 2
$44
Book
1 BR
/
1 BA
/
Sleeps 2
|

Quick view
Studio Apartment Galatea is completely newly furnished and equipped. Enjoy direct approach to terrace with sea view at a very quiet location in the center of Opatija. Separate entrance provides complete privacy to our guests. Very comfortable and suitable for all seasons. During your stay you would not need a car …
Ocean or water views

Internet Access

Housekeeping Optional

Washing Machine

Outdoor Dining Area
Pet friendly

Smoking allowed - ask

Suitable for children

Suitable for the elderly - ask
Previous

Next

property
$16
1 BR / 1 BA / Sleeps 1
$16
Book
1 BR
/
1 BA
/
Sleeps 1
|

Quick view
The room has one single bed. It is equipped with a refrigerator, satellite TV, WI-FI. The bathroom has a shower and toilet. This room shares a terrace with unit 105. Villa Dimora is a cozy family villa, located in a small seaside town Icici, located on the shore of the Gulf of Kvarner, not far from tourist towns …
Internet Access

Parking

Towels Provided

Refrigerator

Satellite or cable TV
Pet friendly

Smoking allowed

Suitable for children - ask

Suitable for the elderly - ask

Wheelchair accessible - ask
---
---