Previous

Next

property
$75
1 BR / 2 BA / Sleeps 2
$75
Book
1 BR
/
2 BA
/
Sleeps 2
|

Quick view
THE SECRET IS OUT!!! TRAVEL & LEISURE, (A DIVISION OF TIME NETWORK INC.) has listed "THE 52 BEST PLACES TO TRAVEL IN 2015". PRINCE EDWARD COUNTY IS THE ONLY CANADIAN PLACE ON THIS LIST, nestled between Milan and Oman. WOW!!! So, you've come to the right place for the perfect getaway. WE ARE OFFERING…
Waterfront

Ocean or water views

Hot Tub/Jacuzzi

Internet Access

Fireplace
Spiritually connect with nature
Left on Apr 30, 2014 for a stay in March 2014
We enjoy this place very much I hope I will go again exalent people I feel like my family nice and clean unique house
Previous

Next

property
$83
1 BR / 1 BA / Sleeps 4
Inquire
1 BR
/
1 BA
/
Sleeps 4
|

Quick view
Studio is a basic, rustic one bedroom cottage located near Glenora Ferry and Lake-on-the-Mountain and close to the Bay of Quinte. This cottage is pet-friendly, it's close to area attractions and amenities, and there's a second cottage available for larger groups. Click here to view the other cottage named Blues …
Pet friendly

Suitable for children
Previous

Next

property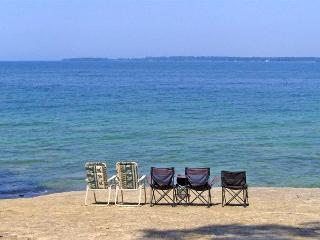 $67
2 BR / 1 BA / Sleeps 4
Inquire
2 BR
/
1 BA
/
Sleeps 4
|

Quick view
Enjoy the spectacular view of the Sandbanks Outlet Beach from this waterfront estate on Athol Bay in Prince Edward County. In addition to the great view and the gorgeous sunsets, Dunes Loft is ideally located for water sports, and it's only a 5 minute drive (or a short paddle) to the Sandbanks - a great vacation spot …
Waterfront

Grill

Satellite or cable TV
Previous

Next

property
$78
2 BR / 1 BA / Sleeps 6
$78
Book
2 BR
/
1 BA
/
Sleeps 6
|

Quick view
Stay in this charming two bedroom self-contained wing in an artfully restored Century home minutes from Sandbanks! Fully equipped and ready for your enjoyment. Beach pass included with rental - spend every day at the beach! In beautiful West Lake. The Guest Suite features an eat-in kitchen; 4 piece bathroom; large …
Internet Access

Fireplace

Outdoor Dining Area

A/C or climate control

Parking
Pet friendly - ask

Suitable for children

Suitable for the elderly
Previous

Next

property
$94
2 BR / 1 BA / Sleeps 6
Inquire
2 BR
/
1 BA
/
Sleeps 6
|

Quick view
Creasy's Cottages are located in an orchard on the banks of Prince Edward Bay and within the scenic waterside community of Waupoos - conveniently close to the wineries and about 25 minutes to the Sandbanks Provincial Park. This is a great location for swimming, boating, and fishing. Enjoy the sand beach with a shallow…
Pet friendly

Suitable for children
Previous

Next

property
$97
2 BR / 1 BA / Sleeps 6
Inquire
2 BR
/
1 BA
/
Sleeps 6
|

Quick view
Creasy's Cottages are located in an orchard on the banks of Prince Edward Bay and within the scenic waterside community of Waupoos - conveniently close to the wineries and about 25 minutes to the Sandbanks Provincial Park. This is a great location for swimming, boating, and fishing. Enjoy the sand beach with a shallow…
Pet friendly

Suitable for children
Previous

Next

property
$87
1 BR / 1 BA / Sleeps 4
Inquire
1 BR
/
1 BA
/
Sleeps 4
|

Quick view
Somerset Suite, a cozy one bedroom apartment, is located in a quiet neighbourhood of century homes in the town of Picton. The suite is set up on the 2nd level and the private deck overlooks the side yard and surrounding countryside to the north. Located three blocks from downtown Picton; an easy walk to restaurants, …
Internet Access

Housekeeping Optional

A/C or climate control

Grill

Satellite or cable TV
Previous

Next

property
$89
2 BR / 1 BA / Sleeps 5
Inquire
2 BR
/
1 BA
/
Sleeps 5
|

Quick view
Blues Cabin is a basic, rustic two bedroom cottage located near the Glenora Ferry and Lake-on-the-Mountain and close to the Bay of Quinte. This cottage is pet-friendly, it's close to area attractions and amenities, and there's a second cottage available for larger groups. Click here to view the other cottage named…
Pet friendly

Suitable for children
Previous

Next

property
$97
2 BR / 1 BA / Sleeps 6
Inquire
2 BR
/
1 BA
/
Sleeps 6
|

Quick view
Creasy's Cottages are located in an orchard on the banks of Prince Edward Bay and within the scenic waterside community of Waupoos - conveniently close to the wineries and about 25 minutes to the Sandbanks Provincial Park. This is a great location for swimming, boating, and fishing. Enjoy the sand beach with a shallow…
Pet friendly

Suitable for children
Previous

Next

property
$75
0 BR / 1 BA / Sleeps 2
Inquire
0 BR
/
1 BA
/
Sleeps 2
|

Quick view
A Sandbanks Retreat is a recently renovated vacation home centrally located near the entrance to the Sandbanks Provincial Park and it will accommodate up to 8 people within the two suites available. The smallest suite, Le Ti' Apartement, is ideal for two persons or as an add-on to Le Ti' Maison Bleu. Located at the …
Fireplace

A/C or climate control

Satellite or cable TV
Previous

Next

property
$91
1 BR / 1 BA / Sleeps 4
Inquire
1 BR
/
1 BA
/
Sleeps 4
|

Quick view
Studio de Village is a cozy one bedroom home located on a side street in the lakeside village of Wellington yet conveniently close to all the amenities of this charming community, and it's centrally located for touring Prince Edward County and visiting the Sandbanks. Located two blocks from Lake Ontario public access…
Internet Access

Fireplace

A/C or climate control

Grill

Satellite or cable TV
Pet friendly

Suitable for children
Previous

Next

property
$94
2 BR / 1 BA / Sleeps 6
Inquire
2 BR
/
1 BA
/
Sleeps 6
|

Quick view
Creasy's Cottages are located in an orchard on the banks of Prince Edward Bay and within the scenic waterside community of Waupoos - conveniently close to the wineries and about 25 minutes to the Sandbanks Provincial Park. This is a great location for swimming, boating, and fishing. Enjoy the sand beach with a shallow…
Pet friendly

Suitable for children
Previous

Next

property
$87
2 BR / 1 BA / Sleeps 5
Inquire
2 BR
/
1 BA
/
Sleeps 5
|

Quick view
Walk to the beach from Sandbanks Welcome Suites, comfortable two bedroom apartments located at East Lake next to the East Sector of the Sandbanks Provincial Park. Suite Two is located on the ground level with access to the backyard including a dedicated patio area. There are two other suites, one on the ground level …
Grill

Satellite or cable TV
Pet friendly

Suitable for children
Previous

Next

property
$99
3 BR / 3 BA / Sleeps 6
$99
Book
3 BR
/
3 BA
/
Sleeps 6
|

Quick view
The only place of its kind in all Canada, The Red Barns is an Artists complex with six fine craft studios open to the public to observe craftspeople at work. The century farmhouse boosts three charming guestrooms. Decorated in the style of three famous artists, Tiffany, Frank Lloyd Wright and Charles Rennie MacIntosh …
Wireless Internet

Housekeeping Optional

Outdoor Dining Area

Central heating

Porch
Suitable for the elderly - ask

Wheelchair accessible - adapted
Can't wait to go back
Left on Apr 28, 2011 for a stay in May 2010
We stayed at The Red Barns not too long ago and we are already planning our second visit. While my parents went wine tasting in the area my husband and I took classes in stained glass. Next to being wonderful hosts Peter & Heather are also born artists/teachers in various arts and crafts. Not only did we go home with wonderful memories of their warm hospitality and luscious breakfast, but we have…
Previous

Next

property
$99
2 BR / 1 BA / Sleeps 6
Inquire
2 BR
/
1 BA
/
Sleeps 6
|

Quick view
Clean, well-maintained two bedroom waterfront cottages complete with roof-top patio great for sitting out at night or keeping the sun off during the day. Enjoy a bombfire down at the water`s edge or rent a boat and have a relaxing day fishing or at the beach.
Waterfront

Ocean or water views

Internet Access

Outdoor Dining Area

Central heating
Pet friendly

Smoking allowed

Suitable for children

Suitable for the elderly
Perfect
Left on Jul 03, 2011 for a stay in June 2011
Onsite manager provided peace of mind while making daytrips. The cottage was clean and had all needed amenities including a BBQ. Applicances were new. Only 50 paces to the water. Conveniently located for biking, the beach and enjoying all that Prince Edward County has to offer. I will go back!
---
---
There are no more results in Prince Edward County.
Top of page