Previous

Next

property
$186
4 BR / 2 BA / Sleeps 12
$186
Book
4 BR
/
2 BA
/
Sleeps 12
|

Quick view
4 bedrooms, 2 baths cottage - can sleep up to 12. Huge well-built aluminum dock to accommodate several boats and jet skis. Sliding doors of the master bedroom that walks out to the front deck. One of the nicest spots on the lake (Barlow Lake; all sports lake 187 acres). Cottage is located in beautiful Yankee Springs …
Waterfront

Ocean or water views

Washing Machine

Clothes Dryer

Outdoor Dining Area
Suitable for children

Suitable for the elderly
Previous

Next

property
$500
4 BR / 3 BA / Sleeps 15
Inquire
4 BR
/
3 BA
/
Sleeps 15
|

Quick view
Bay Pointe Inn has expanded for the 3rd time with the purchase of the Historic Badger's Boathouse on Gun Lake. The BoatHouse Villa at Bay Pointe will preserve the historical character and charm while creating an allure to meet modern expectations. The BoatHouse Villa opened in June of 2013 to meet growing demand …
Waterfront

Ocean or water views

Hot Tub/Jacuzzi

Internet Access

Fireplace
Suitable for children - ask

Suitable for the elderly - ask
Previous

Next

property
$150
4 BR / 3 BA / Sleeps 10
Inquire
4 BR
/
3 BA
/
Sleeps 10
|

Quick view
Nestled on a wooded lot, White Oak Point is a large, family oriented vacation home. If you are looking for a vacation spot to spend quality time with the family, this is it. With over 2500 of square feet on three floors there is plenty of space for relaxation. Upon entering the front door you are immediately stress …
Waterfront

Ocean or water views

Internet Access

Fireplace

Washing Machine
Suitable for children - ask

Suitable for the elderly - ask
Owners don't know what they're doing!
Left on Oct 07, 2014 for a stay in October 2014
Tried booking a certain weekend and it was open, nobody else interested. Owner gave a quote that was for somebody else and I had to correct him. Didn't hear from him for 4 days, then out of nowhere he says it's unavailable now. This is where the fun begins...

Using an alias name AND email, I contacted owner about the same weekend and he said it was available.

We really wanted to stay here, …
Previous

Next

property
$125
1 BR / 1 BA / Sleeps 4
Inquire
1 BR
/
1 BA
/
Sleeps 4
|

Quick view
Our rental features one bedroom with a queen bed and flat screen TV, a living room with a full size sofa sleeper, a dining table with four chairs, a fully equipped kitchen with cookware and dinnerware, a full bathroom with a shower/tub combination, and a carpeted loft area (remember to bring sleeping bags or an air …
A/C or climate control

Central heating

Deck

Parking

Grill
Suitable for children - ask

Suitable for the elderly - ask
Previous

Next

property
$125
2 BR / 1 BA / Sleeps 6
$125
Book
2 BR
/
1 BA
/
Sleeps 6
|

Quick view
OPEN ALL YEAR Lakefront Cabins 1-2-3 Bedrooms. Private furnished homes available for short term rentals. Cable TV Wi-fi A/C Grill Picnic Table Patio Campfire Playground Basketball Court Volleyball Court Large Sandy Beach Full Kitchens Stand up Showers June/July/August Waterslide…
Waterfront

Ocean or water views

Internet Access

Housekeeping Optional

Outdoor Dining Area
Pet friendly

Smoking allowed - ask

Suitable for children

Suitable for the elderly
Great Summer Vacation
Left on Nov 06, 2012 for a stay in July 2012
We had a great time at Leach Lake Cabins. Our stay included myself,husband,my mother and my two children 10&3.We had never stayed at one place for an entire week and so happy that we choose leach lake cabins.

We look foward to our stay summer 2013.
Previous

Next

property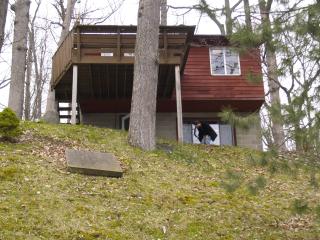 $150
3 BR / 1 BA / Sleeps 5
$150
Book
3 BR
/
1 BA
/
Sleeps 5
|

Quick view
Beautiful view and frontage on 300 acre all sports Long Lake Cloverdale. Well know for excellent fishing this spring fed lake stretches over 6 miles of shoreline. This contemporary cabin overlooks all the lake action in a wonderful natural wooded setting and has been tastefully upgraded with fresh decorating and …
Waterfront

Ocean or water views

Hot Tub/Jacuzzi

Fireplace

Housekeeping Optional
Pet friendly

Suitable for children

Suitable for the elderly
Perfect Weekend away
Left on Oct 22, 2013 for a stay in October 2013
Igor was extremely helpful, from the moment I inquired about the place to the minute I arrived (there was a little hiccup with our Google map directions) The cozy cabin was clean, spacious and conveniently located off of Long Lake, guarantees a stunning sunset. Coming from Chicago, it was truly the perfect escape.

The cabin was equipped with all our necessities including towels, cooking …
Previous

Next

property
$100
2 BR / 2 BA / Sleeps 6
Inquire
2 BR
/
2 BA
/
Sleeps 6
|

Quick view
Our Loon Call Cottage provides a fully equipped kitchen that has granite countertops, bar seating, and tile flooring,stove/oven, microwave, refrigerator/freezer, pots/pans, dinnerware, cutlery, glassware, coffeemaker, toaster, and lots of utensils. Available are color televisions, VCR and DVD. All bedding/linens are…
Waterfront

Ocean or water views

Washing Machine

Clothes Dryer

A/C or climate control
Suitable for children - ask

Suitable for the elderly - ask
Previous

Next

property
$145
2 BR / 4 BA / Sleeps 4
$145
Book
2 BR
/
4 BA
/
Sleeps 4
|

Quick view
Very peaceful Bed and Breakfast on 5 acres and a 17 acre pond. Near Gun Lake and new Gun Lake Casino area [3 miles to either]. Country decorated rooms and a great breakfast, Enjoy great fishing in the pond or peaceful relaxation and wildlife watching. The Inn At Millpond is located on the site of a old log mill. At …
Waterfront

Ocean or water views

Hot Tub/Jacuzzi

Wireless Internet

Fireplace
Smoking allowed - ask

Suitable for the elderly - ask
Previous

Next

property

$159
2 BR / 1 BA / Sleeps 5
$159
Book
2 BR
/
1 BA
/
Sleeps 5
|

Quick view
This kottage is located on the 2nd floor and sleeps up to 5 guests. This warm, loft style space has an open concept living room and kitchen separated by a quaint, eat-in peninsula. Comfy furnishings include a lush sofa, chair and ottoman, electric fireplace, flat screen television and many more comforts. Both spacious…
Internet Access

Fireplace

Housekeeping Optional

Washing Machine

Clothes Dryer
Pet friendly

Suitable for children

Suitable for the elderly
Previous

Next

property

$159
2 BR / 1 BA / Sleeps 5
$159
Book
2 BR
/
1 BA
/
Sleeps 5
|

Quick view
This Kottage is located on the 1st floor and sleeps up to 5 guests. This beautiful Kottage offers a modern and well stocked kitchen with lots of high end materials, a separate dining room, 1 very spacious bathroom with two sinks, soft water and a tub and shower, two comfortable bedrooms with a queen bed in each, an …
Internet Access

Fireplace

Housekeeping Optional

Washing Machine

Clothes Dryer
Pet friendly

Suitable for children

Suitable for the elderly
Simply astonishing - gorgeous and so well equipped for a B&B
Left on May 29, 2014 for a stay in May 2014
We booked all 3 of Kara's Kottages when we visited for a family wedding and what an amazing choice it turned out to be. Decorated to the highest standard with wonderfully comfortable accommodation it provided everything we could need - and more. The fridges were stocked incredibly generously for the 'B&B' part of the booking and we loved the flexibility this gave us over a normal B&B. The outdoor…
Previous

Next

property

$139
0 BR / 1 BA / Sleeps 2
$139
Book
0 BR
/
1 BA
/
Sleeps 2
|

Quick view
This kottage is located on the 1st floor and sleeps 2 guests. This warm and inviting space has an open concept room encompassing a fully furnished living room, inviting bedroom and well stocked kitchen. Comfortable furnishings include a queen bed, lush sofa and chair, bench, electric fireplace, bookshelf room divider …
Internet Access

Housekeeping Optional

Washing Machine

Clothes Dryer

Outdoor Dining Area
Pet friendly

Suitable for children

Suitable for the elderly

Wheelchair accessible
Previous

Next

property
$150
1 BR / 1 BA / Sleeps 6
$150
Book
1 BR
/
1 BA
/
Sleeps 6
|

Quick view
Totally updated Gun Lake Front Cottage with 230' frontage on a 3000 acre lake in southwest Michigan. Beautiful views and sandy bottom lake front with boat dock and sandy beach area. The cottage is a newly remodeled 1 bedroom (queen bed) 1 bath fully furnished and equipped with 2 additional queen sleeper sofa's. We are…
Waterfront

Ocean or water views

Outdoor Dining Area

A/C or climate control

Central heating
Pet friendly - ask

Smoking allowed - ask

Suitable for children - ask

Suitable for the elderly - ask

Wheelchair accessible - ask
---
---