David D.
LakeComoDreamRentals is an exclusive letting agency with a portfolio of luxury properties specially selected to give you the best holiday ex...
LakeComoDreamRentals is an exclusive letting agency with a portfolio of luxury properties specially selected to give you the best holiday experience. All of our properties are selected with the holiday maker in mind and we use a simple rule of thumb - would I like to stay in this property.

Our Story

Our family first experienced Lake Como over 10 years ago when we visited on a day trip. We quickly realised that this was the holiday destination that we were looking for. We bought our property shortly after.
After successfully launching our property we quickly realised that Lake Como had a shortage of high quality holiday properties available.We continued to sucessfully rent our property and were approached by a number of property owners who needed a professional knowledgeable agency who could market their properties. Needless to say a number of these did not meet our standards and were refused but gradually we have compiled a portfolio of high quality properties in select areas on the lake.
We offer only short term rentals that we carefully hand pick for their locations, furnishings, amenities, and that we can personally recommend and would want to stay in ourselves. We travel frequently to inspect, and usually stay in, the rentals we represent. We select vacation rentals that offer charm, good locations, cleanliness, quality furnishings and hospitable welcomes. We count the number of steps up to the property, check the size of the refrigerator, shower, listen for noise, inventory the kitchen equipment and even inspect the mattresses.

This is our most important point of differentiation which sets us apart from many other vacation rental firms. Even with careful advance research and personal connections, we still choose to not represent more than 50% of the properties we visit. And, once we agree to represent a property we regularly re-inspect it to ensure our standards are being met.

Why Go Private? Spend less, enjoy more

Private holiday rentals offer exceptional value for money and are one of the most cost effective solutions for your holiday. With a private rental you can save up to 50% compared to the average family hotel stay so you're free to spend the saving on enjoying yourself! And, with great accommodation at affordable prices, you can afford real luxury for less.

Insider Knowledge

Renting a holiday home gives you an enormous advantage over other holiday makers on the lake as you benefit from the owners 'insider knowledge' of the local area. You will never get this from a package holiday.

Meet and Greet

When you rent one of our holiday homes you will be met by a local agent who will get you settled in and be available should you need them, so you are not stranded in a foreign place without any support. Our agents have full local knowledge and can recommend good restaurants, places to visit and also give information on local transport, events and answer any questions you may have.

A space to call your own

When you stay in a private holiday rental, you'll never have to worry about being disturbed by hotel staff so you can enjoy your holiday in total privacy. And since you're not restricted to a single hotel room, you'll have plenty of space to spread out and enjoy your family time together. When night falls, you can tuck the kids up in bed and claim the evening for yourselves knowing they're sleeping safe and sound upstairs.

Make your own schedule

With a private holiday rental, you choose to enjoy your holiday, your way; you tailor your itinerary to suit you and your family. From choosing the attractions you want to visit, the restaurants you want to dine in and the experiences you want to have – you're free to come and go as you please.

The choice is yours

With such a wide range of properties available, you set your own wish list. Whether you want your own private pool so the kids can splash around safely or outdoor dining so you can enjoy a family evening around the BBQ – the choice is yours. From luxuries such as a private pool or Jacuzzi to everyday comforts such as satellite TV or internet access – we'll have the perfect property to match your needs.

Get all your friends and family together

Want to enjoy a getaway where there's space for everyone? Whether you're thinking of a New Years Eve with friends in the city, or a family reunion at an idyllic country retreat – private holiday rentals offer plenty space and privacy for the whole party to get together, whatever the occasion. And what's more, the larger the group, the lower the cost per head, so private holiday rentals offer great value group holidays.

Share the perfect family meal

Flexible dining options are one of the many benefits of a private holiday rental. You can cater to your own family's tastes by creating mouth-watering meals, cooked with the freshest ingredients from the local markets – or choose to escape the cooking completely and enjoy regional delicacies in the best local restaurants. Even if it's just somewhere to make tea & toast in the morning, your own kitchen is invaluable.

We make frequent trips to Italy to continually inspect our current properties and also to view other properties. We spend the entire summer season on the Lake and are available for any help you may need during this period.Our local agents (who speak fluent English) are available to assist you when we are not there.
Listed on TripAdvisor since

May 2009
Languages spoken

English
Less Information -
More Information +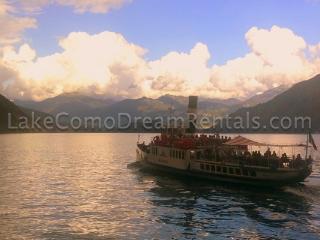 View larger map