Previous

Next

property
$96
2 BR / 2 BA / Sleeps 6
$96
Book
2 BR
/
2 BA
/
Sleeps 6
|

Quick view
This apartment is located in the centre of Gardone Riviera Alto village, its main characteristic is that after you close the entrance door you leave the village at your back and you enjoy a total contact with the lake. The apartment benefit of a beautiful and wide view on the whole Garda's basin. It is located in fact…
Wireless Internet

A/C or climate control

Central heating

Balcony or terrace

Parking
Previous

Next

property
$1,035
8 BR / 10 BA / Sleeps 21
$1,035
Book
8 BR
/
10 BA
/
Sleeps 21
|

Quick view
Villa Vittoria is a newly established Holiday House. It stands right on the shore of the Garda Lake and it is a no-comrpromise venue for all those seeking peace of mind, beauty, exclusiveness and fun. We own everything needed to enjoy the best that life has got to offer; huge private rooms with bathroom and massive …
Waterfront

Ocean or water views

Mountain Views

Internet Access

Fireplace
Pet friendly

Smoking allowed

Suitable for children

Suitable for the elderly
Previous

Next

property
$114
2 BR / 1 BA / Sleeps 6
$114
Book
2 BR
/
1 BA
/
Sleeps 6
|

Quick view
This apartment is located in the centre of Gardone Riviera Alto village, its main characteristic is that after you close the entrance door you leave the village at your back and you enjoy a total and private contact with the lake. The apartment benefit of a beautiful and wide view on the whole Garda's basin. They are …
Mountain Views

Wireless Internet

A/C or climate control

Central heating

Balcony or terrace
Previous

Next

property
$85
2 BR / 1 BA / Sleeps 4
$85
Book
2 BR
/
1 BA
/
Sleeps 4
|

Quick view
Enjoy the peaceful atmosphere and 360° panorama of the renowned Garda Lake region. Located in Gardone Riviera Town, close to the lake and with a slightly raised position, the B&B; Lago Blu offers to our guests a tranquil environment with a privileged view of the lake itself. At the first floor of a fully renewed …
Ocean or water views

Internet Access

Fireplace

Outdoor Dining Area

Balcony or terrace
Suitable for children

Suitable for the elderly
Soggiorno squisito,disponibilità dei proprietari eccellente
Left on Jun 07, 2013 for a stay in June 2013
Mia moglie ed io non avevamo mai soggiornato sul lago di Garda ed abbiamo avuto la fortuna ,per il nostro primo soggiorno,di farlo in questo bellissimo posto.

Location stupenda:tranquillità assoluta,accompagnata da uno stupendo cinguettio degli uccelli,vista lago dalla camera da letto,dallo studio e dal bagno.

Siamo stai accolti dal proprietario,il sig. Fabrizio con la massima gentilezza e …
Previous

Next

property
$129
2 BR / 2 BA / Sleeps 7
$129
Book
2 BR
/
2 BA
/
Sleeps 7
|

Quick view
The apartment "Le Rive" is simply what you would need for a relaxing and comfortable vacation. The house and it's private garden are located directly at the lake side promenade of Salò, where many beaches are. Within walking distance you will find everything you need, restaurants, cafés, any kind of shops, …
Waterfront

Ocean or water views

Mountain Views

Internet Access

Washing Machine
Pet friendly - ask

Suitable for children

Suitable for the elderly

Wheelchair accessible - ask
Previous

Next

property
$500
4 BR / 2 BA / Sleeps 8
Inquire
4 BR
/
2 BA
/
Sleeps 8
|

Quick view
Sun, clear waters, and sandy beaches make this vacation apartment rental on Lake Garda the perfect place for relaxing but active holidays. Explore hiking trails, go boating, or explore picturesque lakeside villages every time you venture out from your apartment in Italy on Lake Garda. But make no mistake: this Lake …
Internet Access

Washing Machine

Central heating

Dishwasher

Stove or Oven
Pet friendly - ask

Smoking allowed - ask

Suitable for children - ask

Suitable for the elderly - ask

Wheelchair accessible - ask
Lisa's review of Palazzo del Impero
Left on Jul 31, 2008 for a stay in July 2008
Fantastic - great house, garden, views of lake. Provided a real opportunity to get into the Italian lifestyle.

Historic significance of the house, original frescoes etc. Beautiful garden overlooking the lake - had many meals and drinks out there!

Minor - small bathrooms. Also, the fridge smelled.

Beautiful lake, accessible to all parts of lake and surrounding - got up to the Dolomites and then…
Previous

Next

property
$193
4 BR / 5 BA / Sleeps 8
$193
Book
4 BR
/
5 BA
/
Sleeps 8
|

Quick view
Every person that cross Gardone Alto Village when passing through Piazza Garibaldi is caught by the charm of this tiny square, surrounded by beautiful old houses and decorated with colorful flowers. In this context is located 'Villa Glicine' a historical house that has been recently renovated by the owner, who is an …
Ocean or water views

Hot Tub/Jacuzzi

Wireless Internet

Washing Machine

Outdoor Dining Area
Pet friendly

Suitable for children - over five

Suitable for the elderly - elevator access
Previous

Next

property
$193
5 BR / 4 BA / Sleeps 9
$193
Book
5 BR
/
4 BA
/
Sleeps 9
|

Quick view
Villa "La Fontanina" is an historical house in which you will feel like living the golden year of Gardone, when Winston Churchill, Ezra Pound and others where coming to this edge of the lake Garda for their vacations. Thanks to the original well mantained furnishing, from the studio in boiserie to the ceramic of …
Ocean or water views

Mountain Views

Wireless Internet

Fireplace

Washing Machine
Pet friendly

Smoking allowed - ask

Suitable for children

Suitable for the elderly - ask
Previous

Next

property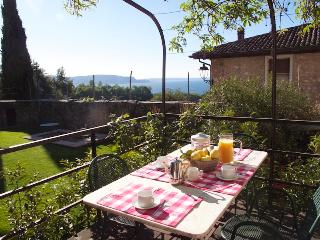 $64
1 BR / 1 BA / Sleeps 3
$64
Book
1 BR
/
1 BA
/
Sleeps 3
|

Quick view
The studio apartment "La Mimosa" is part of an old Limonaia and it has been recently renovated in a modern style, but with respect for the historical aspect of the building. The atmosphere is just wonderful, thanks to the apartment it self, but also thanks to the charming and peaceful environment. Therefore the …
Mountain Views

Wireless Internet

Washing Machine

Outdoor Dining Area

A/C or climate control
Suitable for children

Suitable for the elderly
Previous

Next

property
$79
3 BR / 1 BA / Sleeps 6
$79
Book
3 BR
/
1 BA
/
Sleeps 6
|

Quick view
1 km from the Vittoriale (Gabriele D'Annunzio house), in a residence with 2 swimming pools (a big one for adults and, next, a small one for children) The residence is surrounded by green area. The apartment is single floor building, and has a private garden; the terrazzo on the roof is private, and equipped with a …
Ocean or water views

Mountain Views

Shared outdoor pool (unheated)

Internet Access

Housekeeping Optional
Pet friendly - ask

Smoking allowed - ask

Suitable for children

Suitable for the elderly - ask
Previous

Next

property
Inquire for rates.
6 BR / 4 BA / Sleeps 13
Inquire for rates
Book
6 BR
/
4 BA
/
Sleeps 13
|

Quick view
This amazing lake side villa beneifts of a very special location, it is infact directly at the lake, but do not have the main street "Gardesana" just behind, therefore peace and tranquillity are guarantee. The inner divison of the house can be very comfortable for two families that wish to have a unique holiday …
Waterfront

Ocean or water views

Hot Tub/Jacuzzi

Wireless Internet

Washing Machine
Suitable for children - ask

Suitable for the elderly - ask
---
---
There are no more results in Gardone Riviera.
Top of page