Previous

Next

property
$108
2 BR / 1 BA / Sleeps 4
$108
Book
2 BR
/
1 BA
/
Sleeps 4
|

Quick view
The Algonquin cottage is uniquely decorated using the beautiful colors of a Hudson's Bay Blanket - this cottage offers you a warm feeling from the moment you enter. *During peak season ( July-Aug) only weekly rentals are accepted Saturday-Saturday. A cast iron / propane fireplace in the corner makes for a perfect …
Pet friendly

Suitable for children

Suitable for the elderly

Wheelchair accessible - ask
Previous

Next

property
$112
1 BR / 1 BA / Sleeps 2
$112
Book
1 BR
/
1 BA
/
Sleeps 2
|

Quick view
*During peak season ( July-Aug) only weekly rentals are accepted Saturday-Saturday. The Space This is a sophisticated retreat for 2 people - complete with a corner stone fireplace; granite-topped vanity in the large bathroom; custom designed cherry cabinets with a farm sink in the granite counter in the kitchen area…
Waterfront

Ocean or water views

Shared outdoor pool (unheated)

Wireless Internet

Deck
Pet friendly

Suitable for children

Suitable for the elderly

Wheelchair accessible - ask
Much needed quiet retreat with family.
Left on Jul 09, 2014 for a stay in July 2014
My wife and I, along with our 3 children(3 Schnauzers) stayed at J.R's Hideaway at Golden Lake for three nights at the beginning of July. After a lengthy drive, we were taken aback by how charming the little cottage we rented was. It was small, but had every comfort that we needed, along with beautiful furnishings.

I can't say enough about how fantastic the staff was right from the beginning…
Previous

Next

property
$104
1 BR / 1 BA / Sleeps 4
$104
Book
1 BR
/
1 BA
/
Sleeps 4
|

Quick view
• Nice, clean and convenient cottage with contemporary design and many conveniences • Wood stove, air conditioner, table ware e.t.c. Free firewood in the winter • Private beach with fire pit and gorgeous sunset view • Close to Algonquin park and many tourist attractions • Restaurant and Equipment …
Waterfront

Ocean or water views

Hot Tub/Jacuzzi

Sauna

Internet Access
Pet friendly

Suitable for children

Suitable for the elderly
Very pleasant and relaxing place - will recommend!
Left on Jun 20, 2013 for a stay in July 2012
I spent 4-day vacation at the Goldenville with my friends and family.
Quiet, relaxing place surrounded by the beautiful lake. Cottages are brand-new log houses. Spacious and very clean inside, they are tastefully furnished and very aesthetically pleasing.
We are planning to stay there again next summer.
Previous

Next

property
$150
3 BR / 2 BA / Sleeps 10
$150
Book
3 BR
/
2 BA
/
Sleeps 10
|

Quick view
Three level cottage on beautiful golden lake that sleeps 10 people ,fully equipped except linen ,2 paddleboats ,1 kayak ,fully furnished .listen to the loons at night on the lake very quiet lake,close to restaurants ,golfing,horsebackriding
Pet friendly

Suitable for children

Suitable for the elderly
Previous

Next

property
$250
4 BR / 3 BA / Sleeps 8
$250
Book
4 BR
/
3 BA
/
Sleeps 8
|

Quick view
This Ottawa Valley Cottage rental has spectacular views from the deck overlooking 400 feet of Lake Front on Round Lake, Ontario, Canada. The property is heavily wooded with red pine, white pine and poplar. The cottage is very private. The cottage has one master bedroom with half bath and king size bed. A second …
Waterfront

Ocean or water views

Internet Access

Fireplace

Housekeeping Optional
Suitable for children

Suitable for the elderly
Previous

Next

property
$241
3 BR / 2 BA / Sleeps 10
$241
Book
3 BR
/
2 BA
/
Sleeps 10
|

Quick view
This ten-person, fully winterized lodge on two sides is wrapped by a large viewing and sitting deck. Inside, a music room, several sitting and games areas provide places and materials for music, both for listening and playing; reading, TV watching, pool table, and of course, lake and bird-watching for the larger …
Waterfront

Shared outdoor pool (unheated)

Hot Tub/Jacuzzi

Wireless Internet

Washing Machine
Pet friendly - ask

Suitable for children

Suitable for the elderly - ask

Wheelchair accessible - ask
Previous

Next

property
$175
1 BR / 1 BA / Sleeps 4
$175
Book
1 BR
/
1 BA
/
Sleeps 4
|

Quick view
a beautifully restored, rustic cedar log cabin approx 650 sq ft with large windows sitting only a few feet from pristine Round Lake. The main cottage has one bedroom with a queen bed, kitchen, bath and a great room. Built in the 1930's and recently remodelled with refinished pine floors, new kitchen, bath, septic, and…
Waterfront

Ocean or water views

Wireless Internet

Housekeeping Optional

Outdoor Dining Area
Pet friendly

Suitable for children

Suitable for the elderly - ask
Previous

Next

property
$120
2 BR / 1 BA / Sleeps 6
$120
Book
2 BR
/
1 BA
/
Sleeps 6
|

Quick view
Combine privacy of secluded cottage with infrastructure of the resort. Enjoy our new, air conditioned cottages, equipped with all amenities, for the comfortable stay, including big fridges, leather recliners, kitchen hardware, TV/DVD sets, and 3pcs modern bathroom (small whirlpool bath or shower) Each cottage has …
Waterfront

Ocean or water views

Sauna

Internet Access

Fireplace
Pet friendly

Suitable for children

Suitable for the elderly - ask
Wonderful Cottage Resort on Golden Lake
Left on May 06, 2014 for a stay in April 2014
I just want to say that it was great pleasure staying at Alex and Anna's Goldenville resort for the Easter long weekend in April.

The location, the lake, the cottages and amenities are all amazing :) The service and willingness of the owners to help and go over and beyond is only possible because of their good personality :)

Last but not least the sauna experience was wonderful. Still …
Previous

Next

property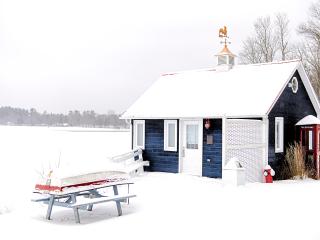 $108
1 BR / 1 BA / Sleeps 2
$108
Book
1 BR
/
1 BA
/
Sleeps 2
|

Quick view
The boathouse has always been a favourite cottage of the family. Its uniquely perched just above the shores of golden lake. The cottage is located above our Coffee shop. Benifits of this cottage is its close to the beach. And like all our cottages there are kyakas, canoes, mountain bikes, stand up paddleboards that …
Waterfront

Ocean or water views

Shared outdoor pool (unheated)

Wireless Internet

Deck
Previous

Next

property
$56
2 BR / 0 BA / Sleeps 3
$56
Book
2 BR
/
Sleeps 3
|

Quick view
Vacation at the Ecovillage cabin establishment– is a unique opportunity, to combine camping and comfort with infrastructure of the resort. Enjoy our new small lakefront cabins, listen sounds of nature as if you are staying in the tent, but sleep on the bed. Each cabin has small fridge, picnic table and firepit. …
Waterfront

Ocean or water views

Sauna

Outdoor Dining Area

Patio
Pet friendly

Suitable for children

Suitable for the elderly - ask
Previous

Next

property
$241
3 BR / 1 BA / Sleeps 6
The Lodge -------------------------------------- This country lodge built on three floors will accommodate six persons. Its' distinctive red roof and wrap-around deck hint at its interior: true hunting lodge style. The Lodge surrounds its' guests with hunting trophies of the local forests, and furnishings of high …
Ocean or water views

Shared outdoor pool (unheated)

Wireless Internet

Fireplace

Outdoor Dining Area
Pet friendly

Suitable for children

Suitable for the elderly - ask
Previous

Next

property
$241
4 BR / 2 BA / Sleeps 10
$241
Book
4 BR
/
2 BA
/
Sleeps 10
|

Quick view
AVAILABLE YEAR-ROUND! Just 2 hours from Ottawa (nation's capitol) and 4 hours from Toronto, 5.5 hours from Niagara Falls, 8 hours to NYC. EVERYTHING you and your family could possibly want. Swim, fish, bike, hike...or just relax in space and privacy. This large, expansive park-like property boasts a gorgeous turn of…
Waterfront

Ocean or water views

Mountain Views

Fireplace

Washing Machine
Pet friendly - ask

Suitable for children

Suitable for the elderly
Previous

Next

property
$120
2 BR / 1 BA / Sleeps 8
$120
Book
2 BR
/
1 BA
/
Sleeps 8
|

Quick view
Located near Quadeville, 45 minutes northeast of Bancroft, Ontario, this scenic off-the grid cabin includes the use of 350 acres of paradise/wilderness! Great for Fishing, ATV'ing, Astronamy, Hunting, Camping Out, amazing scenery and wildlife abounds! Use of canoe/boat-motor, rustic but with satellite tv (run by solar…
Grill

Stove or Oven

Satellite or cable TV

Television

Ceiling Fans
Pet friendly

Suitable for children
---
---