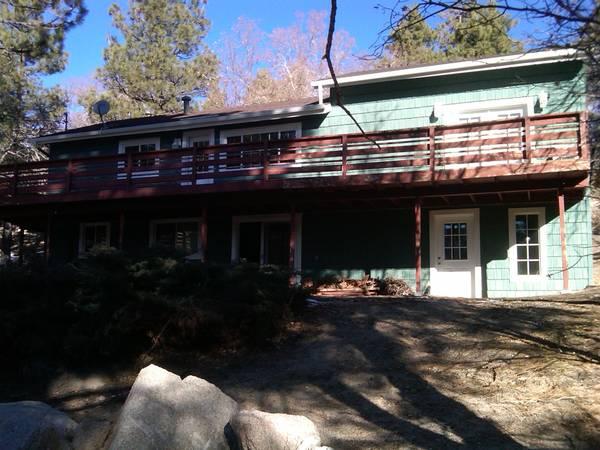 Camp Juniper In Cute Lake Community
3 bedrooms
3 bathrooms
Sleeps 8
Cabin
Description from the owner
Spacious Mountain Cabin nestled on a southern facing slope in the cute and quaint lake village of Green Valley Lake.

Affectionately referred to as "Camp Juniper", our cabin features a 600 square foot second story sun deck with views of the old Green Valley Ski hill, a Jacuzzi tub in the master bathroom, and a large bonus game room with pool table.

Our cabin, ideal for nature enthusiasts, whom can enjoy numerous visiting wildlife including; gray squirrels, chipmunks, stellar jays, mountain doves, woodpeckers and numerous chickadees.

The Green Valley Lake Village, walking distance from "Camp Juniper", has a General Store, Post Office, Malt Shop, and Lake Inn along with a few other shops and businesses. The Lake, also walking distance from "Camp Juniper" offers great fishing, swimming, kayaking, canoeing, and row boating. Great fun for the whole family!

Green Valley Lake is conveniently located for Hiking, 4x4 Recreation, and Skiing. Green Valley Lake is located a short miles from Snow Valley Mountain Resort, 15 miles from Lake Arrowhead, and 20 miles from Big Bear.

The "Hidden Gem" of the San Bernardino Mountains, Green Valley Lake is, at 7000´, a higher resort community than either Lake Arrowhead or Big Bear. This "best kept secret on the mountain" is secluded (nearly four miles away from State Highway 18), and surrounded by National Forest. For all these reasons it has remained small, picturesque, and uncrowded. Green Valley Lake has something going on all the time. For a little town, we sure stay busy. Our town boasts of a pretty little lake that is stocked often with plentiful fish, and a small beach for swimming.

Rules:

No firearms, fireworks, or illegal drugs allowed on premise.

No underage drinking allowed on property.

You must be 25 years or older to book. We value transparency and trust, so please be honest.

This is not a party cabin, please keep noise to a respectable level.

No smoking inside the cabin. Smoking outside is permitted, please use ashtrays.

Breeds and size of dog(s) must be approved by host.

Guest will be required to sign a liability waiver.

Children must be supervised by an adult on premise at all times.

Guidelines: With prior approval, host may be flexible with these guidelines.

We request at least a 5 day notice from the time you make your "book it" request to the time you are planning your stay. Host may be able to accept a booking with less than 5 days notice, but it is up to the discretion of the host.

The cabin can accommodate 8 persons with 4 real beds and 1 sofa bed (1 King bed in the 2nd floor master suite, 1 queen bed in the 2nd bedroom 1st floor, 2 single bunk beds in the 3rd bedroom 1st floor, and 1 full size sofa bed in the main living area on the second floor.) A pack-n-play and floor mat are also available for smaller children. Please be honest about your parties size when booking.

Arrival time is 4pm and departure time is 12pm (noon). The host may be flexible with these times depending on availability and cleaning between guest(s). Please ask host ahead of time if you would like to change your arrival or departure times.

This premise is not recommended for your stay if any of your group/family members are severely allergic to pets, or have limited mobility.

Guests are responsible for snow removal should they want to park in close proximity to the cabin when there is an accumulation of snow prior to their stay or expected during their stay. The cabin is equipped with a forced air heating system as the primary heat, and should guests want to use the fire place for ambiance, they are responsible for bringing their own firewood. The only cell service that works well at the cabin is Verizon. If you have AT&T; your cell service may be spotty. You most likely will be able to use text if you need to contact the host. There is no internet or WiFi at the cabin, however there are several hot spots in Green Valley Lake, including the Lake Inn Restaurant. If you are heavily dependent on phone and internet our cabin may not meet your vacation needs.

Booking Information:

We like to get to know our guests in order to make sure that our cabin will meet their vacation needs. Please provide the following information in your "Book It" or "Contact Me" message along with any questions you may have about "Camp Juniper":

How many guest are adults (over 25), young adults (under 25), children (under 12), or toddlers / infants (under 4)?

Will you be traveling with dog(s)? If so, what is the breed and size?

What is the general plan for your vacation stay?

We look forward to your stay. Should you find that after reading the information under the "house rules" tab, that "Camp Juniper" will not work for you and your family, please contact the host to see if any accommodations can be made. If not, the host may be able to recommend another vacation rental in the area that may be more suitable for your vacation needs.

Additional fees

Cleaning fee $100 per stay

Damage Deposit $300 per stay ...Read more
Map
Camp Juniper In Cute Lake Community

Green Valley Lake, California
What's Nearby:
Additional Location Information
Welcome Guests,

We are happy to be able to share our family cabin with you. We treasure our cabin. We recently purchased our cabin in 2011, for our family to have a safe comfortable place to spend time together. Our guests have a unique opportunity to get a glimpse into our lives through the time we spent collecting furnishings and decorations that reflect our mountain homes character. We understand that our cabin is not perfect, and it does have some flaws and quirks, but we have done our best to make it as functional and comfortable as possible. Flipkey has given us the unique opportunity to meet people from all over the the US, and to be able to share our piece of paradise in Green Valley Lake. We would like to be able to develop lasting relations with our guests, and encourage their return year after year. We want our guests to have the most pleasurable stay. Please feel free to let us know if there is anything else we can do to make our cabin more comfortable for your future stay.

Mark, Ronda, Ryan, & Nicholas


HOUSE MANUAL
This is a private family cabin, and we ask that you treat the premise with respect. For more information on the Green Valley Lake Mountain Community check out the official website

RULES
For fire hazard and health safety; firearms, fireworks, or illegal drugs are not allowed on premise. For liability reasons, underage drinking is not allowed on property. We value and respect our community and want to maintain a good relationship with our neighbors. Therefore, we ask that you please be respectful and keep noise to a reasonable level. Please do not smoke inside the cabin. Smoking outside is permitted. Please use ashtrays provided to prevent any fire hazards. You must be 25 years or older to book a reservation. We request at least a 5 day notice from the time you make your booking request to the time you are planning your stay. The host is flexible, and may be able to accept a booking request with less than 5 days notice, but it is up to the discretion of the host. Our neighbors have a copy of these rental rules and have been instructed to notify host should they notice any blatant violations.

OCCUPANCY
8 Person max. sleeping occupancy strictly enforced, unless over wise approved by host. The premise offers 4 real beds and 1 sofa bed: 1 king located in the 2nd floor master suite, 1 queen located in the 2nd bed room on the 1st floor, 2 single bunk beds located in the 3rd bedroom on the 1st floor, and 1 full size sofa bed located in the main living area on the 2nd floor. An Additional pack-n-play and floor mat is available for smaller children.

PETS
We are pet lovers, and have a pet friendly policy. For the safety of the community children, all pets and dog breeds must be approved by the host. The cabin does not have a fully fenced yard. If your dog is known to bark while you are away, we ask that you take your dog with you anytime you leave the premise. We prefer that your pets sleep on the floor, however, we understand that some pets are socialized to sleep on the couch or beds. If this is the case with your pet, please be diligent and put down a sheet or light blanket over the furniture in which your pet has taken a preference to. If any of your group/family members are allergic to pets, this premise may not be suitable for your stay.
CHECK IN
Arrival time is 4pm and departure time is 12pm (noon). The host may be flexible with these times depending on availability and cleaning between guests. Please contact the host ahead of time if you have any changes to your arrival or departure times. The host will make every effort to meet the booking guest at the premise when they arrive. Upon arrival, booking guest will be required to sign a liability release waiver. In the case the host is unable to meet the booking guest, arrangements will be made to get the guest keys, and have them sign the liability waiver.

SELF CHECK OUT
Upon Departure, please pile all dirty linens and towels next to the washing machine, take out the trash and recyclables to the outside cans, close all the windows, turn off lights, heater, and appliances, lock all the exterior doors, leave the keys on the kitchen counter, and lock the door knob as you leave. In the winter, instead of turning off the heater, please turn the heater down to 45 degrees to prevent the pipes from freezing.

CHILDREN
The premise is a family cabin, but by no means is it infant, toddler, or child proof. For children's safety, children need to be supervised by an adult at all times while on premise. There are no installed safety equipment for infants or toddlers like outlet covers, furniture pads, safety gates, cupboard locks, or bed railings.

AMENITIES
Gas BBQ, pool table, Direct TV, DVD with a collection of disney movies. Dishwasher, microwave, coffee maker, and other small kitchen appliances. If you have a need for a particular kitchen ware, please ask the host if one is available. We provide to our guests: Toilet paper, paper towels, dish soap, trash bags, sheets and towels. Feel free to use any food, cooking ingredients, spices, and condiments available on the premise (check expiration dates). No need to bring up bottled water, the water out of the tap comes from natural wells, and tastes delicious! Should guests want to use the fireplace, they are responsible for providing their own wood. Wood can be purchased at the General Store.

PARKING
Drive way parking is available, and up to 4+ cars will fit. Should you need more parking spaces, additional parking is located in town across the street from the General Store. Please do not park on our neighbors properties.
WINTER CONDITIONS
Snow conditions in the winter time may affect driving and parking. Due to the unpredictability of the winter weather and road conditions, CHP requires chains to be carried. Please check the weather conditions ahead of time in order to prepare for the road conditions. Guest are responsible for snow removal if they want it. For more information on snow removal businesses go to the Green Valley Lake Website
Additional parking is available in town across the street from the General Store should guests not want to have to remove the snow in close proximity to the cabin. To prevent the pipes from freezing in the winter, upon departure, instead of turning off the heater, please turn the heater thermostat down to 45 degrees.

TRASH
Please take out your trash and recyclables daily and dispose of it in the cans next to the rustic craftsman's workshop. Please be sure to secure lids on the cans to deter wildlife.

CLEANING FEE
In order to keep the cleaning fee low, we ask that you please maintain tidiness within the cabin. The cleaning fee covers basic cleaning services and laundry services. Should the premise need additional deep cleaning, guests may be held responsible for the additional cost.

WILDLIFE
Visiting wildlife include Steller's jays, gray squirrels, chipmunks, mountain doves, and chickadees. We encourage our guests to bring up wild bird seed, or unsalted peanuts to feed the outside wildlife. Sometimes small rodents and insects make their way into the cabin from the natural environment outside. We do our best to deter the wildlife from entering the cabin. In order to help us, please don't leave uncovered food out over night. Take out the trash and recyclables to the outside cans daily, and make sure to secure the lids on the cans. If you have a sever phobia to insects or small rodents our cabin in nature may not be suitable for your stay.

RECREATION
Green Valley Lake offers a variety of things to do. Please visit the green valley lake website form more information on events and activities:
For more information on the lake and water quality, please visit the Green Valley Lake Mutual Water Company Website:
For more information on fishing in Green Valley Lake, please visit the official Green Valley Lake Website:
For more information on hiking and 4x4 recreation, please visit the official Green Valley Lake website, and the US forest service website:
For more information on guided local hikes, please visit the Sierra Club website, and the Mountain Top Hiking website:

PROPERTY DAMAGE
Host understand that accidents do happen. Please report any property damage to the host. Guests may be held responsible for any damage caused by blatant abuse of property or any damage caused by pets. The property will be inspected within 48 hours after the departure of the guests.

SAFETY
The premise is equipped with smoke detectors and a fire extinguisher. In the case of an emergency please contact emergency services by calling 911, and also contact the host. Should you notice any plumbing leaks please use the local shut valve located in close proximity to the leak either a sink or a toilet. Should the leak be sever please contact the host for instruction on how to shut off the main water and for the host to contact maintenance. The stove, water heater, dryer, BBQ, and forced air heater are fueled by gas. Should you suspect a gas leak please contact the host. If the gas leak is sever, please contact the host for instructions on how to shut-off the gas, and for the host to contact the gas company. If you encounter any electrical problems with the property, please contact the host for instructions to remedy the problem. BBQ safety – Due to fire hazards especially in the summer months, extreme safety is required when using the BBQ. A water hose is available in case of an exterior fire. Please wet down the area adjacent to the BBQ before turning on the BBQ and never leave the BBQ on while unattended. Fire Place Safety - Please use care when using the fireplace. Presto logs work well. If you don't want to haul wood, the Green Valley Lake General Store sells wood. We have an awesome Forced Air Heating System, therefore a fireplace fire is just for ambiance and we do not provide wood. In the event of a power outage flashlights are available.

APPLIANCE OPERATIONS
For any instructions on how to use the, Direct TV, DVD player, stove, washer & dryer, BBQ, Forced Air Heater, etc..... Please contact the host.

TELEPHONE
The only cell service that works well at the cabin is Verizon. If you have AT&T; your cell service may be spotty. You most likely will be able to use text if you need to contact the host.

If you have any questions please feel free to contact the host.

Enjoy Your Stay
More About This Location
Lake nearby, Mountain nearby
Availability
Last updated on January 15, 2015
Amenities
Local Guides/Maps
Fireplace
Central heating
Towels Provided
Clothes Dryer
Linens Provided
Washing Machine
Refrigerator
Microwave
Grill
Paper Towels Provided
Dishwasher
Stove or Oven
Toaster
Blender
Freezer
Pet friendly - ask
Smoking allowed - ask
Suitable for children - yes
Suitable for the elderly - ask
Wheelchair accessible - no
What Past Guests Are Saying
Have you stayed here?
This rental is awaiting reviews from past guests. Help out travelers and the owner by being the first to write a review!
Also Consider
FlipKey has rentals in over 11,000 destinations around the world: