13 Results
Relevance
Price: low to high
Price: high to low
Number of reviews
Hilo log cabin
2 bedrooms / 2 bathrooms / sleeps 6
Responds fast! avg. 1 hour 35 minutes
Match: Swing set or jungle gym
All filters match
Price per night from
$166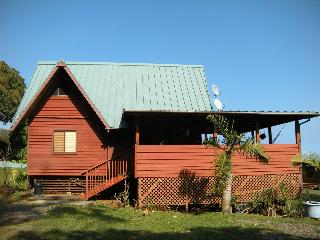 Ka'anapali apartment
2 bedrooms / 1 bathroom / sleeps 4
"Excellent Condo for the Money" When we reserved the condo we got three very informative emails in reply letting us know about check in-check out procedures, nearby restaurants, car rentals, activities in Maui, etc., so that was very helpful. When we got there we found the condo very clean with plenty of comfortable furnishings. There is no A/C but we found that if we opened the windows and turned on the fans in the evenings, the condo stayed very comfortable. It did not get too hot in the middle of the day. Kevin's policy of marking refrigerator items with the date of purchase is brilliant and renters to save on the cost of condiments and other little items. The pantry was full of staples too, so if you forgot to get something at the store, you will likely find it in the cupboard! Kevin keeps the bathroom medicine cabinet, linen closet and bedroom closets stocked with everything else you may need - boogie boards, sand toys, snorkel equipment, pool noodles, laundry detergent, bleach, bandages, antibacterial ointment, sunscreen, linens, beach towels, duct tape, you name it! The only thing we needed but couldn't find was a pair of scissors, but we got by! FYI, there is no dishwasher, so you will have to wash the dishes by hand. The location is very nice. It is in a part of town where you can walk to restaurants, a natural (but vegetarian) market, coffee shop, shave ice store, surf shop, etc. Plus it is a bout a 5-10 minute drive north of Lahaina if you need more in terms of shops and restaurants. Lahaina is also a prime spot for surf and paddleboard lessons and for hiring a boat for deep sea fishing, among other activities. The condo is also right across the street from a nice, well-used (by locals and tourists alike) park and beach. The surf doesn't get real big here, so it was a perfect boogie boarding location for our 10 year old, and a nice fishing location for our 14 year old. Plus, BONUS PART, a sea turtle hung out with us one afternoon, eating whatever grows on the rocks just off shore and swimming around our ankles.
Responds fast! avg. 1 hour 11 minutes
Match: Swing set or jungle gym
All filters match
Price per night from
$155
Kailua-Kona condo
1 bedroom / 1 bathroom / sleeps 4
Match: Swing set or jungle gym
All filters match
Price per night from
$122
Napili-Honokowai condo
2 bedrooms / 2 bathrooms / sleeps 6
Match: Swing set or jungle gym
All filters match
Price per night from
$396
Mountain View b&b
3 bedrooms / 3 bathrooms / sleeps 16
Responds fast! avg. 3 hours 11 minutes
Match: Swing set or jungle gym
All filters match
Price per night from
$365
Princeville house
4 bedrooms / 4 bathrooms / sleeps 12
"Great for families!" This was a perfect house for a Kauai vacation. Close to groceries and restaurants, and Hanalei town but also easy access to main highway to other parts of the island. Super short walk to Queen's Bath trailhead. Plenty of space, clean, house had everything advertised and then some, with a great play structure out back for the kids, tv/wifi, kitchen, laundry, etc. awesome to have a home base from which to explore, and then come back and relax. Also a short walk to St. Regis with a nice quiet public access beach as well as amazing views from the lobby - took kids to the beach and then had coffee here one morning. Would stay here again, hands down. Owners also very responsive and booking process easy.
Responds fast! avg. 50 minutes
Match: Swing set or jungle gym
All filters match
Price per night from
$652
Captain Cook house
5 bedrooms / 4 bathrooms / sleeps 11
Match: Swing set or jungle gym
All filters match
Price per night from
$603
Ka'anapali villa
1 bedroom / 1 bathroom / sleeps 5
Match: Swing set or jungle gym
All filters match
Price per night from
$401
Hilo house
3 bedrooms / 2 bathrooms / sleeps 10
Responds fast! avg. 3 minutes
Match: Swing set or jungle gym
All filters match
Price per night from
$212
Waimea cottage
2 bedrooms / 1 bathroom / sleeps 6
Match: Swing set or jungle gym
All filters match
Price per night from
$263
Kahala house
3 bedrooms / 4 bathrooms / sleeps 7
Match: Swing set or jungle gym
All filters match
Price per night from
$1,462
Lahaina studio
Studio / 1 bathroom / sleeps 4
Match: Swing set or jungle gym
All filters match
Price per night from
$435
Kailua-Kona condo
1 bedroom / 1 bathroom / sleeps 2
Match: Swing set or jungle gym
All filters match
Price per night from
$128