Previous

Next

property
$150
3 BR / 2 BA / Sleeps 6
Inquire
3 BR
/
2 BA
/
Sleeps 6
|

Quick view
Escape the noisy city and come relax in this modern, upscale, spacious golf course home. Located on the Holly Lake Golf Course this home is walking distance from all Holly Lake Ranch amenities and dining facilities. It can easily accommodate up to 6 adults; with three bedrooms and two baths, spacious kitchen and …
Ocean or water views

Fireplace

Washing Machine

Clothes Dryer

A/C or climate control
Suitable for children - ask

Suitable for the elderly - ask
Previous

Next

property
$125
3 BR / 2 BA / Sleeps 8
Inquire
3 BR
/
2 BA
/
Sleeps 8
|

Quick view
(We also have another cabin available for other dates!) **Use PayPal's Bill Me Later!!! Take 6 months to pay when you spend $99 or more!!!** Unwind in our three bedroom two bath cabin in Holly Lake Ranch located in East Texas. If you are looking for a relaxing getaway from the noisy city life then check this …
Internet Access

Fireplace

Washing Machine

Clothes Dryer

A/C or climate control
Pet friendly

Suitable for children - ask

Suitable for the elderly - ask
Previous

Next

property
$155
2 BR / 2 BA / Sleeps 8
$155
Book
2 BR
/
2 BA
/
Sleeps 8
|

Quick view
Fully furnished cottage in the woods with backyard opening to pine trees and four acre pond. Cottage has wood floors, window air conditioners and homey furnishings. Perfect for a family retreat or a romantic getaway. Located on our 300 acre working ranch, Pine Grove Cottage is tucked away on its own corner of the …
Ocean or water views

Internet Access

Fireplace

Housekeeping Optional

Clothes Dryer
Pet friendly - ask

Suitable for children

Suitable for the elderly
Previous

Next

property
$175
5 BR / 4 BA / Sleeps 12
Inquire
5 BR
/
4 BA
/
Sleeps 12
|

Quick view
Beautiful 5 BR / 3.5 BT Lake House for rent. Perfect for small or large groups. We would love to open up our family house to you and guests to rent. The house is located in Holly Lake Ranch with all the activities at your fingertips including golf, tennis, fishing, boating, basketball, walking and of course relaxing. …
Waterfront

Ocean or water views

Internet Access

Fireplace

Washing Machine
Suitable for children - ask

Suitable for the elderly - ask
Previous

Next

property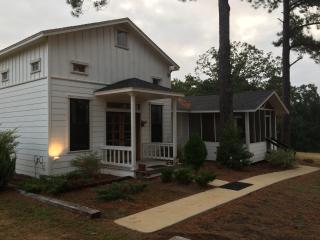 $150
1 BR / 2 BA / Sleeps 2
$150
Book
1 BR
/
2 BA
/
Sleeps 2
|

Quick view
The Gatehouse Inn is designed to offer a peaceful haven for our guests, a place conducive for romance, reminiscing, and relaxation. We invite you to take a stroll over our 75-acre property, bathe in a private, outdoor, claw foot bathtub while watching the sunrise over the blueberry patch; read a book by the fireplace…
Previous

Next

property
$150
2 BR / 2 BA / Sleeps 6
Inquire
2 BR
/
2 BA
/
Sleeps 6
|

Quick view
2 Bedroom 2 Bath Luxury Completely Finished Suite Downtown Winnsboro
Internet Access

Housekeeping Optional

Washing Machine

Clothes Dryer

A/C or climate control
Pet friendly

Suitable for children

Suitable for the elderly

Wheelchair accessible - ask
Previous

Next

property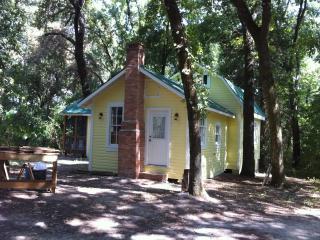 $135
2 BR / 1 BA / Sleeps 4
$135
Book
2 BR
/
1 BA
/
Sleeps 4
|

Quick view
A private retreat situated on 58 acres and carefully restored over 18 months, "The Cottage" is a rustic, farm Cottage reminiscent of turn of the century East Texas living. total restoration in 2012 retained its country charm but added new wiring, plumbing and Central Heat and air. Great Decor! In Mineola, …
Ocean or water views

A/C or climate control

Central heating

Porch

Parking
Suitable for children - over five

Suitable for the elderly - ask
Previous

Next

property
$200
2 BR / 2 BA / Sleeps 6
$200
Book
2 BR
/
2 BA
/
Sleeps 6
|

Quick view
Fully furnished cottage overlooks a beautiful spring fed four acre pond. Lakeside Cottage is brand new and has wood floors, farmhouse sink, silestone counters, central heat/air and a beautiful gas log stove for ambiance. Perfect for a family retreat or a romantic getaway. Located on our 250 acre working ranch Lakeside…
Waterfront

Ocean or water views

Internet Access

Fireplace

Housekeeping Optional
Pet friendly - ask

Suitable for children

Suitable for the elderly - ask
A "Must" Place to Visit!
Left on Sep 30, 2011 for a stay in September 2011
This new cottage is absolutely wonderful. It is very open and at the same time so cozy in a beautiful country atmosphere. The inside decor was unique and beautiful with a big flat screen TV over the mantel and wonderful kitchen. My husband, grandson (17), and son-in-law caught beautiful, huge bass in the lake behind the house, but released them all. If you ever get the opportunity and want a …
Previous

Next

property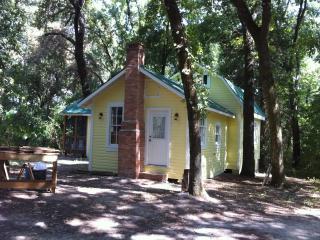 Inquire for rates.
2 BR / 1 BA / Sleeps 4
Inquire for rates
Book
2 BR
/
1 BA
/
Sleeps 4
|

Quick view
A private retreat situated on 58 acres and carefully restored over 18 months, "The Cottage" is a rustic, farm Cottage reminiscent of turn of the century East Texas living. total restoration in 2012 retained its country charm but added new wiring, plumbing and Central Heat and air. Great Decor! In Mineola, …
A/C or climate control

Central heating

Porch

Parking

Grill
Suitable for children - ask

Suitable for the elderly - ask
---
Looking for more rentals?
We're showing only results that match your dates and preferences.
See all 9 Hawkins rentals, all 3,282 Texas rentals, or start a new search.
---