Previous

Next

property
$600
6 BR / 5 BA / Sleeps 16
Inquire
Harrisville villa – 16.2 mi away
6 BR
/
5 BA
/
Sleeps 16
|

Quick view
750 Acre (300 Hectare) Estate! 5 Bedrooms + Detached Unit - 4.5 Baths - (Sleeps 14-15) This enormous estate is one of a kind! The rental includes the a Main House, the Sunset/Guest Cabin, secret Treehouse, and private land larger than many towns! Although the estate is often enjoyed for family gatherings, …
Ocean or water views

Mountain Views

Hot Tub/Jacuzzi

Internet Access

Fireplace
Suitable for children

Suitable for the elderly - ask
Previous

Next

property
$100
3 BR / 4 BA / Sleeps 6
Inquire
Sunapee condo – 18.8 mi away
3 BR
/
4 BA
/
Sleeps 6
|

Quick view
This is a MONTHLY rental only. There is a 3 MONTH minimum requirement. Please see the rates section below for more details. Spacious fully furnished 3,000 sf luxurious condo in a highly desirable condominium community four miles from Mount Sunapee Ski Resort with Fall, Winter, and Spring Lake Sunapee views. The …
Waterfront

Ocean or water views

Internet Access

Fireplace

Washing Machine
Pet friendly

Suitable for children - ask

Suitable for the elderly - ask
Previous

Next

property
$129
2 BR / 2 BA / Sleeps 4
1 / 13
(2)
" Excellent "
$129
Book
Canterbury condo – 19.2 mi away
2 BR
/
2 BA
/
Sleeps 4
|

Quick view
Built in 1745, Windswept Farm offers a quaint and comfy 2 bedroom, 2 bath apartment. This is a working farm and equestrian facility with indoor arena, outdoor arena and trails. Horseback riding opportunities for beginner to experienced riders. Spacious well bedded stalls are available for those traveling with horses. …
Mountain Views

Internet Access

Outdoor Dining Area

A/C or climate control

Parking
Pet friendly

Suitable for children

Suitable for the elderly - ask
Idealic and Beautiful
Left on Apr 18, 2013 for a stay in April 2013
The Windswept was pretty much the way we envisioned it. The bedrooms, living room, dininng room, kitchen and one bathroom were on the top floor. The second smaller bathroom was downstairs. We enjoyed our stay visiting our daughter and son-in-law Concord, NH (just ten minutes south). Every morning we saw the horses in their coats out in the pastures. Very peaceful setting. My husband walked …
Previous

Next

property
$290
3 BR / 2 BA / Sleeps 9
$290
Book
Sunapee house – 14.9 mi away
3 BR
/
2 BA
/
Sleeps 9
|

Quick view
You'll feel like you're vacationing inside the pages of DWELL magazine in this brand new three/four bedroom lakefront house designed by a prominent Boston architect. Charming Kezar Lake, dotted with old farmhouses and inns, is a well-kept secret in the area. Old-fashioned Vernondale General Store, gorgeous …
Waterfront

Ocean or water views

Internet Access

Fireplace

Washing Machine
Suitable for children

Suitable for the elderly - ask
Previous

Next

property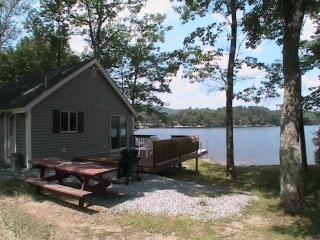 $171
2 BR / 1 BA / Sleeps 5
Inquire
Antrim cottage – 5.8 mi away
2 BR
/
1 BA
/
Sleeps 5
|

Quick view
Enjoy westerly views and shaded breezes on private beach with private dock. Modern Cottage on 600a Franklin Pierce Lake. Private area with beach and boat dock. Home has modern kitchen and living area with fireplace. Large deck with grill and seating. Bedroom 1 has full bed. Bedroom 2 has full bed with twin bunk above…
Waterfront

Ocean or water views

Fireplace

Central heating

Deck
Suitable for children - ask

Suitable for the elderly - ask
Previous

Next

property
$150
3 BR / 1 BA / Sleeps 8
Inquire
Newbury cottage – 17.3 mi away
3 BR
/
1 BA
/
Sleeps 8
|

Quick view
If you are looking to get away from the maddening crowd, look no further. Located at the end of Blodgett's Landing- Lake Sunapee, is this quaint 3+ bedroom cottage. 'A stone's throw away from the beach', and private boat dock available for an additional fee. Once a carriage house, you enter through a screened porch, …
Ocean or water views

Deck

Grill

Microwave

Refrigerator
Pet friendly - ask

Suitable for children

Suitable for the elderly

Wheelchair accessible - ask
Previous

Next

property
$250
3 BR / 2 BA / Sleeps 9
Inquire
Antrim house – 6.3 mi away
3 BR
/
2 BA
/
Sleeps 9
|

Quick view
Beautiful lake front home in a quite cove. Includes paddle boat and kayak. Wake up to coffee on the dock or dinner on the deck overlooking the water while listening to the lake's resident loons. Enjoy beautiful sunsets lakeside. Private sandy beach, private dock. Plenty of room for your boat or watercraft. Includes …
Waterfront

Ocean or water views

Central heating

Deck

Parking
Suitable for children - ask

Suitable for the elderly - ask

Wheelchair accessible
Previous

Next

property
$150
3 BR / 2 BA / Sleeps 5
$150
Book
Henniker cabin – 6.1 mi away
3 BR
/
2 BA
/
Sleeps 5
|

Quick view
Rustic beauty on a quiet pond... Ideal spot for couples, families and friends to escape from the buzz of civilization and just relax in the private, wooded setting or experience a whole host of area activities and sites that are just a short ride away. After visiting our cottage, we think you'll want to make it an …
Waterfront

Ocean or water views

Outdoor Dining Area

A/C or climate control

Porch
Suitable for children

Suitable for the elderly

Wheelchair accessible - ask
Previous

Next

property
$136
2 BR / 1 BA / Sleeps 4
$136
Book
Peterborough cottage – 19.0 mi away
2 BR
/
1 BA
/
Sleeps 4
|

Quick view
An easy one mile walk from downtown Peterborough (sidewalks all the way) with all its fantastic shopping, dining, parks, and quintessential New England charm. This recently renovated two bedroom riverside cottage sleeps four people. With its updated kitchen, spacious living room, screened-in porch, and riverside deck…
Waterfront

Ocean or water views

Wireless Internet

Washing Machine

Clothes Dryer
Suitable for children - over five
Previous

Next

property
$165
2 BR / 1 BA / Sleeps 6
1 / 25
(1)
" Excellent "
$165
Book
Weare cottage – 6.3 mi away
2 BR
/
1 BA
/
Sleeps 6
|

Quick view
This picturesque country cottage is nestled on 300 feet of very private forested frontage on Lake Horace, a pristine lake in the heart of the Piscataquoge water shed near the town of Weare. Enveloped in the charming ambiance of southern yellow pine, the cottage is rustic, secluded, cozy and comfortable. It has a …
Waterfront

Ocean or water views

Mountain Views

Fireplace

Outdoor Dining Area
Suitable for children

Suitable for the elderly
Tranquility at its best!
Left on Oct 03, 2014 for a stay in August 2014
We had an absolutely great vacation, very relaxing! A cute lakeside cottage equipped with everything you need and the secluded beach was the icing on the cake! Dealing with the owners was a delight and they made the whole process a breeze. We really enjoyed our experience and look forward to many more stays. If your looking for piece and tranquility look no further, this is the perfect place to …
Previous

Next

property
$135
3 BR / 1 BA / Sleeps 7
1 / 12
(1)
" Excellent "
Inquire
Newport house – 19.6 mi away
3 BR
/
1 BA
/
Sleeps 7
|

Quick view
Located on a quiet, pristine New Hampshire lake, this home and scenic surroundings provide a haven of rest for your vacation. Our private sandy beach sits on 510 feet of shoreline and invites you to enjoy carefree sunbathing and swimming in a safe, beautiful setting. Shade trees on the grounds create a cool respite …
Waterfront

Ocean or water views

Mountain Views

Internet Access

Housekeeping Optional
Suitable for children

Suitable for the elderly - ask

Wheelchair accessible - ask
What a gem!
Left on Aug 09, 2011 for a stay in August 2005
What a wonderful, peaceful cottage on a lovely little lake. This little 2 bedroom cottage had everything we needed to feel right at home. Fresh linens, spotlessly clean and hosts that were both helpful and kind.

While there was plenty to do in the area and the location was convenient to many amenities, I don't know why you would ever want to leave! From coffee and my book on the deck to the …
Previous

Next

property
$125
2 BR / 1 BA / Sleeps 4
1 / 12
(2)
" Excellent "
$125
Book
Henniker cottage – 6.4 mi away
2 BR
/
1 BA
/
Sleeps 4
|

Quick view
The cottages have one and two bedrooms with double beds, living room, kitchenette and screened porch. Cottage is waterfront. (linens and towels are not provided) Equipped with a gas stove, refrigerator, cooking utensils, dishes, silverware, coffee pot and toaster. Has AC and heat. The cottage has a bath with stall …
Waterfront

Ocean or water views

A/C or climate control

Central heating

Porch
Pet friendly

Smoking allowed - ask

Suitable for children

Suitable for the elderly

Wheelchair accessible - ask
Relaxing
Left on Jul 18, 2013 for a stay in July 2013
My husband and I totally enjoyed our stay at tall pines and would recommend it if you want to relax and enjoy the peaceful sounds of nature. Not only that the pond is wonderful and the fish are like pets!!! I fed them (like 25)and they swam around my legs and even let me pat them!!
The fish in the pond were jumping all around the pad boat and it was a great time!! Next time ill make sure to pack…
Previous

Next

property
$250
3 BR / 1 BA / Sleeps 6
1 / 15
(2)
" Excellent "
$250
Book
Hillsborough house
3 BR
/
1 BA
/
Sleeps 6
|

Quick view
Enjoy this year round vacation lake house on tranquil Emerald Lake. Take in the lovely view. It is stunning from the living room and dining area. Double sliders open to a deck, you may want to eat out here and cook on the grill. In the morning have you coffee or tea on the outdoor table. If you're an early bird …
Waterfront

Ocean or water views

Internet Access

Fireplace

Washing Machine
Pet friendly - ask

Suitable for children

Suitable for the elderly
A great lakeside house in a great location
Left on Sep 22, 2010 for a stay in August 2010
We loved this house. It was peaceful and picturesque. We were Brits looking for a guidebook New England experience - and we found it. Nice to have boats with the house, we were on the water every day and our son loved it. The local towns of Hennicker and Hillborough are charming. People in the shops and restaurants could not have been friendlier (although a bit bemused to hear our English accents…
---
---