Previous

Next

property
$175
3 BR / 2 BA / Sleeps 8
$175
Book
3 BR
/
2 BA
/
Sleeps 8
|

Quick view
3 bedrooms, 2 full baths, living room, dining room, kitchen, loft area. Private and secluded log cabin chalet is situated on three picturesque acres overlooking tall pines and forests with heartwarming winter mountain views. The chalet was built in 2003 and has gorgeous stone countertops and two pull out sofa beds…
Mountain Views

Internet Access

Housekeeping Optional

Washing Machine

Clothes Dryer
Suitable for children

Suitable for the elderly
Fantastic - peace and tranquility
Left on Oct 26, 2014 for a stay in October 2014
Many thanks to Bill and Eileen. We had a wonderful week and returned to the UK feeling relaxed and contented. A lovely lodge with all comforts included. Would happily stay again!!
Previous

Next

property
$100
2 BR / 1 BA / Sleeps 3
$100
Book
2 BR
/
1 BA
/
Sleeps 3
|

Quick view
Secluded 1850s eyebrow farmhouse. Open living/dining room with original details. 2 bedrooms. 1 bath. 2 fireplaces. Large sunny stone patio. Gardens, stream, apple trees. Ten acres, surrounded by 1,000-acre Rheinstrom Hill Audubon Bird Sanctuary with miles of trails. Last house on a quiet dead-end road. 5 minutes from …
Previous

Next

property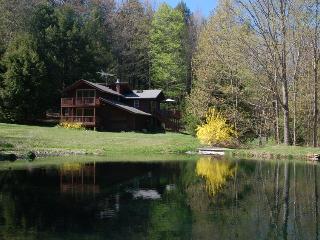 $150
4 BR / 3 BA / Sleeps 7
$150
Book
4 BR
/
3 BA
/
Sleeps 7
|

Quick view
A private enjoyment complete with pond, stream, river and forests yet well within all urban needs. Now accepting 2013-4 Winter Ski Season Rentals, ask. You will be minutes away from world renowned museums, The Clark Institute, MassMoca, The Norman Rockwell Museum, Shaker Museum, Herman Melville, Edith Wharton and …
Waterfront

Ocean or water views

Mountain Views

Internet Access

Washing Machine
Pet friendly

Suitable for children
A perfect quiet retreat
Left on Aug 15, 2013 for a stay in July 2013
Had a great time at this cottage.
No neighbors and only sounds of nature. Our young kids spent their days chasing frogs in the ponds and picking wild raspberries.
Good value and highly recommendable!
Previous

Next

property
$425
3 BR / 2 BA / Sleeps 13
$425
Book
3 BR
/
2 BA
/
Sleeps 13
|

Quick view
Cozy modern log cabin nestled in the Berkshires in a large wooded area with landscaped yard on a small river. The cabin has a full service kitchen and a great room with dining and lounging space. There is a full entertainment center with furnished recorded music and movies. Bedrooms and bath are on both the 1st and…
Ocean or water views

Internet Access

Fireplace

Housekeeping Optional

Washing Machine
Suitable for children

Suitable for the elderly
rest,relax,recharge
Left on Nov 09, 2010 for a stay in October 2009
It's a Beautiful home that has all the modern conveniences. It's quiet, quaint and had just what I needed to get away from it all. I enjoyed morning coffee on the back deck among the trees and afternoon walks in the woods. A perfect place to recharge.
Previous

Next

property
$150
3 BR / 3 BA / Sleeps 8
Inquire
3 BR
/
3 BA
/
Sleeps 8
|

Quick view
Glorious views across meadows to distant mountains. Open-plan living/dining/kitchen with fireplace, and soaring ceiling. Many glass doors lead to decks where you may drink in the view. Great master bedroom suite with state of the art bathroom, two guest rooms, family room, media room and two guest bathrooms. Wood and …
Mountain Views

Internet Access

Fireplace

Housekeeping Optional

Washing Machine
Pet friendly - ask

Smoking allowed - ask

Suitable for children - ask

Suitable for the elderly - ask

Wheelchair accessible - ask
Previous

Next

property
$650
5 BR / 5 BA / Sleeps 14
$650
Book
5 BR
/
5 BA
/
Sleeps 14
|

Quick view
This extremely private luxury home is situated on 48-acres at the end of a cul de sac and is located two miles from NY Route 22 in Columbia County just 10 minutes from the Massachusetts boarder and 30 minutes from the Vermont border. Recently renovated, this contemporary home with 5 bedrooms (first floor master) and…
Suitable for children - ask

Suitable for the elderly - ask

Wheelchair accessible - ask
Previous

Next

property
$100
3 BR / 2 BA / Sleeps 6
Inquire
3 BR
/
2 BA
/
Sleeps 6
|

Quick view
Welcome to the quiet confines of Copake Lake nestled in the heart of the Taconic Mountain Range in Columbia County, NY, bordering Massachusetts' Berkshire County. You wake up an hour past dawn, grab a cup of java and sit out on your private deck that overlooks shimmering Copake Lake, a 365 acre multiuse lake. Maybe …
Ocean or water views

Internet Access

Fireplace

Washing Machine

Clothes Dryer
Pet friendly

Suitable for children

Suitable for the elderly
Great Golf Weekend
Left on May 14, 2012 for a stay in May 2012
I recently rented this home and the description is spot on. The views are spectacular, and the lake is directly in front of the house, featuring a huge yard big enough for a family gathering. The house is very warm and inviting with 3 well appointed bedrooms. A beautiful golf course is located at the other end of the lake about 3 miles a way, which also features one of the best restaurant in the …
---
---