Previous

Next

property
$50
0 BR / 1 BA / Sleeps 3
$50
Book
0 BR
/
1 BA
/
Sleeps 3
|

Quick view
Apartment/Suite for lease daily, weekly, or monthly with private entrance. Furnished, upstairs loft with double bed, Single couch/bed downstairs. Small, complete kitchen with stove, small fridge, cooking supplies, plates, etc. Hot shower. Wi-fi. The Space We invite you to stay for a night, a week, or a month in our …
Shared outdoor pool (unheated)

Internet Access

Housekeeping Optional

Outdoor Dining Area

Patio
Suitable for children - ask

Suitable for the elderly - ask
Previous

Next

property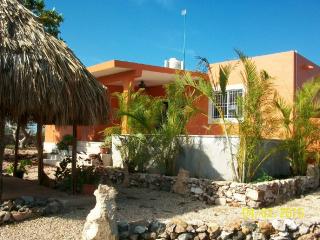 $85
2 BR / 2 BA / Sleeps 4
$85
Book
2 BR
/
2 BA
/
Sleeps 4
|

Quick view
A Brand New, 2 Bedroom, 2 Bathroom Rental Home Located in the Designated, ""Magical City" of Izamal, Yucatan, Mexico. This Spacious and Private Rental is Perfect for Those Seasoned Travellers Looking for Quality and Comfort in a Rental Home at a Reasonable Price.The Rental is Situated On Over an Acre of…
Wireless Internet

Outdoor Dining Area

A/C or climate control

Porch

Parking
Pet friendly

Suitable for children - over five

Suitable for the elderly - ask
Previous

Next

property
$145
1 BR / 1 BA / Sleeps 4
$145
Book
1 BR
/
1 BA
/
Sleeps 4
|

Quick view
Izamal is the best place to spend a couple of days to explore all of Yucatan`s sights. Enjoy the tranquil atmosphere in your rental, take a ride in a horse buggy, rent a bike or climb the biggest pyramid in Yucatan. Explore the secrets of the Mayans and enjoy the natural surroundings of Izamal. There is plenty to do…
Internet Access

Housekeeping Optional

Outdoor Dining Area

A/C or climate control

Porch
Pet friendly

Suitable for children

Suitable for the elderly
Previous

Next

property
$300
3 BR / 5 BA / Sleeps 10
$300
Book
3 BR
/
5 BA
/
Sleeps 10
|

Quick view
1 Master suite with king size bed, 2 Casitas with 2 queen size beds each all with private bathrooms TV and AC. Living room, formal dinning room, kitchen, 3 patios, Swimming pool, changing and shower room by pool, Palapa bar, fully equipped kitchen for 10 people. This beautiful colonial home is perfectly located in …
Internet Access

Housekeeping Optional

Outdoor Dining Area

A/C or climate control

Patio
Pet friendly - ask

Smoking allowed - ask

Suitable for children

Suitable for the elderly
Beautiful, new experience in Mexico
Left on Feb 21, 2014 for a stay in January 2014
We wanted to try a New experience in Mexico and found Izamal to be wonderful option. Quaint, small town, with lovely people. A nice alternative to the crowds and feeling of the popular beach towns and an easy drive to destinations including Progresso( so you don't have to give up your time on the beach). Casona Izamal went beyond our expectations. Large, comfortable casitas, pool area with bar…
Previous

Next

property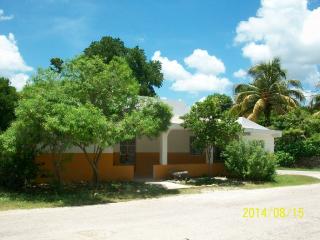 $35
1 BR / 1 BA / Sleeps 2
$35
Book
1 BR
/
1 BA
/
Sleeps 2
|

Quick view
THIS LOVELY HOME IS RENTED ON A WEEKLY, MONTHLY OR LONG TERM BASIS It is located in the Beautiful, Colonial Town of Izamal, Yucatan. Izamal is Designated by the Mexican Government as a "Pueblo Magico". Only One of 35 in All of Mexico. Make Your Stay a Magical One by Staying in a Home With The Mayan People of…
Pet friendly

Smoking allowed - ask

Suitable for children - over five

Suitable for the elderly

Wheelchair accessible - adapted
Previous

Next

property
$75
1 BR / 1 BA / Sleeps 3
$75
Book
1 BR
/
1 BA
/
Sleeps 3
|

Quick view
SMALL HOUSE (25m2) WTH 3 SINGLE BEDS OR 1 SINGLE AND ONE KING SIZE BEDS, BATH ROOM WITH SHOWER AND SINK SEPERATE WC, HANCICAPPED ACCESSIBLE, PANTRY WITH FRIDGE, SINK AND MICROWAVE OVEN, PARKING RIGHT AT THE HOUSE. Izamal is the best place to spend a couple of days to explore all of Yucatan`s sights. Enjoy the …
Internet Access

Housekeeping Optional

Washing Machine

Outdoor Dining Area

A/C or climate control
Pet friendly

Suitable for children

Suitable for the elderly

Wheelchair accessible - adapted
Previous

Next

property
$35
2 BR / 1 BA / Sleeps 6
$35
Book
2 BR
/
1 BA
/
Sleeps 6
|

Quick view
Newly renovated house in Yucatans most beautiful town , Izamal 2 huge studio/bedrooms and a big kitchen and bathroom.all with high ceilings. Property is surrounded by an 8 ft. stone wall on a quiet street in a town of 25,000 people. Very comfortable and reasonably priced for the cultural traveller.
Internet Access

Housekeeping Optional

Washing Machine

Patio

Garden
Pet friendly - ask

Smoking allowed - ask

Suitable for children

Suitable for the elderly

Wheelchair accessible - ask
Tranquility in 'Magical' Yucatan town
Left on May 06, 2011 for a stay in November 2010
We stayed for one week in Lorenzo and Dora's house. The house is newly renovated, beautifully simple, no frills and spotless. Situated in a very quiet part of town and only 5 minutes walk from the centre. Izamal is very safe for tourists and the neighbours are ultra-friendly. If you are looking for a quiet getaway in a tranquil historical Yucatán town, Lorenzo and Dora's place is ideal.
Previous

Next

property
$40
1 BR / 1 BA / Sleeps 4
$40
Book
1 BR
/
1 BA
/
Sleeps 4
|

Quick view
Very clean large one bedroom apt. in Yucatan's most beautiful town , Izamal, Lots of light and high ceilings.400 sq ft, roof top patio to watch the sunset and star at night. 5 min, walk to market , town square, restaurants , pharmacy. 7 ancient Maya pyramids 10 min walk. Completely new screened windows and security …
Internet Access

Patio

Linens Provided

Towels Provided

Safe
Pet friendly - ask

Smoking allowed - ask
---
---