Previous

Next

property
$46
1 BR / 1 BA / Sleeps 2
Inquire
Witzenhausen condo – 14.3 mi away
1 BR
/
1 BA
/
Sleeps 2
|

Quick view
The apartments are listed in a half-timbered house., key advantages: romantic, friendly, comfortable, 1 living/family room, , fully equipped kitchen, clean, well furnished, very comfortable, makes you feel at home, bright and inviting, The unit is conveniently located directly in the center and downtown area of …
Outdoor Dining Area

Central heating

Patio

Garden

Microwave
Pet friendly

Suitable for children - ask

Suitable for the elderly - ask

Wheelchair accessible - ask
Previous

Next

property
$67
1 BR / 1 BA / Sleeps 5
Inquire
Kassel condo
1 BR
/
1 BA
/
Sleeps 5
|

Quick view
You want to stay a few days in Kassel, a modern apartment near downtown, but at the same time in the countryside? You want to reach hiking areas in the Hessian low mountains quickly by public transport? Explore the city and the surroundings using the many bike paths? Perhaps you are an exhibitor or visitor to an …
Internet Access

Outdoor Dining Area

Central heating

Garden

Grill
Suitable for children - ask

Suitable for the elderly - ask

Wheelchair accessible - ask
Previous

Next

property
$53
1 BR / 1 BA / Sleeps 1
$53
Book
Fuldatal condo – 3.5 mi away
1 BR
/
1 BA
/
Sleeps 1
|

Quick view
I rent out a nice apartment (about 45 sqm). The location: The souterrain apartment is located in Fuldatal-Ihringshausen, Mühlenweg 7a. Fuldatal Ihringshausen is about 6 km from Kassel`s city center (about 10 minutes by car) and easily accessible by public transportation (by bus and tram approximately 23 minutes…
Pet friendly

Suitable for children
Previous

Next

property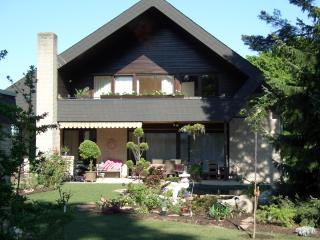 $70
1 BR / 1 BA / Sleeps 2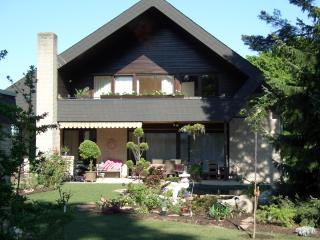 1 / 8
(3)
" Excellent "
$70
Book
Kassel condo
1 BR
/
1 BA
/
Sleeps 2
|

Quick view
We offer a cosy appartment room, which contains TV, kitchen, shower, terrace, surrounded by a nice green garden. A place to relaxe and feel good. You can supply yourself at our fully equipped kitchen. Some food as first-day-equipment for the fridge (15 Euro) can be catered by us. Nearby of our holiday-appartment you …
Mountain Views

Internet Access

Washing Machine

Central heating

Balcony or terrace
Suitable for children - ask

Suitable for the elderly

Wheelchair accessible - ask
Even Better than the beautiful pictures
Left on Sep 28, 2013 for a stay in September 2013
An attractive, spacious and welcoming apartment, very tastefully decorated containing great attention to detail for the comfort of the guests. The bed and bedding was wonderful, the kitchen fully equipped, the television designed for easy viewing due to rotation between rooms, and the bathroom modern. The patio is very private and a wonderful place to sit and enjoy the gardens. We spent five …
Previous

Next

property
$46
1 BR / 1 BA / Sleeps 5
Inquire
Witzenhausen condo – 14.3 mi away
1 BR
/
1 BA
/
Sleeps 5
|

Quick view
The apartments are listed in a half-timbered house., key advantages: romantic, friendly, comfortable, 1 living/family room, , fully equipped kitchen, clean, well furnished, very comfortable, makes you feel at home, bright and inviting, The unit is conveniently located directly in the center and downtown area of …
Washing Machine

Outdoor Dining Area

Central heating

Patio

Garden
Suitable for children - ask

Suitable for the elderly - ask

Wheelchair accessible - ask
Previous

Next

property
$166
3 BR / 2 BA / Sleeps 11
Inquire
Edertal condo – 19.9 mi away
3 BR
/
2 BA
/
Sleeps 11
|

Quick view
From 2011-2013 our apartments were renovated and completely refurbished and provide between 33 to 110 square meters of space for two to eleven people. They can booked together for up to 25 people. Cozy, family friendly, decorated in light modern colors they are the right place singles, couples, families and more., key…
Central heating

Stove or Oven

Television
Suitable for children - ask

Suitable for the elderly - ask

Wheelchair accessible - ask
Previous

Next

property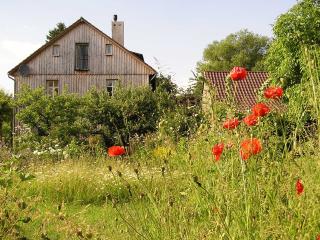 $52
1 BR / 1 BA / Sleeps 4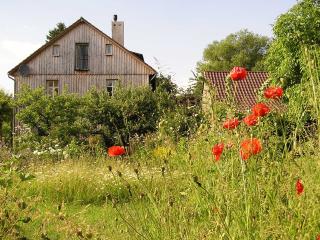 1 / 11
(1)
" Excellent "
Inquire
Homberg condo – 17.9 mi away
1 BR
/
1 BA
/
Sleeps 4
|

Quick view
Our house, built in 1870, is a spacious timber-framed house with 3000 square meters of fruit and flower gardens, a pond and a creek. It was originally the administration building of the mine. The truss is only open on the east side, the other sides are paneled. The apartment is on the first floor, 85 square meters, is…
Internet Access

Washing Machine

Outdoor Dining Area

Central heating

Patio
Suitable for children - ask

Suitable for the elderly

Wheelchair accessible - ask
Perfect place to rest and relax.
Left on Sep 05, 2013 for a stay in August 2013
The apartment accommodation is large and spacious and very well appointed with every convenience. The hosts made us feel very welcome and were most helpful. We will certainly return as it a perfect self catering base.
Previous

Next

property
$115
2 BR / 1 BA / Sleeps 6
Inquire
Kassel condo
2 BR
/
1 BA
/
Sleeps 6
|

Quick view
You want to stay a few days in Kassel, a modern apartment near downtown, but at the same time in the countryside? You want to reach hiking areas in the Hessian low mountains quickly by public transport? Explore the city and the surroundings using the many bike paths? Perhaps you are an exhibitor or visitor to an …
Internet Access

Outdoor Dining Area

Central heating

Garden

Grill
Pet friendly - ask

Suitable for children - ask

Suitable for the elderly - ask

Wheelchair accessible - ask
---
Looking for more rentals?
We're showing only results that match your dates and preferences.
See all 8 Kassel rentals, all 121 Hesse rentals, or start a new search.
---