Previous

Next

property
$265
4 BR / 3 BA / Sleeps 12
Inquire
4 BR
/
3 BA
/
Sleeps 12
|

Quick view
16 YEARS OF SERVICE. We are the Original vacation villa rental property at the Lake Arenal/ Arenal Volcano area. At Villa Encantada we offer a complete vacation experience DESTINATION, not just a place to sleep, with PAVED ROAD all the way to the villa (no need to negotiate seemingly endless rock-dirt roads). When you…
Waterfront

Ocean or water views

Mountain Views

Internet Access

Fireplace
Smoking allowed - ask

Suitable for children

Suitable for the elderly
Incredible Locale, Gorgeous Surroundings, Impeccable Rental Find
Left on Jan 04, 2012 for a stay in June 2011
What a wonderful find! I would not only recommend this to a close family member or friend, my wife & two young girls (6 and 8) are already fantasizing about when we can return to this beautiful country and specifically to the Villa Encantada. This is a treasure that will continue to amaze & provide wonder to anyone who is lucky enough to discover it. The owner, Glenn, has created a gorgeous …
Previous

Next

property
$110
4 BR / 2 BA / Sleeps 10
$110
Book
4 BR
/
2 BA
/
Sleeps 10
|

Quick view
Gated and Private. Meticulously maintained 65+ acre private retreat with flowers and wildlife too numerous to mention. Over 3 miles of private hiking trails, many leading to fantastic vistas of the surrounding mountains, volcano and lake. The house is a compact 2,500 square foot open floor plan design with 4 bedrooms…
Ocean or water views

Mountain Views

Internet Access

Fireplace

Housekeeping Optional
Pet friendly

Suitable for children

Suitable for the elderly

Wheelchair accessible
A bumpy road to paradise
Left on Mar 27, 2014 for a stay in March 2014
The place is knock your socks off beautiful, your own little bit of paradise almost at the top of a mountain,. Unfortunately nothing was in season when we were there so we couldn't enjoy the bounty of the 65 acres, but the beauty and quiet couldn't be beat. We (we were two couples ) spent the mornings sipping coffee and evenings sipping wine on the great patio while vying to see who could spot…
Previous

Next

property
$199
6 BR / 6 BA / Sleeps 15
Inquire
6 BR
/
6 BA
/
Sleeps 15
|

Quick view
THE RENTAL HOME WITH THE SERVICES OF A FINE HOTEL. GORGEOUS VIEWS. ON SITE CHEF SERVICES, complete transport arrangements, HUGE breakfast included in the rental rate, all tours can be arranged for you so that you spend your vacation having fun instead of trying to plan your next activity. Let us help you tailor your …
Ocean or water views

Mountain Views

Hot Tub/Jacuzzi

Internet Access

Fireplace
Pet friendly

Suitable for the elderly

Wheelchair accessible
Best hosting and best value ever experienced in Costa Rica
Left on Jul 05, 2010 for a stay in June 2010
The very reasonable rate for our rooms and meals was just the start of a really superior experience during our visit to Costa Rica. The hospitality and service provided were extraordinary, the meals were all delicious and made to order, the rooms were spacious, comfortable, most with bathrooms and windows overlooking a beautiful arenal vista. When we first arrived, the owner/host welcomed all …
Previous

Next

property
$115
1 BR / 1 BA / Sleeps 2
$115
Book
1 BR
/
1 BA
/
Sleeps 2
|

Quick view
Set on a private hilltop overlooking Lake Arenal, with stunning views of the lake and the Arenal and Tenorio volcanoes. Located 20 minutes away from Canoas on the road to Nuevo Arenal and only 11 km from the charming country town of Tilarán. The light and spacious design of this condo begins with the large open …
Ocean or water views

Internet Access

Fireplace

Housekeeping Optional

Washing Machine
Pet friendly - ask

Suitable for children
Magnificent View
Left on Apr 16, 2014 for a stay in April 2014
The view from the condo was magnificent. A perfect location high up the hill overlooking Lake Arenal. The cool breezes and higher elevation meant comfort in the Costa Rican heat. The condo was well laid out, fully equipped and was beautifully finished with hard wood floors, cabinetry and tiles. The condo development is quiet and secure. This is a residence not a resort. The guest service person, …
Previous

Next

property
$510
2 BR / 3 BA / Sleeps 8
$510
Book
2 BR
/
3 BA
/
Sleeps 8
|

Quick view
White Hawk Villa with its peaceful surroundings and the ultimate spectacular view of the volcano and lake is about 800 meters from the rest of the Arenal Observatory Lodge. It offers group or family accommodations and is recommended for guests with their own transportation or those who enjoy walking. The main level …
Ocean or water views

Mountain Views

Fireplace

Housekeeping Optional

Balcony or terrace
Suitable for children

Suitable for the elderly - ask

Wheelchair accessible - ask
Previous

Next

property
$105
5 BR / 5 BA / Sleeps 12
Inquire
5 BR
/
5 BA
/
Sleeps 12
|

Quick view
www.casablancacostarica.com Casa Blanca at Lake Arenal features three wonderful homes. Villa I, a 2200 square foot two bedroom, two bath home. This home has exquisite lake views across the entire living area and master with a large guest room featuring double door walk outs to the front patio courtyard and tropical …
Waterfront

Ocean or water views

Mountain Views

Internet Access

Fireplace
Pet friendly - ask

Suitable for children

Suitable for the elderly

Wheelchair accessible
A truely unique and adventurous getaway.
Left on Sep 20, 2011 for a stay in August 2011
My girlfriend and I decided to get away from our busy work days in the city for a week. By chance we ran into a friend who suggested this beautiful Cassita in Costa Rica. We looked it up and absolutely fell in love with it. Upon our arrival, the first thing we noticed were the breathtaking views of Lake arenal, the arenal Volcano in the distance and the jungle surrounding the property. I was very…
Previous

Next

property
$100
8 BR / 8 BA / Sleeps 20
Inquire
8 BR
/
8 BA
/
Sleeps 20
|

Quick view
We have the Best Views and the Most Incredible Property in all of Lake Aenal. A Private a Gated 13 Acre Estate with 5 Incredible Distinct Villas to choose from. Rent just one or all of them. There is absolutely no comparison. We are 2nd to none of our competition. Don't be fooled by other ads, just check our reviews …
Ocean or water views

Mountain Views

Hot Tub/Jacuzzi

Internet Access

Fireplace
Pet friendly - ask

Smoking allowed - ask

Suitable for children

Suitable for the elderly

Wheelchair accessible
Amazing house near Arenal
Left on Apr 19, 2011 for a stay in February 2011
I stayed with here with another three guests during a four-day jaunt through the Arenal area. I can't say enough about the house and the host. The home itself is very nice with incredible views, a great hot tub, good parking and security. Tom is very accommodating and straightforward. Only drawback to the place are that if you are planning activities in La Fortuna, the drive is 45-50 minutes…
Previous

Next

property
$150
3 BR / 2 BA / Sleeps 6
$150
Book
3 BR
/
2 BA
/
Sleeps 6
|

Quick view
Beautiful fully furnished 2-story, private stream with small waterfalls, close to town and adventures, sleeps up to six, indoor laundry, covered parking and decks facing the lake. Watch toucans, hummingbirds and parrots from our patio. Sat TV, DVD with library, local telephone, luxury linens, huge tub in master bath, …
Ocean or water views

Mountain Views

Internet Access

Housekeeping Optional

Washing Machine
Suitable for children

Suitable for the elderly - ask
Beautiful home, great location.
Left on Jun 07, 2014 for a stay in April 2014
Central location for zip lines, waterfalls, hot springs. Amazing home, clean, spacious, great bird watching from the balcony. Everything you could want right there, including comfortable beds, soothing showers. Property manager was so helpful, showed us around and gave us information about the area. Would highly recommend this home for six adults to kick back and fall in love with Costa Rica.
Previous

Next

property
$125
2 BR / 3 BA / Sleeps 5
$125
Book
2 BR
/
3 BA
/
Sleeps 5
|

Quick view
Our Home This house has one of the most amazing views of Lake Arenal and Arenal volcano with the lake approximately 100 meters below. My house may be isolated to some but it is an awesome place for a romantic getaway where you can enjoy the view, quiet, and peace of the surrounding forested area. The view of Lake …
Ocean or water views

Mountain Views

Internet Access

Housekeeping Optional

Washing Machine
Suitable for children

Suitable for the elderly - ask
Previous

Next

property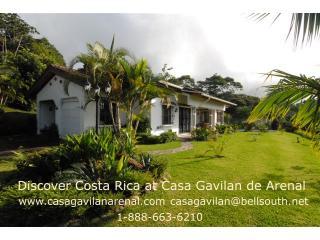 $195
3 BR / 4 BA / Sleeps 6
$195
Book
3 BR
/
4 BA
/
Sleeps 6
|

Quick view
This beautiful detached bungalow sits in its own gated grounds, complete with gardened terraces, private pool, and sweeping views of tropical rain forest jungle, Lake Arenal, and the hills of Monteverde beyond. You literally wake up to the sound of Howler Monkeys and Toucans every morning! You can linger in our pool, …
Waterfront

Ocean or water views

Mountain Views

Internet Access

Fireplace
Suitable for the elderly

Wheelchair accessible
Thanks for a great stay
Left on Apr 06, 2010 for a stay in December 2009
Loved the house. Loved the location. Loved the pool.

Ed was an amazing help, and very kind.

The directions to get to the house were hard to follow because the kilometer
markers were a bad landmark as they were difficult to see.

The reccommended meal at the Gingerbread House was amazing.

As an entertainment professional I was sadened/disappointed by the massive
collection of pirated DVDs…
---
---