Villa Punta Coral. Watch Whales from the Terrace!
From $150 / night
Description from the owner
Description from the owner
Bedrooms: 3
/
Bathrooms: 3
/
Sleeps: 8
/
Type: House
Villa Punta Coral. Watch Whales from the Terrace!
Villa Punta Coral is a spa­cious Caribbean dream home located on the Samana Penin­sula in the Domini­can Repub­lic. Villa Punta Coral is a place of seren­ity, refuge, renewal, and escape, sit­u­ated within 60 meters of the coral shore, the deep blue ocean is a per­ma­nent part of the expe­ri­ence at the villa. It also lies on the migra­tory path of hump­back whales, so one can observe whales right from the ter­race (Dec through March).

The swim­ming pool, BBQ, and large shaded ter­race are very invit­ing for out­door enter­tain­ment. A gazebo offers wel­come shade and space for a ham­mock, so you can relax to the sooth­ing sounds of the ocean.

Villa Punta Coral was constructed using local mate­ri­als, includ­ing a thatched roof. The fur­nish­ings and decor were chosen for carefree, elegant Caribbean liv­ing. Each room has everything you need to enjoy a com­fort­able stay and on-site caretaker's, Radhames and Sandra, are available 24/7.

The villa is sur­rounded by a lush gar­den with palm trees, shrubs, flow­ers and grass. It also has a small pri­vate beach and offers a spec­tac­u­lar view of the Bay. Breath­tak­ing sun­rises and moon­rises over the vast expanse of blue sea, com­bined with the gen­tle breeze swish­ing in the palm leaves all fuse together to cre­ate tru­ely spec­tac­u­lar out­door liv­ing experience at Villa Punta Coral.

Visit and you'll understand why Las Galeras and the Samana Peninsula attract so many international travelers. The area offers miles of often deserted beaches including famous Playa Rincon, which can be reached by car, boat, horse or on foot. Both ends of the 6 km white sand beach have restaurants and one end boasts a fresh water creek, perfect for rinsing the salt off. El Valle Beach, off the beaten path, has 2 restaurants and "the longest zip-line in the Caribbean". La Playita is kid-friendly, and just a few minutes' walk from Las Galeras. You can get lunch, a reasonably priced massage right on the beach, snorkel, play volleyball, or rent a chaise lounge and do nada. The main beach, at the end of the road in town, has a cooperative, thatch-roofed restaurant run by 15 local women who take turns cooking and miraculously manage to cooperate most of the time. This is also the spot to rent a boat and captain.

Several scenic horseback riding trails take you through colorful gardens and villages on your way to a beach or whale watching lookout. Or arrange to camp on the beach overnight.

Several companies offer snorkeling, scuba diving excursions and certification. Las Galeras is a fishing village and the locals will happily take you out to fish for capitan, dorado, etc.

The Samana Peninsula is considered one of the top 10 destinations in the world to watch humpback whales and Las Galeras is super busy for the months the whales are here breeding and giving birth, Dec. through March, which is pretty much the only time Las Galeras has anything resembling a night life. Bachata, merengue and salsa from the 2 discothèques doesn't stop until the wee hours and most Dominicans are terrific dancers so even those in your group who don't dance will enjoy themselves. Those who do like to dance will have no shortage of willing and eager partners.

Though there's no organized system of biking trails, there are plenty of places to ride, both off and on paved roads. There are also ATV's and motorcycles for rent locally.

I recently went to El Limon waterfall for the first time and I've lived here for 10 years. Even though we'd had several months of drought, the amount of water flowing over the falls was impressive. For less than $30 we got horses (I think they were donkeys, but that's okay 'cause it's not so far to fall), guides and a "typical" lunch. You can go on foot, too, but know though that even if you go on donkeyback, the last half mile is STEEP. Not bad on the way down, but if Uncle Albert smokes 2 packs a day and weighs 200 kilos, you might want to leave him at the stable and take lots of photos.

Las Terrenas is just past the waterfall so if you get an early start you'll have time to explore the beaches there, grocery shop at a supermarket, check out some really nice gift and jewelry shops, and/or have dinner.

Los Haitises National Park can be an interesting day trip. As can Cayo Levantado, aka Bacardi Island.

The nearby town of Las Galeras is only 7 km away and is home to several good restaurants. There's also a bank with ATM, a few grocery stores, a pharmacy, and a nice gift shop owned by Fany. The villa is less than half an hour from several beautiful beaches, including Playa Rincon and La Playita. There are so many outdoor activities in this part of the Dominican Republic you will not run out of fun things to do. You will also find numerous outfitters that organize excursions of all sorts. Get on an ATV, do some horseback riding, visit the Los Haitises National Park or go fishing! Everything the Caribbean has to offer is right here!TripAdvisor property ID 4747799 ...Read more
Cynthia N.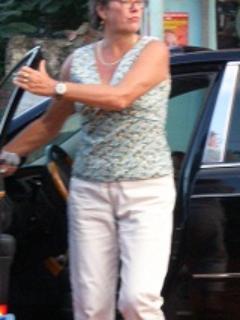 Cynthia N.
Response rate:

90%

Response time:

Within a day

Calendar updated:

3 days ago

Overall rating:
Based on 9 reviews and 14 properties
Also consider
- FlipKey has rentals in over 11,000 destinations around the world: