Previous

Next

property
$114
3 BR / 2 BA / Sleeps 6
About the property A CHARMING GRADE II LISTED COTTAGE IN THE HEART OF THE ELAN VALLEY Enjoying an elevated position within a peaceful hamlet of traditional cottages. The property has views across the Elan Valley and woodlands and a stream running through the generous gardens. Beautifully restored with spacious …
Pet friendly - ask

Smoking allowed - ask

Suitable for children - ask

Suitable for the elderly - ask

Wheelchair accessible - ask
Previous

Next

property
$61
2 BR / 1 BA / Sleeps 5
Inquire
2 BR
/
1 BA
/
Sleeps 5
|

Quick view
This semi-detached cottage is located near to Llanwrthwl in Mid Wales and can sleep five people in two bedrooms. Riverside Cottage is a semi-detached cottage near to the village of Llanwrthwl in Mid Wales. The cottage sleeps five people and has one double bedroom, one twin room, a single bed on the landing and a …
Linens Provided

Towels Provided

Refrigerator

Television
Pet friendly

Suitable for children

Suitable for the elderly - ask

Wheelchair accessible - ask
Previous

Next

property
$53
1 BR / 1 BA / Sleeps 2
Inquire
1 BR
/
1 BA
/
Sleeps 2
|

Quick view
This semi-detached cottage is located near to Llanwrthwl in Mid Wales and can sleep two people in one bedroom. Trout Cottage is a semi-detached ground floor cottage near to the village of Llanwrthwl in Mid Wales. The cottage sleeps two people and has one twin bedroom with an en-suite bathroom. Also in the cottage is …
Linens Provided

Towels Provided

Refrigerator

Television
Suitable for children

Suitable for the elderly - ask

Wheelchair accessible - ask
Previous

Next

property
$56
2 BR / 1 BA / Sleeps 4
Inquire
2 BR
/
1 BA
/
Sleeps 4
|

Quick view
This semi-detached cottage is located near to Llanwrthwl in Mid Wales and can sleep four people in two bedrooms. Salmon Cottage is a semi-detached ground floor cottage near to the village of Llanwrthwl in Mid Wales. The cottage sleeps four people and has one double bedroom, one twin and a family bathroom. Also in the…
Linens Provided

Towels Provided

Refrigerator

Television
Suitable for children

Suitable for the elderly - ask

Wheelchair accessible - ask
A very pleasant stay with fantastic roads
Left on Dec 02, 2013 for a stay in August 2013
four of us, decided we needed a base to ride around the lovely roads of mid wales. So we selected this bungalow, The write up was correct and our stay was of good value,
Previous

Next

property
$51
1 BR / 1 BA / Sleeps 2
Inquire
1 BR
/
1 BA
/
Sleeps 2
|

Quick view
This cosy studio apartment is a self-contained, first-floor property with a superb four poster bed. Set on the hillside and less than three miles from the tiny village of Llanwrthwl is this sympathetic conversion of an old hay loft. The property provides stunning views across the wonderful open countryside and …
Wireless Internet

Linens Provided

Towels Provided

Refrigerator

Television
Pet friendly

Smoking allowed

Suitable for the elderly - ask

Wheelchair accessible - ask
A restful week
Left on Dec 03, 2009 for a stay in September 2009
Very good accommodation, made welcome by the owner, comfortable, a good centre for many interesting villages and activities. Elan valley very pretty area and good for walking. Nearer to Rhayader than Llan... We always started out via Rhayader rather than Llan... , so suggest that Rhayader is put in your brochure rather than Llan...
Previous

Next

property
$66
3 BR / 1 BA / Sleeps 5
Inquire
3 BR
/
1 BA
/
Sleeps 5
|

Quick view
This semi-detached cottage is located near to Llanwrthwl in Mid Wales and can sleep five people in three bedrooms. Gardener's Cottage is a semi-detached cottage near to the village of Llanwrthwl in Mid Wales. The cottage sleeps five people and has one double bedroom, one twin, a single and a family bathroom. Also in …
Linens Provided

Towels Provided

Refrigerator

Television
Pet friendly

Suitable for children

Suitable for the elderly - ask

Wheelchair accessible - ask
Previous

Next

property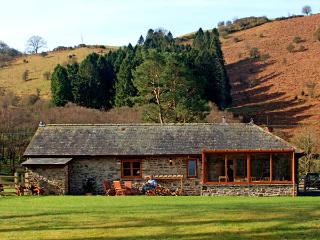 $81
2 BR / 1 BA / Sleeps 4
Inquire
2 BR
/
1 BA
/
Sleeps 4
|

Quick view
Crych Du is a delightful detached stone barn conversion in a tranquil location on a small riverside farm. Crych Du sits beside the banks of the River Wye in the pretty Wye Valley, surrounded by the spectacular Cambrian Mountains. Splendid views can be seen in every direction, and the superb walking and cycling …
Washing Machine

Linens Provided

Towels Provided

Dishwasher

Refrigerator
Suitable for the elderly - ask

Wheelchair accessible - ask
Idyllic setting - absolute peace
Left on Dec 20, 2009 for a stay in August 2009
A real get away from it all cottage. Beautiful scenery - surrounded by hills and the river Wye at the bottom of the garden - just sheep, horses and chickens for neighbours. Bird watchers paradise - kites and buzzards galore. Highlight was a very cooperative kingfisher who sat on a branch eating his fish dinner just like you see on TV!

Cottage was very well equipped - especially the kitchen…
Previous

Next

property
$100
3 BR / 2 BA / Sleeps 6
About the property CHARMING GRADE II LISTED COTTAGE IN THE HEART OF THE ELAN VALLEY This beautifully restored semi-detached cottage offers a wealth of history, original features from the early 1900's and enjoys an elevated positon within a peaceful hamlet. It has stunning views across the Elan Valley and the …
Pet friendly - ask

Smoking allowed - ask

Suitable for children - ask

Suitable for the elderly - ask

Wheelchair accessible - ask
---
---