Previous

Next

property
$155
2 BR / 1 BA / Sleeps 6
$155
Book
2 BR
/
1 BA
/
Sleeps 6
|

Quick view
This charming cottage sits right on Lake Michigan and offers spectacular views of the Straits of Mackinac, the Mighty Mac Bridge and Mackinac Island. It offers 2 bedrooms and 1 bath to comfortably accommodate 4. There is also a very large sectional that could accommodate a few children. It has a fully equipped …
Waterfront

Fireplace

Outdoor Dining Area

Central heating

Patio
Suitable for children

Suitable for the elderly

Wheelchair accessible - ask
Previous

Next

property
$73
1 BR / 1 BA / Sleeps 2
$73
Book
1 BR
/
1 BA
/
Sleeps 2
|

Quick view
This adorable little bunk house is a perfect getaway for 2. It is a one-room cabin with a twin-over-full bunk bed, a kitchenette and bath with a shower. It sits on a nice lot, has a great deck and picnic area. The cabin allows you access to our bikes and kayaks. It's walking distance to the Village of Mackinaw …
Housekeeping Optional

Outdoor Dining Area

Central heating

Deck

Parking
Suitable for children

Suitable for the elderly - ask
Previous

Next

property
$180
3 BR / 2 BA / Sleeps 8
$180
Book
3 BR
/
2 BA
/
Sleeps 8
|

Quick view
This cottage was beautifully renovated from top to bottom in 2013 and is now available for rent. It is spacious, will sleep up to 8 and features 2 bedrooms plus a sleeping porch and a loft with 2 twin beds. It also has 2 bathrooms and a laundry room. The kitchen/ dining area is roomy and has a nice island and cook…
Internet Access

Fireplace

Housekeeping Optional

Washing Machine

Clothes Dryer
Suitable for children

Suitable for the elderly

Wheelchair accessible - ask
Previous

Next

property
$150
1 BR / 1 BA / Sleeps 4
$150
Book
1 BR
/
1 BA
/
Sleeps 4
|

Quick view
This cozy efficiency is located on a 5 acre lot on the beautiful shore of Lake Huron with stunning views of Mackinac Island and the Mackinac Bridge. It has was totally remodeled last summer and ready for guests! Lem's Paradise #2 is a refurbished motel that sits on 5 acres along with Lem's Paradise and the Million …
Waterfront

Ocean or water views

Outdoor Dining Area

Deck

Parking
Suitable for the elderly

Wheelchair accessible - ask
Previous

Next

property
$125
2 BR / 1 BA / Sleeps 4
$125
Book
2 BR
/
1 BA
/
Sleeps 4
|

Quick view
Adorable 2-bedroom cottage, perfect for a family of 4. This cottage has been completely renovated in 'Pottery Barn' style. It features 2 bedrooms and will accomodate 4 easily. Located 1 block from Lake Michigan, it is walking distance to downtown and the Ferry Docks to Mackinac Island. There is so much to enjoy in…
Internet Access

Outdoor Dining Area

Porch

Parking

Books
Suitable for children

Suitable for the elderly

Wheelchair accessible - ask
Previous

Next

property
$130
1 BR / 1 BA / Sleeps 2
$130
Book
1 BR
/
1 BA
/
Sleeps 2
|

Quick view
Tucked away between Mackinaw City and Cheboygan, this little gem offers incomparable views of Mackinac Island and the Mighty Mackinac Bridge. There are 5 acres and over 330 feet of frontage on the beautiful, turquoise Lake Huron. The beach is private and the cottage is peaceful and quiet - a perfect getaway for 2…
Waterfront

Ocean or water views

Outdoor Dining Area

Deck

Garden
Previous

Next

property
$180
3 BR / 1 BA / Sleeps 6
$180
Book
3 BR
/
1 BA
/
Sleeps 6
|

Quick view
This lovely family cottage is located on Lake Huron, 3 minutes south of Mackinaw City. Away from the hustle and bustle of town but close enough for a quick trip for your evening guilty pleasure of Mackinaw fudge or a fresh churned ice cream cone. Enjoy the incredible views of Mackinac Island, Bois Blanc Island and …
Waterfront

Ocean or water views

Washing Machine

Clothes Dryer

Central heating
Suitable for children

Suitable for the elderly

Wheelchair accessible - ask
Previous

Next

property
$115
1 BR / 2 BA / Sleeps 4
$115
Book
1 BR
/
2 BA
/
Sleeps 4
|

Quick view
This adorable 1 bedroom cottage is located in Mackinaw City and has been totally renovated. It's a perfect cozy cottage for a great Mackinaw getaway. It features a full kitchen, screened in front porch, fire-pit for nightly campfires, and located a short walk to town, the Ferry Docks and 2 blocks from Lake …
Internet Access

Fireplace

Outdoor Dining Area

Porch

Parking
Suitable for children

Suitable for the elderly

Wheelchair accessible - ask
Previous

Next

property
$180
3 BR / 2 BA / Sleeps 6
$180
Book
3 BR
/
2 BA
/
Sleeps 6
|

Quick view
This quaint and spacious 2-story cottage is ideally situated on Lake Michigan overlooking the Straits of Mackinac and the Mackinac Bridge. Owned for 5 generations by the same family, it has been lovingly maintained and reflects the history of the Mackinac area. This 19th century lakeside cottage still offers the …
Waterfront

Ocean or water views

Internet Access

Fireplace

Washing Machine
Pet friendly

Suitable for children

Suitable for the elderly

Wheelchair accessible - ask
Previous

Next

property
$180
2 BR / 2 BA / Sleeps 6
$180
Book
2 BR
/
2 BA
/
Sleeps 6
|

Quick view
Wonderful Lake Huron waterfront property. This lovely home is located on 5 acres with 330 feet of frontage on beautiful Lake Huron, just west of Mackinaw City, Michigan. It features 2 bedrooms plus a queen size sleeper sofa and will accommodate up to 6 guests. The home is 1800 sf of comfort and comes equipped with …
Waterfront

Ocean or water views

Fireplace

Washing Machine

Clothes Dryer
Suitable for children

Suitable for the elderly

Wheelchair accessible - ask
Previous

Next

property
$350
3 BR / 2 BA / Sleeps 8
Inquire
3 BR
/
2 BA
/
Sleeps 8
|

Quick view
The Shores at Mackinaw Condominium Resort is situated along the pristine shoreline of Lake Huron just one mile south of Mackinaw City. You can enjoy all the flavors the Mackinaw area has to offer and in minutes be back in your northern Michigan retreat at The Shores. See breathtaking sunrises and sunsets from your …
Waterfront

Ocean or water views

Internet Access

Fireplace

Washing Machine
Suitable for children

Suitable for the elderly

Wheelchair accessible
Exceeded any expectations we had!!!
Left on Jul 21, 2011 for a stay in July 2011
We were looking for a three bedroom condo to accommodate our families for our first family vacation to Mackinaw City! I stumbled across these condos during my search and emailed Carol, who got right back to me. Upon speaking to Carol, I knew that everything was going to be great! She was so welcoming, helpful, accommodating and patient with all my questions. Upon arrival there were some …
Previous

Next

property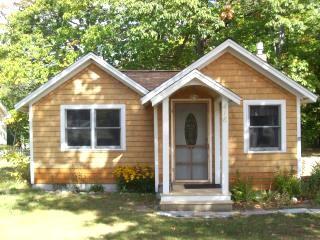 $85
2 BR / 1 BA / Sleeps 4
$85
Book
2 BR
/
1 BA
/
Sleeps 4
|

Quick view
Our cozy cottages are located at the "Tip of the Mitt" in beautiful Mackinaw City, Michigan. The main cottage is the perfect Michigan get-away for all 4 seasons! Constructed in 2006, it features birch ceilings, ash hardwood flooring, living room, dining room, 2 bedrooms, 1 bath and a full kitchen - even a…
Fireplace

Housekeeping Optional

Washing Machine

Clothes Dryer

Outdoor Dining Area
Suitable for children

Suitable for the elderly

Wheelchair accessible
a great time!!
Left on Apr 29, 2010 for a stay in August 2009
Love this cabin, it is just so functional and warm and cozy. The area is so
much fun and lots to do!! Riding the bikes to the lake was so much fun and
checking out all the stores in the town!!
---
---
There are no more results in Mackinaw City.
Top of page